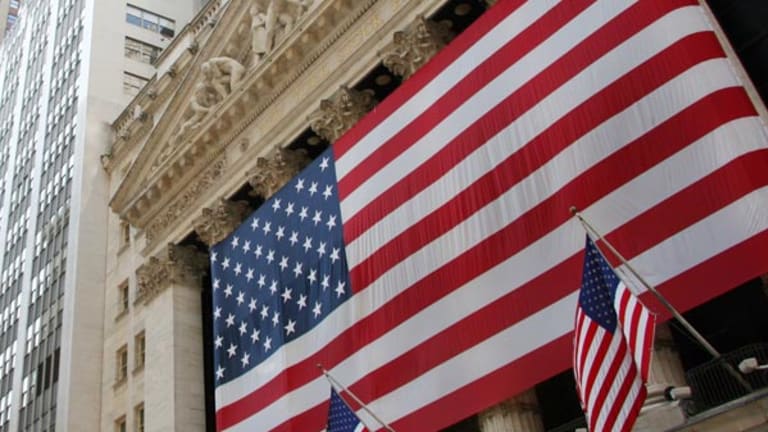 Today's Market: Tech Stocks Limp Lower
<LI>UBS Warburg knocks Nokia off recommended list.</LI> <LI>Dell reportedly cutting jobs.</LI> <LI>Lucent falls on news SEC looking at its accounting practices.</LI>
Updated from 9:34 a.m. EST
Wall Street's fortune-tellers are becoming more confused and doubtful about their predictions of a hoped-for turnaround in the beleaguered economy. And that's being reflected in erratic and lackluster trading on Wall Street.
Now that earnings season is petering out, and with no economic data out there this morning, investors are seriously lacking in catalysts to give them direction. But news this morning that communications-equipment maker
Lucent
(LU) - Get Lufax Holding Ltd American Depositary Shares two of which representing one Report
is being investigated by the
Securities and Exchange Commission
and that PC maker
Dell
(DELL) - Get Dell Technologies Inc. Class C Report
may be considering job cuts for the first time ever is sending tech lower in early trading. After yesterday's selloff, stocks probably won't be crushed.
"Dell and Lucent are already sold out," said Brian Finnerty, head of trading at
C.E. Unterberg Towbin
. "We're not going to runaway on the upside anyway."
The
Dow Jones Industrial Average was off 18 to to 10,862. The
Nasdaq Composite Index was falling 41 to 2520. And the
S&P 500 moved 8 lower to 1325.
The world's "top" communications-equipment maker, Lucent is now being investigated by the SEC for possible fraudulent accounting practices,
The Wall Street Journal
reported this morning. Regulators are looking at the company's booking sales procedures and software-licensing agreements. Specifically, the SEC is investigating whether Lucent improperly booked $679 million in revenue during its 2000 fiscal year, which ended Sept. 30.
Lucent already did its own investigation of the revenue booking and in December restated its financial results to eliminate the $679 million in revenue. The stock is dropping in preopen trading and could possibly return to lows hit in December. But with so much bad news already priced into the stock, investors will likely ask how much further it can fall.
After five disappointing quarters, a string of high-level executive firings and a round of lower-level layoffs, the company's stock price is already down 78% from the highs of last year. It was lately off $$1.39, or 7.8%, to $15.51.
TheStreet.com
took a look at Lucent's
approach to accounting early on, and has been following Lucent's
other woes.
Boxmaker Dell has also been beaten to a pulp, though it began to rebound in January and news of layoffs have been picking up steadily over the past month.
Dell is reportedly is planning deep cost cuts, which could involve the first layoffs ever for the 16-year-old company. The company told managers to prepare for cost cuts of 8% to 10%,
The Wall Street Journal
reported this morning. While Dell denied plans for any widespread layoffs, some employees think as many as 4,000 jobs could be cut.
TheStreet.com
has a
separate story with more details. It was off 4.8%.
Dell announced plans to cut costs last month when the company warned it would miss earnings targets for its fiscal fourth quarter, which ended Feb. 2. The company has been hurt by slowing PC sales as well as fears of competitive price wars in the industry.
Meanwhile, look for mobile-phone maker
Nokia
(NOK) - Get Nokia Corporation Sponsored American Depositary Shares Report
to be talked about today, after
UBS Warburg
removed the mobile phone giant from its list of top 10 global technology stock picks. The move helped knock down overseas markets. In the U.S., Nokia was off 5.4%.
Network storage systems maker
Network Appliance
(NTAP) - Get NetApp Inc. Report
reported fiscal third quarter earnings that beat estimates after the market closed Thursday. But the company's sales came in a pinch below forecasts, an uncharacteristic shortfall for a company well-positioned in one of the fastest growing technology markets. It is yet another sign that corporations aren't spending as freely on tech gear as they once were. The company's stock was trading higher, up 3%.
TheStreet.com's
Tom Lepri took a look at
what the report means for Network Appliance.
The foggy outlook may not clear until the
Federal Reserve next meets on March 20 to decide on its interest rate policy. But market watchers will certainly be listening next week when Fed chairman
Alan Greenspan speaks to
Congress
during his semi-annual Humphrey-Hawkins address.
The Fed began cutting interest rates in early January to jumpstart economic growth, and market-watchers have been expecting the cuts to help both corporate earnings and the economy turn around in the second half of this year. But that depends on the economy's ability to react to rate cuts.
After a year and a half of raising interest rates to reign in a runaway economy, the Fed cut interest rates twice last month. Those moves slashed short-term rates by a full point to 5.5%, almost an unprecedented drop in so short a time.
Back to top
Bonds/Economy
Treaury prices were moving higher this morning. The benchmark 10-year
Treasury note was lately up 4/32 to 99 14/32, yielding 5.07%.
Back to top
International
European markets were mostly weak. Paris'
CAC-40
was recently losing 55.81 to 5718; Frankfurt's
Xetra Dax
was falling 95 to 6541 and London's
FTSE
was off 39 to 6167. Markets were being hurt by the Nokia downgrade.
The euro bounded back to recent highs yesterday and was lately trading up at $0.9235.
Japan, still trying to sift through the wreckage of economic stagnation, was attempting today to find ways to prop up its stock market. This comes a day after the
Nikkei 225
hit a 28-month low. That index rose, gaining 284.60 to close at 13,422.83, a 2.2% rise.
The
Bank of Japan
, the country's central bank, cut its key interest rate to 0.35% from 0.5% in what some were calling a symbolic -- perhaps desperate -- move to appease the country's politicians. About two years ago, Japan had a zero interest rate policy, but it began raising rates when the economy showed some signs of recovery.
Yesterday, England's Central Bank, the
Bank of England
, lowered interest rates for the first time in 20 months. It dropped rates by a quarter point.
In Hong Kong, the
Hang Seng
lost 36.12 to close at 15,873.28.
The dollar was trading at 117.63 yen.
Back to top