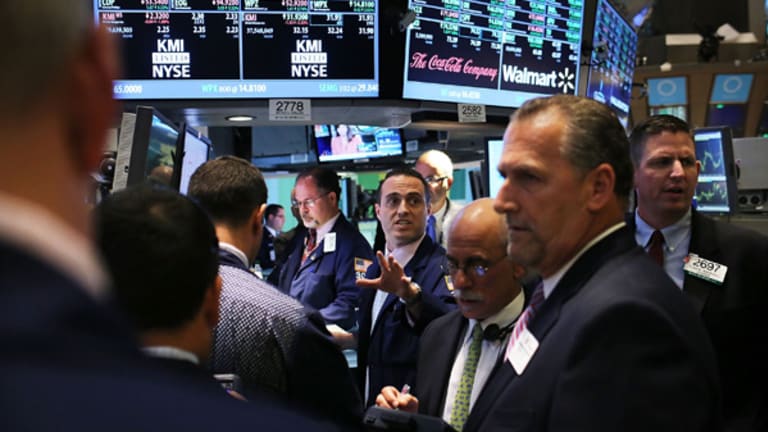 Today's Market: Tech Stocks Having Rough Ride
<LI>Nasdaq and Dow drop.</LI> <LI>Nortel revenue disappointment socking optical stocks.</LI> <LI>AT&T falls after beating lower estimates, restructuring.</LI>
(Updated from 9:31 a.m.)
Nortel Networks
(NT)
is giving tech stocks a serious head injury this morning. And it may have even broken what rallying spirit was left from last week's market recovery.
The optical networking darling warned after the closing bell yesterday of slowing optical sales for the year. And investors aren't happy.
The
Dow Jones Industrial Average was 84 lower to 10,309. The
Nasdaq Composite Index was losing 112 to 3308 soon after the opening bell. And the
S&P 500 moved 16 lower to 1382.
Of course, earnings and revenue numbers always matter during earnings season. But company forecasts for earnings and revenue in coming quarters matter even more this season, as investors worry that what appears to be an economic slowdown will cut into corporate profits.
Investors were hoping for some good earnings news going forward.
"With preannouncement season out of the way, the expectation was that the market would get good earnings," said Jim Herrick, managing director of trading at
Robert W. Baird
. "And Nortel is the bellwether," he said. "Any slight disappointment and it's done, because you've got these lofty multiples on these stocks."
What's more, Nortel is a member of the elite optical networking group, which includes such darlings as
JDS Uniphase
(JDSU)
,
Cisco
(CSCO) - Get Cisco Systems, Inc. Report
,
Ciena
(CIEN) - Get Ciena Corporation Report
,
SDL
(SDLI)
and
Corvis
(CORV) - Get Correvio Pharma Corp. Report
, among others.
Optical stocks have been real winners lately. And in September, Nortel said it might net $12 billion in optical-equipment sales for the year. But it revised that outlook Tuesday, telling analysts that a target of $10 billion is more likely.
TheStreet.com
took a close look at Nortel's news in a
separate story.
Nortel's numbers mean that not even the optical networkers are immune from a slowdown! Some market pundits were calling the group the sweet spot of tomorrow, and saw it as the last tech safe haven. Fears of slowing chip, personal computer and phone handset demand have already put a dent in previous tech stock leaders -- the semiconductors, boxmakers and telecoms. Nortel was off 26% in early trading this morning.
Analysts decided not to wait for a final word from JDS Uniphase, the industry leader, which reports earnings tomorrow. Hedge fund manager
James Cramer
notes on
TheStreet.com's
sister site,
RealMoney.com
, that a few analysts have come out with downgrades on Nortel and JDSU this morning. JDS was off 14% early on.
Analysts were already worried about JDS on news of slowing optical network sales at
Lucent Technologies
(LU)
, the world's biggest telecommunications equipment maker and JDS' biggest customer. Lucent forced out its chief executive officer on Monday.
TheStreet.com
recently wrote about how Lucent beat its
lowered earnings forecasts. Lucent was lately off 2.9%.
PC-makers may be another market whipping post today after computer-maker
Compaq
(CPQ)
warned about fourth-quarter earnings, blaming the
beleaguered euro for its troubles. Compaq had been trying to make a comeback in the past few weeks after tumbling off its highs in September. Several PC-makers have disappointed Wall Street this quarter with weak outlooks for upcoming growth.
TheStreet.com
took a look at Compaq's earnings in a
separate story. Analysts have maintened their rating on the company, and Compaq was lately unchanged.
And if today does yield a raging selloff, what is going to turn the market around? There aren't many big companies left to report this season, Herrick said.
"Most of the big earnings are out of the way now," he said.
Did you say good news for e-tailers?
Internet retailers may struggle against the tech tidal wave, however, on good news from
Amazon
(AMZN) - Get Amazon.com, Inc. Report
. The industry Goliath last night reported a narrower-than-expected loss of 25 cents a share versus expectations of 33 cents and it expressed optimism about the crucial fourth quarter. The retailer's stock is currently some 74% off its 52-week high of $113, but it was up 15.9% in early trading this morning.
Amazon anticipates sales of $950 million to $1.05 billion and expects that pro forma losses will represent 5% to 8% of sales. By March 31, or the end of its first quarter, the company plans to have $700 million in cash and marketable securities.
TheStreet.com
took a close look at what the
earnings mean for Amazon.
Elsewhere in tech, chipmaker
LSI Logic
(LSI) - Get Life Storage, Inc. Report
CEO Wilfred Corrigan said Tuesday that he was comfortable with fourth-quarter earnings estimates and expects fourth-quarter sales to rise 10% from $278 million in the third quarter. The company's third-quarter results beat forecasts. LSI was 3.3% lower this morning.
And beleaguered telecom and cable-television provider
AT&T
this morning reported earnings that beat much reduced estimates, as falling long-distance sales to residential customers offset strength in the company's wireless and data businesses. The company also formally announced its already well-reported plans to split the company into four units. Some analysts are saying the restructuring reduces the possibilities of an alliance with
British Telecommunications
(BTY)
. The two companies have been having talks about ways they can link parts of their businesses. AT&T was off 8.8% this morning.
And that's not all. There are plenty more earnings reports out there today, so check headlines regularly on
TheStreet.com
.
Back to top
Bonds/Economy
The benchmark 10-year
Treasury note was lately up 3/32 to 100 31/32, dropping its yield to 5.619%.
Treasury prices ended a three-day rally yesterday, but the dip was seen as a profit-taking correction in what remains a bull market for bonds. The bonds are partly rallying on continuing unrest in the Middle East and instability in the equity markets.
Back to top
International
After rallying out of their doldrums yesterday,
European markets were in the dumps again this morning. The major indices were deep in the red by midsession.
The
FTSE 100
in London was falling 105.00 points to 6333.40.
The
CAC 40
in Paris was 112.20 lower to 6211.54, while the
Xetra Dax
in Frankfurt was losing 72.59 to 6730.22.
The
euro tumbled below what currency traders were calling a key support level, lately trading down to 0.8314.
The major
Asian equity markets closed mixed Wednesday.
Most Japanese investors remained on the sidelines ahead of earnings reports from some of the country's big technology companies and Tokyo's
Nikkei 225
closed down 307.7, or 2%, at 14,840.5.
In Tokyo trading, the dollar traded down 0.42 yen to 107.91 yen. The greenback was lately inching higher, at 107.93.
Hong Kong's
Hang Seng
index rose 135.2, or 0.9%, to 15,061.2, as heavyweight
China Mobile
(CHL) - Get China Mobile Limited Sponsored ADR Report
rose HK$1.25, or 2.5%, to 52.00 ($6.67).
Back to top