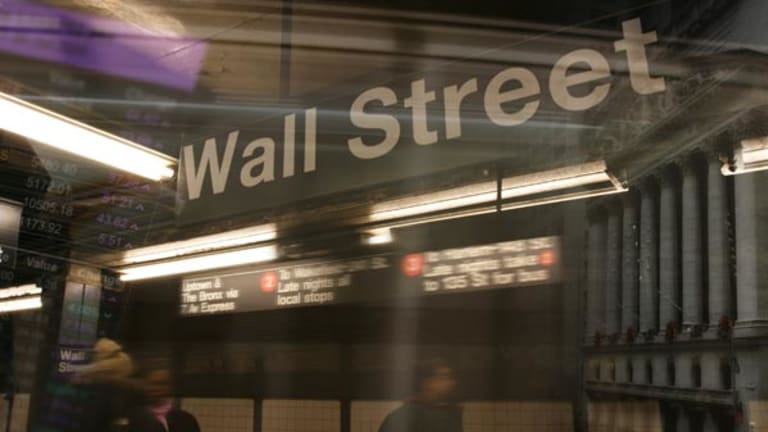 Today's Market: Tech Stocks Graze in Greener Pastures
<LI>WorldCom rising after meeting lowered earnings estimates.</LI> <LI>Cisco inches back from yesterday's losses.</LI> <LI>Jobless claims rose last week.</LI>
Updated from 9:32 a.m. EST.
Tech stocks are grazing in greener pastures this morning.
It just goes to show that investor optimism over falling interest rates is a powerful force -- such optimism seems to have put a floor under the
Nasdaq Composite Index yesterday and may be what's buoying stocks this morning. Indeed, the Nasdaq has been surprisingly resilient in the past week, bouncing back from deep selloffs during the early part of the trading day. This morning, it was up 23 to 2632.
The tech-weighted index managed to close down only 56.67 points, or 2.1%, Wednesday despite a nasty
earnings surprise from networking darling
Cisco
(CSCO)
. The market has already dealt with so much bad news from tech bellwethers that yesterday's loss seems tame by comparison. Cisco and several other tech losers from yesterday were bouncing back today. Cisco was lately up 0.6%.
Still, nontech stocks remain plenty alluring. The broad market, as tracked by the
S&P 500, and the blue-chip
Dow Jones Industrial Average have fared well in the past few weeks and will likely continue to move higher. Until investors see concrete signs that tech fundamentals -- demand, inventories and capital spending -- are improving, they'll likely continue to buy sectors like energy, tobacco and consumer staples. The Dow, however, was lately trading 11 lower to 10,936. The S&P 500 was 4 higher to 1345.
Microsoft
(MSFT)
won't likely join in any fun this morning after
Merrill Lynch
cut its long-term rating to accumulate from buy. It was off 2% to $63.63.
The
Federal Reserve began cutting interest rates in early January to jumpstart economic growth, and market watchers have been expecting the cuts to help corporate earnings and the economy turn around in the second half of this year. But that depends on the economy's ability to react to rate cuts. After a year and a half of raising interest rates to reign in a runaway economy, the Fed cut interest rates twice last month. Those moves slashed short-term rates by a full point to 5.5%, almost an unprecedented drop in so short a time.
Historically, stocks tend to perform very well following Fed interest rate cuts. And anyone who got burned by last year's Nasdaq fallout may not want to miss a chance to recoup. So selling is met with buying, as investors try to grab stocks they consider cheap.
But whether or not the uptrend in stocks will continue is far from clear. Some say stocks need another sharp decline before the market can form a true bottom.
Meanwhile, earnings continue to trickle in. There's been plenty of negative news this earnings season peppered with a few pleasant surprises. But, generally, as the earnings season begins to wind to a close and after a rash of important economic data, the market doesn't have one clear theme driving action this morning.
Today brought earnings from troubled telecom heavyweight
WorldCom
undefined
. WorldCom reported diluted fourth quarter earnings per share of 25 cents, meeting analyst estimates. But like a lot of companies this earnings season, the analyst estimates had been reduced. The company said it had cash earnings, which exclude amortization, of 35 cents a share.
WorldCom has seen its stock price sliced from a high of $63.50 all the way down to the midteens in the past year and a half. It's been hurt by weakness in the consumer long distance business, as well as the company's failure to buy competitor
Sprint
undefined
. It was up 4.4% this morning.
Investors continue to keep a close watch on data point after data point to help divine the Fed's next move on interest rates. This morning,
initial jobless claims for the week ended Feb. 3 showed that claims increased 361,000. Economists polled by
Reuters
expected new claims to rise to 348,000 from 346,000. Yesterday's
productivity report showed that workers continued to be more productive during the fourth quarter.
Back to top
Bonds/Economy
The benchmark 10-year
Treasury note was lately down 12/32 to 98 30/32, yielding 5.137%.
Treasuries ended lower Wednesday after a day of light trading volume, despite some early "safe haven" buying amid a Cisco-led selloff in equities. The long bond again slid more than the others: It finished down by about half a point.
Back to top
International
Stocks in Europe were higher this morning.
The
FTSE
wasn't reacting much to a widely expected interest rate cut this morning. The
Bank of England
lowered interest rates for the first time in 20 months, dropping them by a quarter point. London's
FTSE 100
was lately just 3.30 higher, or 0.1%, to 6228.90.
In Paris, the
CAC-40
was up 55.46, or 0.96%, to 5807.60 and the German
DAX
was rising 61.25, or 0.9%, to 6640.21.
The euro was lately trading at $0.9207.
Asian markets slipped overnight, with Japan's
Nikkei 225
closing down 1.7%, and Hong Kong's
Hang Seng
off 0.9%. The Nikkei has been hit with substantial losses the past two years. It is at a 28-month low.
The dollar was trading at 116.08 yen.
Back to top
Back to top