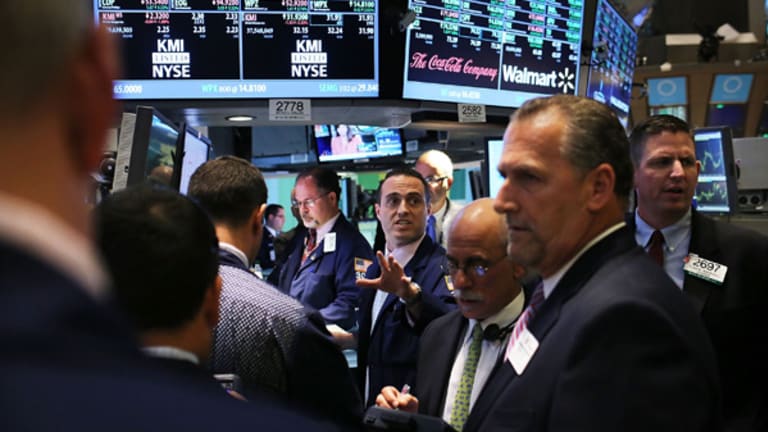 Today's Market: Tech Stocks Edge Higher After Earlier Losses
<LI>Alcoa earnings in line with expectations.</LI> <LI>Dell downgraded after its earnings warning.</LI> <LI>Micron falls in early trading.</LI>
(Updated from 9:43 a.m.)
Fund managers finally jumped in to snatch up some bargains Wednesday after the
Nasdaq Composite Index had its first negative down open in a long time, convincing some that a bottom had been reached.
But those optimistic about a bottom may have gotten ahead of themselves. The Nasdaq was lower at the open this morning and retesting its reading near 3521, a level technical analysts have established as an important "support" threshold -- where buyers rush back in to pick up downtrodden shares. The Nasdaq broke back above 3521 yesterday after falling below that the previous day.
The
Dow Jones Industrial Average was lately off 13 to 10,770. The Nasdaq was 7 higher to 3530. And the
S&P 500 moved up 5 to 1439.
Both tech and Old Economy sectors were sending the market plenty of mixed signals this morning.
Good earnings numbers from chip-making bellwether
Micron Technology
(MU) - Get Micron Technology, Inc. Report
released after the close yesterday were countered by an earnings warning from PC-maker
Dell
(DELL) - Get Dell Technologies Inc Class C Report
and a couple of other tech companies overnight.
In the land of bricks and mortar, warnings came from
Pitney Bowes
(PBI) - Get Pitney Bowes Inc. Report
-- which blamed greater competition and a strong dollar -- and retailer
J.C. Penney
(JCP) - Get J. C. Penney Company, Inc. Report
. But
Merrill Lynch
upgraded the consumer products group. Pitney Bowes was lately off 23.9%. Penney was off 5% in early action.
TheStreet.com
wrote a
separate story about Penney.
A lot of investors were cheering Micron's effort overnight, when the stock was way up in extended hours trading. Fellow chip company
Advanced Micro Devices
(AMD) - Get Advanced Micro Devices, Inc. Report
was also trading higher. But in early action this morning, Micron was off 3.8%. Advanced Micro Devices was off 1.5%. It may be that there wasn't enough good news on the company's conference call about the chip sector
going forward. Micron's third quarter ended in August, before the recent weakness in DRAM chips began. So most investors were far more concerned about current and future demand.
ABN-Amro
cut Micron's 12-month price target to $100 from $120 this morning.
And a long and stressful earnings warning season wasn't letting up quite yet. After the closing bell, Dell
warned that its revenue growth is currently trending about 3 percentage points below expectations.
Hambrecht & Quist
downgraded the company this morning, while
Bear Stearns
slashed its fiscal 2001 earnings per share forecasts to 92 cents from 94 cents and 2002 EPS forecasts to $1.05 from $1.20. Dell was lately 8% lower.
Other companies that have issued warnings since the end of trading yesterday included
Harmonic
(HLIT) - Get Harmonic Inc. Report
, which expects to report a pro forma loss of 6 cents to 9 cents -- well behind the earnings tracker
First Call/Thomson Financial's
prediction of a 12-cent profit -- and application service provider
Breakaway Solutions
(BWAY) - Get Brainsway Ltd. Report
. Breakaway warned it would miss third-quarter earnings estimates because of delayed or canceled projects and fewer dot-com opportunities. Harmonic was dropping 33.8% in early going. Breakaway was 28.3% lower.
TheStreet.com
has been tracking many of the warnings in a
separate chart.
The first Dow component to issue a report this season,
Alcoa
(AA) - Get Alcoa Corporation Report
this morning reported earnings in line with expectations. The world's largest aluminum manufacturer, Alcoa is already up 11.2% for the week. Alcoa was lately 2.1% lower.
Elsewhere in the news, U.S. media titan
Time Warner
(TWX)
and British music publisher
EMI
ditched their current merger agreement after the European Union's antitrust regulator expressed doubts about the deal. The two companies will continue talks on a deal that could get regulatory approval, however.
The EU is close to clearing Time Warner's $135 billion merger with Internet giant
America Online
(AOL)
,
Reuters
said. Time Warner was up 3.2% in early going. AOL was 3.3% higher.
Back to top
Bonds/Economy
Treasuries are little changed on little news on the day before the release of the September
employment report, the most important economic report to roll around each month.
There are no major economic reports today, although at 2 p.m. EDT the
Federal Open Market Committee will release the minutes of its Aug. 22 meeting.
At its most recent meeting on Tuesday, the FOMC
cited the still-high level of labor-force utilization -- aka low unemployment rates -- as its main reason for maintaining its aggressive posture on interest rates.
The employment report will provide the latest readings on unemployment, with possible implications for monetary policy. In August, the regular unemployment rate stood at 4.1% and the
augmentedunemploymentrate -- the measure preferred by the Fed -- stood at 6.9%.
The benchmark 10-year Treasury note was up 2/32 at 98 31/32, and yielding 5.890%.
Back to top
International
European stocks pulled back following a
surprise interest rate hike from the European Central Bank this morning, though most indices remained in the green.
Reuters
survey of economists showed that 34 of 48 had expected the ECB to keep interest rates unchanged at its meeting this week. Earlier, equity prices remained stable after the
Bank of England
left Britain's interest rates unchanged at 6%.
A weaker outlook for the U.S. market was also putting pressure on European markets.
In London, the
FTSE 100
was lately up 22.30 to 6357.20.
Across the channel, the
CAC 40
in Paris was up 10.87 to 6307.00, while the
Xetra Dax
in Frankfurt was up 14.73 to 6838.16.
The euro was squeezing out some slim gains, lately up to 0.8782.
TheStreet.com
recently looked at what
ails the euro.
Heartened by the Nasdaq's recovery, most of
Asia's major stock markets ended in positive territory Thursday.
Japan was the major exception, as the
Nikkei 225
closed down 49.8, or 0.3%, at 16,099.3. Dell's earnings warning weighed on the shares of
Sony
and
NEC
(NIPNY)
.
In Tokyo currency trading, the dollar rose against the yen to 109.40 yen from 108.74 yen Wednesday. It was lately trading at 109.27.
Other Asian markets were lifted by buoyant technology shares following the Nasdaq's rebound. Hong Kong's
Hang Seng
index rose 305.8, or 1.9%, to finish at 16,184.7; Taiwan's
TWSE
index rose 31.7, or 0.5%, to end at 6029.7; and South Korea's
Kospi
index closed up 8.4 points, or 1.4%, to 606.8, despite a surprise move by the central bank to hike interest rates by 25 basis points to 5.25%.
Back to top