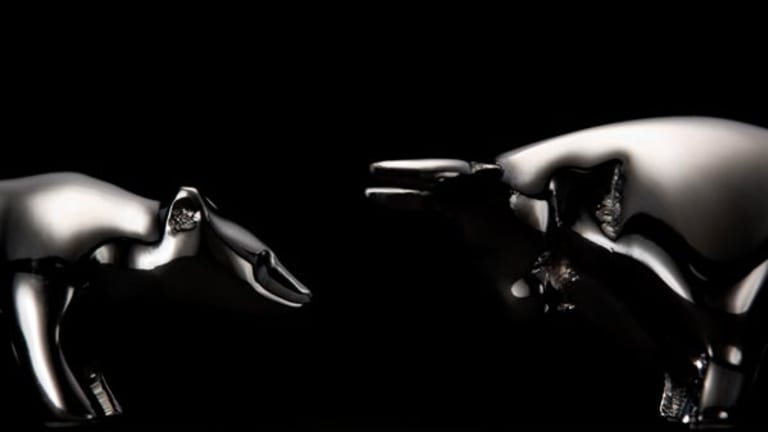 Publish date:
Today's Market: Tech Stocks Bounce Back
<LI>Intel rising after Friday's sell-off.</LI> <LI>Clinton's intervention pushes oil prices to lowest this month.</LI> <LI>Sprint climbing after Lehman upgrade.</LI>
<LI>Intel rising after Friday's sell-off.</LI> <LI>Clinton's intervention pushes oil prices to lowest this month.</LI> <LI>Sprint climbing after Lehman upgrade.</LI>
(Updated from 9:29 a.m.)
With tech and telecom stocks in a messy heap after the last few weeks' sell-off and President
Bill Clinton's
decision
Friday to dip into oil reserves, investors were looking for some bargains this morning. Brent crude oil prices were around $30 this morning, their lowest level in a month.
The
Nasdaq Composite Index gained 53 to 3857 in early going. The
Dow Jones Industrial Average jumped 27 to 10,974. And the
S&P 500 moved 5 higher to 1454.
Investors have clobbered stocks during this earnings warning season, as companies blame high oil prices and a depressed euro -- as well as slowing demand -- for expected shortfalls in earnings and revenue. Chip-making leader
Intel
(INTC) - Get Report
issued the latest and most devastating of the
warnings Thursday after the close, spurring a massive sell-off in tech and industrial stocks in early trading. The Dow later rebounded and ended in the green, though the Nasdaq closed moderately in the red.
Some pros think tech and telecom stocks are now ripe for the picking.
Donaldson Lufkin & Jenrette
said that one warning from Intel did not justify Friday's tech sell-off, and
Lehman Brothers
raised its rating on telecom
Sprint
. Sprint was up 2% in early trading.
PaineWebber's
Robert Harrington, co-head of block trading, said he thinks a bounce at the open will hold today.
"In Europe, we're seeing buying in telecoms and tech. The market has gotten to a point where you've got to take a look," Harrington said. "Things are still pretty volatile. But I still feel the market is at a point where it's looking pretty attractive.
"They opened the oil reserves. They're helping the euro. We are looking at some of the telecoms," he said. "Our strategist likes
Gateway
(GTW)
,
Hewlett-Packard
(HWP)
,
Motorola
(MOT)
,
Nextel
(NXT)
and
WorldCom
(WCOM)
."
Whether the new oil prices can hold is questionable, but one
Bear Stearns
analyst said this morning that he sees the dip into emergency reserves allowing for a quick buildup in oil stocks and resulting in a steep decline in oil prices.
Meanwhile, earnings warnings season continues until the end of this month, and investors will likely sift through the rubble of Friday's initial sell-off and late-day recovery with care, remaining defensive about their picks.
This morning, Intel and other semiconductor stocks such as
Texas Instruments
(TXN) - Get Report
and
Micron Technology
(MU) - Get Report
, as well as software company
Cisco
(CSCO) - Get Report
, were moving higher in preopen action. After the open, Intel was up 4.4%. Texas Instruments was was gaining 0.4%. Micron was 0.5% higher.
And shares of
Handspring
(HAND)
, which competes with
Palm
(PALM)
in the electronic-organizers market, were soaring in Europe after an analyst said strong sales could outstrip Palm's. Handspring's shares have risen 78% this month. After the open in the U.S., Handspring was slipping fractionally. Palm was up 3.7%.
And
Motorola
(MOT)
and Palm are teaming up to launch a "sport" phone. Motorola was up 0.4% in early going.
Brent crude oil for November settlement fell to around $30 a barrel in Europe this morning, the lowest level in a month, after Clinton
authorized the release of 30 million barrels of oil from the nation's
Strategic Petroleum Reserve
over the next 30 days. Short supply and threats from Iraq that it would cut off exports pushed oil prices to a new high last week of $37 a barrel.
But the euro was down from Friday's highs. Last week, the European, U.S. and Japanese central banks agreed to intervene to support the currency. Following this weekend's G-7 meeting of leading industrialized nations, investors will be watching for any new interventions.
TheStreet.com
wrote a story about the
intervention .
Elsewhere on the market,
America Online
(AOL)
and Japan's
NTT DoCoMo
are reportedly planning to jointly develop and sell mobile Internet services in Japan and elsewhere. DoCoMo is planning to take a big stake in AOL Japan. A deal could be announced this week.
TheStreet.com
took a look at the
deal in a story earlier today. AOL was gaining 0.8% in early trading.
A splash of economic data comes out at 10:00 a.m. today August's
Existing Home Sales are forecast to reach 4.85 million vs. a previous 4.79 million. Considered a good gauge of near-term spending for housing-related items -- and of consumer spending in general -- this number could affect the market, but there are other questions on investors' minds right now.
Back to top
Bonds/Economy
The 10-year Treasury note was lately up 1/32 to 99 9/32, yielding 5.846%.
Back to top
International
Telecom, media and technology stocks were rebounding in Europe and Asia overnight.
The
FTSE 100
was lately up 86.40 to 6292.30. Across the channel, the
CAC 40
in Paris was 68.53 to 6327.11, and the
Xetra Dax
in Frankfurt was rising 69.65 to 6809.90.
TheStreet.com
covered midday action in
Europe in a separate story.
Though it got a boost on Friday from the joint intervention of the European Central Bank, the U.S. and Japan, the euro was lately trading off a hair at 0.8764.
Asian markets ended higher.
The
Nikkei 225
index rose 174.65, or 1.1%, to close at 15,992.90.
The greenback climbed against the yen in Tokyo trading to 108.05. The dollar was lately trading at 107.6 yen.
A bout of short-covering in the futures market helped Hong Kong's
Hang Seng
surge 816.07, or 5.6%, to close at 15,428.95. Computer maker
Legend Holdings
fared exceptionally well, climbing HK$1.05, or 17.5%, to 7.05 ($0.90) after falling 26.83% last week.
Korea's
Kospi
index jumped 31.38, or 5.7%, to stand at 584.63, thanks to a rally in bank shares
Back to top