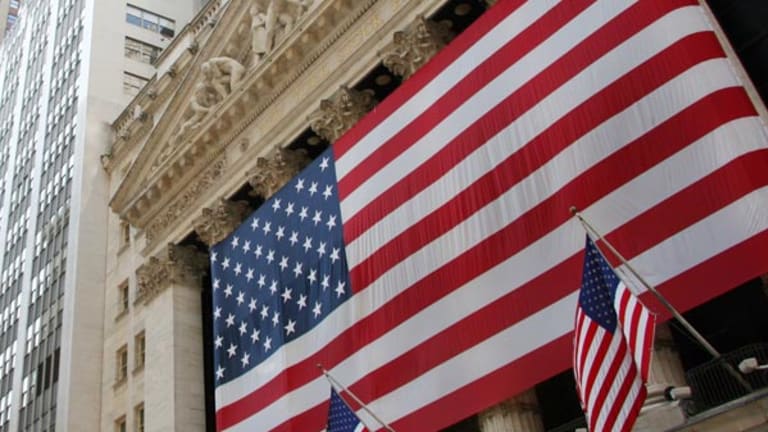 Today's Market: Tech Stocks Begin Post-Holiday Return of Friday's Gains
<LI>JDSU falls after Deutsche Bank downgrade.</LI> <LI>Yahoo! jumps after it says holiday sales were strong.</LI>
(Updated from 9:49 a.m. EST)
That was some holiday present. The tech-heavy
Nasdaq Composite Index rose 7% on Friday. And this morning, stocks climbed at the open.
But now the returns begin. Stocks were recently falling.
It's quiet out there. There's little news. There is no major economic data being released today. And volume will likely be light.
JDS Uniphase
(JDSU)
, the optical component maker, was off 3.5% after a downgrade this morning from
Deutsche Bank
that moved it to buy from strong buy. It was up earlier this morning. Investors turned cold on JDSU on Friday after Deutsche Banc Alex. Brown analysts told investors that JDS would likely meet earnings and revenue expectations for its current fiscal second quarter, but that the company may lower its forecast for next year.
TheStreet.com
wrote a separate story about
Friday's activity.
The markets will likely remain quiet as many investors turn the long holiday weekend into an extended break. European markets and some Asian markets are closed for holidays.
Whatever volume investors can stir up today, watchers weren't sure the gains from Friday could be sustained. Some people interviewed last week said the gains didn't show conviction. And in the past few months, rallies have turned into opportunities to sell stocks. Market pros think this selling pattern will continue. Plus, the last week of the year is typically not marked by any big moves up for stocks.
So brace yourselves. It doesn't look like any yearend rally will materialize before Friday. Instead, this year looks like it will definitely end on a downbeat note -- and a big one at that. The blue-chip
Dow is off 7.5% year to date. The Nasdaq is 38.1% lower for the year. The
S&P 500, which tracks the broad market, has lost 11.1% since the year began.
The Nasdaq was lately off 18 to 2499. The Dow was toying near flat at 10,634. And the S&P 500 was 5 higher to 1311.
As the quarter comes to a close, very few earnings reports will trickle in this week. But investors will be watching what happens after the new year, when the earnings season kicks into full swing. People are braced for a spate of bad news. Company after company has pre-announced that its earnings are not on track for the growth targets that had been set earlier in the year before the pace of economic growth began to slow.
These lower earnings targets are having ripple effects. Slowing computer sales, for example, have hit PC makers and chipmakers alike since the chip companies make the brains that power the computers. And this morning, in another example of the ripple,
Credit Suisse First Boston
cut the 12-month price target on
Sanmina
(SANM) - Get Free Report
, a contract manufacturer, to $107 from $171.
Earnings tracker
I/B/E/S
this morning said this quarter of corporate earnings will have the busiest confession season since the firm started analyzing information on pre-announcements in the fourth quarter of 1995. Confession season is the time before earnings are announced when companies fess up about problems like weaker business or lower earnings projections.
I/B/E/S said 527 companies have already issued pre-announcements this quarter compared to 233 in all of the fourth quarter of 1999. The firm expects a total of 1000 pre-announcements for the entire quarter. But it's not just slowing earnings growth that is forcing companies to give more information on the current quarter. The new Regulation FD is having an impact since it requires companies to make public any new guidance they give on their outlook.
I/B/E/S now expects corporate earnings for S&P 500 companies to grow in a range of 6% to 8% next year. Earlier in the year, earnings had been growing at a rate of more than 20%. That pace slowed to 17.5% in the third quarter. And analysts now expect 5% growth for the fourth quarter, I/B/E/S said.
On a positive note,
Yahoo!
(YHOO)
this morning said online shopping showed "strong results" during the holiday season. Sales volume over the 2000 holiday season nearly doubled over the same period of 1999, Yahoo! said. And Yahoo!'s non-U.S. properties saw a six-fold increase in transaction volume. Yahoo! did not specify what portion of that increase was attributable to expansion in the availability of its international service, which is now deployed in 14 countries. The online portal, whose stock has been beaten up, was up 9.5%.
Wow, investors really do eat up any glimmer of good news. In general, however, retail sales were disappointing during the holiday season, which is the critical time of year for retailers.
As you dig through the post holiday sales and prepare for New Year's Eve, check out
TheStreet.com's
special report "
2001:1218302, New Rules."
Back to top
Bonds/Economy
Treasury notes and bonds ended higher on Friday as investors and traders played out a cheerful prelude to the holidays. Bonds and stocks usually move in a seesawing mode, but Friday was clearly an exception.
This morning, 10-year Treasuries were lately off 4/32 to 105 14/32, it's yield at 5.03%. Prices and yields move in opposite directions.
Back to top
International
European markets are closed today for
Boxing Day. And in Asia, the Hang Seng was also closed. In Japan, where economic troubles continue, the Nikkei 225 gained 76.24, or 0.55%, to 14007.85. New data out of Japan shows the unemployment rate is rising, while consumer spending is slowing.
The euro was lately trading at 0.9294. It has been gaining on the dollar recently as the domestic economy weakens.
The dollar was recently getting 113.35 yen, a new 13-month high for the dollar.
For more information about global markets, see
TheStreet.com's
Global Indices.
Back to top