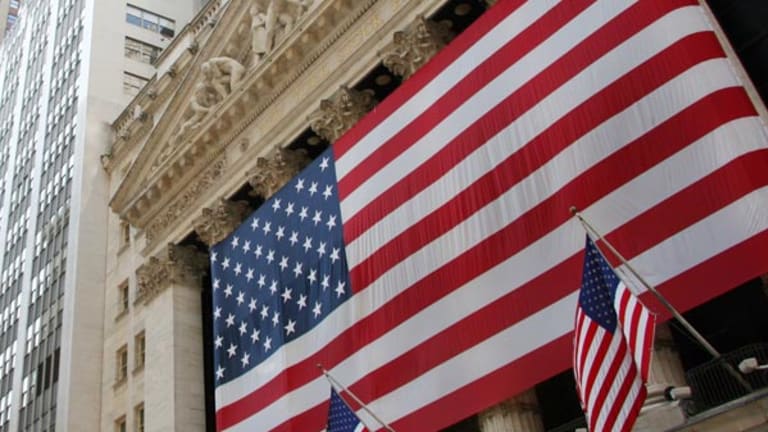 Today's Market: Tech Smiles and Dow Passes 11K
<LI>JDSU, SDL pop on news of merger approval.</LI> <LI>Banks sag under concerns about credit quality.</LI> <LI>Biotech buzzes, gold loses its luster.</LI>
Directionless markets floated higher as investors churned back into technology. They'd driven the tech-soaked
Nasdaq Composite Index down 7% over the past four trading sessions.
Now, tech stocks are making some headway against those losses. But ultimately, the Nasdaq has been locked into a range around 2,750 -- where it has been hovering for the past three or so weeks.
The blue-chip
Dow Jones Industrial Average pushed passed 11,000, a level it has not closed above since Sept. 14. This is the third time this month that the Dow has been within 30 points of an 11 K close. But it's the first time it's traded above 11,000 since Jan 3, when a surprise move to cut
interest rates by the
Federal Reserve pushed markets substantially higher.
The Dow drew the majority of its strength from three companies --
IBM
(IBM)
,
3M
(MMM)
and
Hewlett-Packard
undefined
.
What strength there was -- and there was strength in areas like biotechnology and PC makers -- was offset by weak volume. At midday, volume on both the
New York Stock Exchange and Nasdaq Stock Market was thin, an indication that many people are sitting out trading sessions until the economic outlook solidifies. The lack of participation is also an indication that market moves are not supported by the full weight of the investing community. That means investors can look forward to a lot more sideways movement and unclear signs about which sectors are going to drive the market.
Still, biotechnology and PC makers were nonetheless strong. The
American Stock Exchange Biotechnology Index
rose 4.6%.
Myriad Genetics
(MYGN)
announced a second-quarter net loss that beat analyst estimates, while touting the discovery of a gene that puts men at a risk of prostate cancer. Revenues at the company rose to $11.9 million from $8.3 million.
That was really all the news this battered sector, which has fallen for five-straight sessions, needed to rebound. As a result, Myriad rose 7.6%. Bellwethers
Affymetrix
(AFFX)
and
Protein Design Labs
(PDLI)
, along with smaller guns
Vertex Pharmaceuticals
(VRTX)
and
Human Genome Sciences
(HGSI)
were all among the Nasdaq's leaders.
Fiber optic equipment gear maker
SDL's
undefined
stock has been bananas all day after the
Justice Department
approved the company's merger with competitor
JDS Uniphase
(JDSU)
. In order to get clearance for the deal, JDS Uniphase sold a fiber-optic manufacturing plant to
Nortel
(NT)
for $3 billion in stock. As the kids in the street say -- it was all good. The move unites JDS Uniphase, the world's largest fiber optic gear maker, with SDL, the world's second largest. That's a whole lotta big merged company. SDL rose 8.6% to $201.38. JDS Uniphase rose 6% to $53.
Elsewhere in tech, the rally in Hewlett-Packard and IBM tossed a bone to the emaciated mutts in the PC sector, which has been reeling from slowing consumer and corporate spending. The
Philadelphia Stock Exchange Computer Box Maker Sector
, a loser in the last five sessions, gained 4.1% today.
But, the market did have its share of losers, too. Precious metals should probably consider some new adjectives after the
Philadelphia Stock Exchange Gold & Silver Index
dropped 2.9%. This is the third-straight session of losses for the gold bugs, which rose to prominence as a defensive play as the presidential election turned into a junior high student council race.
Banks and insurers were also lower. The
Philadelphia Stock Exchange/KBW Bank Index
dropped 2.1%, led by a 4.5% drop in
Bank of America
(BAC)
, while the
S&P Insurance Index
slid 1.7%. There was a survey from the Federal Reserve yesterday that said banks continue to tighten their lending standards over concerns about the slowing economy.
First Union
undefined
said there will be more cost cutiing. And
Citigroup
(C)
announced a contigency cost cutting plan in case the economy get worse.
What does this all mean? Well, for earnings season. Churn. Churn. Churn.
Market Internals and Most Actives
Yech. Volume was thinner than a twelve-year-old boy's excuse for why he's holding a gas can while the backyard is engulfed in flames. At least winners were beating losers.
Tonight,
Cisco
(CSCO)
will release earnings and, man oh man, was the action thick today. The networker easily was the most-actively traded Nasdaq stock and it was gaining 4% after closing lower yesterday. Place your bets now, kiddies. Here's a look at what other companies are moving.
Back to top
Sector Watch
After a positive report from
Merrill Lynch
outlined a decent future for electronics contract manufacturers, most of the biggest names in the sector fell. What gives?
Well, a lot of these guys, especially
Celestica
(CLS)
,
Flextronics
(FLEX)
and
Solectron
undefined
, have been rocketing up since Dec. 1. The three companies listed rose 38.4%, 56.7% and 29.6% over that span respectively. Flextronics, for example, benefited after
Nokia
(NOK)
said it would outsource its manufacturing to the company.
And what the markets giveth, the markets taketh away -- often for profit taking purposes. Celestica dropped 2%, Flextronics dropped 3.5%, while Solectron fell 3.2%.
Back to top
Bonds/Economy
Treasury notes are trading slightly lower as the market awaits the auction of $32 billion worth of new and reopened Treasury debt. Dealers are selling to create space in their portfolios for the latest issues that are due on the market later this afternoon. The long bond slid further in reaction to the advice of a
Bond Market Association
committee that the long-term security continued to be issued by the government.
The Treasury Borrowing Advisory Committee of the association, comprising investors, had suggested last week that the 30-year bond be removed after its August sale because of government surpluses. But the Primary Dealer Committee of the association, composed of dealers that trade directly with the
Federal Reserve in the Treasury market, yesterday advised against its elimination yesterday. It said that the 30-year remained the most suitable security for long-term oriented bond investors.
The benchmark 10-year
Treasury notelately was down 5/32 to 104 4/32, raising its yield to 5.193%.
In economic news, the
BTM-UBSW Weekly Chain Store Sales Index
(
definition |
chart ) was down 0.1% for the week ending Feb.3 after having advanced 0.6% in the previous week. The slight fall was due to a decrease in consumer spending. No retailer exceeded the weekly sales target. The yearly moving average rose 3.7% from its reading twelve months earlier, although it was down from 3.9% recorded in the end of January.
Analysts expect sales will stabilize as consumers benefit from cash available from the rising number of mortgage refinancings and lower interest rates.
The
Redbook Retail Average
(
definition |
chart ) for the last week of January is up 2.2% from its value in the closing week of December. Sales for the month rose 3.2% from the same period a year ago. The number has stayed positive thanks heavy promotion and heavy discounts.
Back to top
International
European markets brightened as the day wore on and a gloomy midsession funk burned off. Britain's
FTSE
rose 26.6 to 6295.8. Banks were hottest, with merger rumors keeping the sector on trading screens for much of the day.
Meanwhile, Germany's still-trading
Xetra Dax
was up 56 to 6684.1, driving home some decent gains thanks to
DaimlerChrysler
(DCX)
, which had a 2.5% gain on the NYSE. Paris'
CAC
rose 28.9 to 5852.4.
The euro last traded at $0.9304, which means it's worth more than a can of soda, but less than a bottle of soda. The yen traded at 114.8.
Across the Pacific, Japan's
Nikkei
continued to struggle as high-tech stocks take it on the chin again. The Nikkei dropped 115.7 to 13,269.9, hitting a four-week low.
Toshiba
was a major drag on the index, helping fuel the tech selloff. Hong Kong's
Hang Seng
traded in the opposite direction, gaining 82.4 to 15,913.2.
Back to top