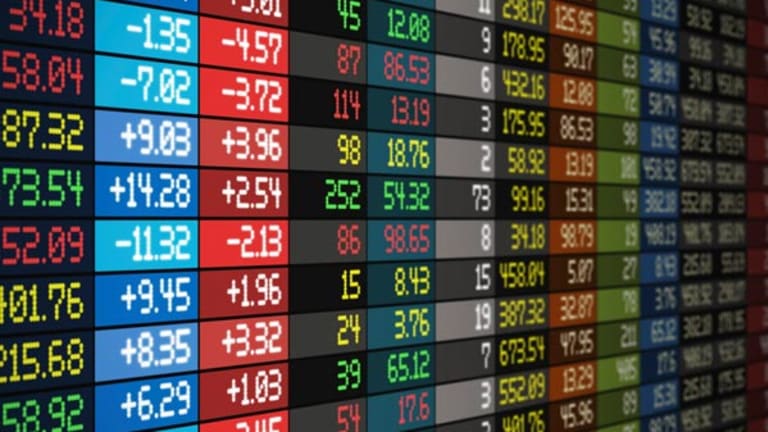 Today's Market: Tech Fuels Battered Nasdaq and Dow Higher
<LI>Battered Ecommerce companies roar higher.</LI> <LI>AT&T pulls Antec and Commscope lower.</LI> <LI>Financials bounce back.</LI>
The day after Thanksgiving always brings out bargainhunters, who flock in droves to the malls. It was no different on Wall Street, with investors on the prowl for cheap stocks. The rally they created was enough to get most investors in the holiday spirit.
The major indices got what felt like a well-deserved break from the selloff of the past few weeks.
On Wednesday, the
Nasdaq Composite Index tumbled to a new 52-week low of 2755.3, and several weeks of selling have put the tech-heavy index a hefty 45% off of its March high.
Still, even with a triple-digit point gain today, the tech-heavy Nasdaq finished below the psychologically important 3000 line. Some market watchers said the Nasdaq is going to hit 2500 before it really bounces back.
Meanwhile, the
Dow Jones Industrial Average had been enjoying big gains, but slid off its highs of the day before the close. The
S&P 500, which represents the broader stock market, also gained in the feel-good rally today.
Battered telecom giant
AT&T
managed to rise 3.3% despite dragging down other companies on news today that its broadband division told telecommunication equipment makers
Antec
( ANTC) and
Commscope
(CTV) - Get Innovid Corp. Report
to delay shipment of AT&T's pending orders. Also today,
Scientific-Atlanta
( SFA), which makes set-top boxes linking televisions to cable systems, reported that AT&T broadband unit also will limit its receipt of product shipments for the remainder of the quarter.
Antec, which has historically derived 40% to 50% of its revenues from AT&T, said the news would hurt its fourth-quarter revenue and earnings and possibly next year's. It dropped 21.3%. CommScope, which also counts AT&T as a major customer, said it wouldn't change its fourth-quarter earnings projections, but cut its 2001 forecast. It plummeted 24.1%. Scientific-Atlanta fell a comparatively modest 4.4% and said that the move with take between 1% and 2% off its second-quarter sales.
TheStreet.com
wrote about the impact of
AT&T's move in a separate story.
But fallout from AT&T stayed fairly focused, with other tech-related stocks moving generally upward.
Even chipmaker
Xilinx
(XLNX) - Get Xilinx Inc. Report
jumped $4.50, or 8.6%, to $56.81, after a negative call on the stock from
ABN Amro
. The market research firm lowered its 12-month price target on the company to $100 from $120 and slashed its first quarter 2001 EPS view to $1.31 from $1.35. The battered
Philadelphia Stock Exchange Semiconductor Index
, which tracks the chip sector, gained 8.8% today.
The Nasdaq wasn't the lone beneficiary of the tech bounce. Much of the Dow's gains came from its tech components
Hewlett-Packard
( HWP),
Intel
(INTC) - Get Intel Corporation Report
,
Microsoft
(MSFT) - Get Microsoft Corporation Report
.
Financial giant
J.P. Morgan
(JPM) - Get JP Morgan Chase & Co. Report
was the blue-chip index's biggest booster. It was up 3% after suffering Wednesday. Banks and brokerages have been slammed this month on growing worries that bad loans will cut into sector earnings. The
American Stock Exchange Securities Broker/Dealer Index
was up 3.5%, after losing 18% in the past three weeks, and the
Philadelphia Stock Exchange/KBW Bank Index
was up 0.9% after taking an 13% plunge since Nov. 6.
Quaker Oats
( OAT) had another potential buyer -- French yogurt maker
Danone
( DA) -- bow out of bidding for it and its popular Gatorade line. Earlier this week,
Coca-Cola
(KO) - Get Coca-Cola Company (The) Report
dropped out of takeover talks.
Pepsico
(PEP) - Get PepsiCo Inc. Report
had earlier ended its courtship of Quaker. Quaker was down $3.25 to $83.75 on the news, while Danone inched up $1.25 to $26.07.
Still, a bit of a bounce on a shortened trading day doesn't mean a whole lot at this point with election uncertainty still lingering and slowing corporate earnings on the horizon. The Nasdaq is still officially in a
bear market territory -- defined as 20% below highs. And all attempts at bounces in the past few months have failed miserably.
Back to top
Market Internals
Breadth was positive on typically light holiday volume.
New York Stock Exchange: 1,800 advancers, 791 decliners, 405.8 million shares. 54 new 52-week highs, 45 new lows.
Nasdaq Stock Market: 2,474 advancers, 1,068 decliners, 791.9 million shares. 25 new highs, 162 new lows.
Back to top
Most Active Stocks
NYSE Most Actives
Nasdaq Most Actives
Back to top
Sector Watch
The
S&P Retail Index
edged down 0.1%. Investors were reminded on this, the busiest shopping day of the year, that retailers aren't confident about the December quarter. Check out
TheStreet.com's
recent package on what retailers are expecting from this
holiday season.
Not all commerce had a bad day.
TheStreet.com E-Commerce Index
rose 10.6%. Online retailers
eToys
( ETYS) and
Amazon.com
(AMZN) - Get Amazon.com Inc. Report
bounced today as the holiday shopping season gets into full swing. On Tuesday,
Merrill Lynch
analyst
Henry Blodget cautioned that Internet stocks faced near-term pressure amid a tough market environment. But he was more encouraging on Amazon.com, saying the company showed "good improvement in efficiency" and "solid revenue growth."
Another big winner was
BroadVision
(BVSN) - Get BroadVision Inc. Report
. The maker of e-business software moved up 11.5%.
Some of the defensive stocks such as gold and drugs that have rallied nicely in the past week were back out of favor today, however. The
Philadelphia Stock Exchange Gold and Silver Index
was 1.4% lower and the
American Stock Exchange Pharmaceutical Index
fell 0.7%.
Back to top
Bonds/Economy
Treasuries were down slightly in reaction to the rally in the stock market. There is no economic data and volume was extremely light in what was an abbreviated session that ended at 2 p.m. EST.
The benchmark 10-year
Treasury note lately was down 1/32 at 100 26/32, lifting its yield to 5.637%.
The stock market has been the primary influence on bond prices lately. Bond prices rally when stocks fall and fall when stocks rally because the stock market is seen as an indicator of future economic activity. To the extent that rising stock prices indicate a strengthening economy, they dictate higher interest rates and bond yields, investors reason.
Back to top
International
European markets bounced today.
In London, insurance and bank stocks brought the
FTSE 100
back to life at mid-morning. The blue-chip proxy opened down on weakness in software companies after losing 2.5% Wednesday. But at the end of the day, the FTSE was up 40.30 to 6327.60.
Over on the continent, the
CAC-40
in Paris was up 92.61 to 6145.65 and the
Xetra Dax
in Frankfurt was 76.29 higher to 6677.29.
The beleaguered euro was sinking, trading down at $0.8392.
Asian equity markets closed mixed overnight.
In Tokyo, stocks the
Nikkei 225
added 14.04, or 0.10%, to 14,315.35.
The greenback jumped higher to 111.24 yen.
Hong Kong's
Hang Seng
index fell on weakness in telecom stocks, closing down 1.28% to 14,376.90.
Back to top