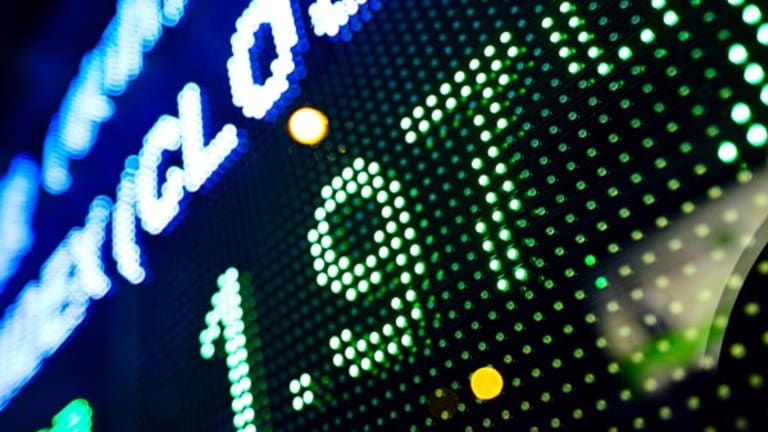 Today's Market: Tech Battering Continues; Nortel, H-P, JDS Uniphase Today's Big Losers
Last night's spate of bad news has generated today's tech selloff.
"Welcome to the jungle, baby. You're gonna die!"
And really, who's gonna argue with
Axl at this point? A bewitching combination of bad news, odd economic data and cautious words from analysts have eliminated any trace of gains from yesterday's rally. The
Dow Jones Industrial Average slid 79 to 10,812, while the
Nasdaq Composite Index dropped 113 to 2440.
Inflation data was first and foremost in the minds of traders, since the
Producer Price Index
, which measures the change in wholesale prices, spiked in January. The main number came in at 1.1%, a number so high that many originally thought it was a typo when it was released before the start of trading today. It's close to four times higher than the expected 0.3% growth.
Granted, the PPI numbers tend to fluctuate from month-to-month, but after having rather benign inflationary numbers for quite some time, seeing such a huge PPI increase has many people wondering exactly what's happening in this slowing economy. Is inflation now a problem? Maybe not, but it adds more uncertainty to a market that is already having trouble determining what the rest of 2001 will look like.
January
industrial production
data reflected slowing in January, but not quite as bad as December's output trail-off. Still, today's data were off more sharply than economists were expecting. Production fell 0.3% during the month, compared to forecasts that it would be unchanged, while capacity utilization dropped to 80.2% vs. expectations that it would come in at 80.4%. Industrial production slid 0.6% in December.
But wait! There's more.
If you act now, then you'll also discover that consumer confidence levels have also slid to levels unseen since 1993, a time known for the rise of Nirvana and the death of heavy metal. The
University of Michigan's
twice-monthly indicator of consumer sentiment came in at 87.8, a level unseen since November 1993. That completely whiffed analyst expectations for a 95.1. Across the board, these numbers look horrifying. The current-conditions barometer came in at 103.7, the worst level since December 1995. The consumer expectations index, which tracks how people feel about the future, tumbled to 77.6 from January's 86.4.
These figures are bad. But they could be enough to spur a Fed cut. Fed chair
Alan Greenspan has been very open with the fact that he's quite sensitive to how consumers feel about the economy. Markets won't exactly rally on this news, though. Not with such bad news out there and a PPI number that shocked most market watchers. The uncertainty is certainly out there -- even more so than in recent weeks.
Networking equipment maker
Nortel Networks
(NT)
warned last night, announcing that it would not see growth improve until late 2001, bucking hopes that the second-half of 2001 would mark a revisit to the good old days of earnings growth. And, since Nortel has such a prominent place in the sector, most of tech was destroyed by the news.
Nortel, fittingly, was taken to the woodshed and beaten by the analyst community.
Lehman Brothers
,
Credit Suisse First Boston
,
Goldman Sachs
and
Merrill Lynch
all lowered their estimates on the company. Merrill analyst Tom Astle took the hardest stance, cutting the company's intermediate-term rating to accumulate from buy.
"We thought
the first quarter would be ugly but this is worse than we thought," Astle wrote. "This sector has turned ugly fast. We had sensed sectoral weakness in
the first quarter but we did not expect Nortel to see this much weakness and lack of visibility. Within a three-week period the company has dropped its
first quarter revenue target by 22%."
Part of the problem is that this sector got a
hefty boost yesterday after
Ciena
(CIEN)
beat Wall Street estimates for its fiscal first-quarter earnings and, more importantly,
forecast strong growth. Nortel slid 33%, Ciena dropped 5.6% and the entire networking sector blew up. The
American Stock Exchange Networking Index
dropped 9.8%.
The PC-makers were also feeling the pain following last night's warnings from
Hewlett-Packard and
Dell
(DELL)
. Dell
met Wall Street's vastly lowered earnings expectations for its fiscal first quarter ended Jan. 31, but missed revenue estimates and
lowered forecasts for the rest of the year. H-P came in-line with lowered forecasts, but said in a conference call that it didn't see any near-term growth for its line of PCs.
Analysts were not amused. H-P's forecasts were trimmed by CSFB, Lehman and
Prudential Securities
and
Bear Stearns
. The same crew wrecked Dell's estimates, too, only Merrill joined in on the fun.
Dell slid 6.3%, but H-P's 11% slide hurt the Dow. Fellow techies
IBM
(IBM)
,
Intel
(INTC)
and
Microsoft
(MSFT)
were also drags on the Dow. Well, those guys and a grand total of 19 of the 30 industrials.
Unlike the rallies of recent weeks, this sell-off has the full support of the market. It's been a rather decisive downward move, as volume on both the
New York Stock Exchange and
Nasdaq Stock Market have soared. The news dragged many investors back into the trading pits, but the expiration of both index and stock options has caused people to jump in with aplomb in order to cover their bets.
Institutions were dumping stocks, as evidenced in that xx% fall in the
American Stock Exchange Institutional Index
, which tracks the stocks most held by deep-pocketed institutional investors.
Clearly, people were not in the mood to rally. And could you blame them? That's a whole lotta bad news.
Market Internals and Most Active Stocks
Losers kicked the holy hell out of winners today, beating them by a margin wide enough to put all of Dave Eggers' fancy footnotes in. On a brighter note, volume was huge today, breaking out of light levels for the first time in well over a month.
Okay. You get exactly
one
guess what the Big Board's most active stock is. Here's a hint. This company warned that earnings growth would not improve until late 2001, just one day after competitor
Ciena
(CIEN)
said that it would have a very profitable 2001, thank you very much.
Got it yet?
Back to top
Sector Watch
Technology was a barren wasteland covered in mines. It's downright deadly out there, with wireless, boxmakers, chipmakers and dot-coms all lower in the wake of some terrible news. And with growth more uncertain than ever before, every sector got crushed.
The
Philadelphia Stock Exchange Semiconductor Index
dropped 6.1%, while the
Philadelphia Stock Exchange Wireless Telecom Sector
fell 6.2%. The
Philadelphia Stock Exchange Computer Box Maker Sector
was off 4.8%.
But the worst signal out there was the
Morgan Stanley High-Technology 35 Index
, which covers the high-tech companies like
Apple
(AAPL)
and
Microsoft
(MSFT)
that are in a ton of portfolios. This index of widely held stocks fell 6.6%.
Back to top
Bonds/Economy
Treasury prices are up as varied economic news and weakness in equities are giving bonds a "safe haven" quality at present. The money market had opened lower for the fifth successive session this morning as traders continued to adjust to a less aggressive climate for interest rate-cuts.
But short-term notes led a turnaround as some bellwether technology companies disclosed poor corporate performance. Such an inverse development is normal when stock worries make investors move their money to liquid risk-free government securities. Wholesale price data released this morning hints of inflationary possibilities but industrial output is down, thus keeping economic signals mixed.
The benchmark 10-year
Treasury note lately was up to 13/32 to 99 3/32, lowering its yield to 5.117%.
The
Producer Price Index
(
definition |
chart |
), which measures the changing costs involved in the manufacturing process, was up by 1.1% in January after a gain of 0.2% the previous month. This is way above expectations and the biggest increase in more than a decade. Economists in a
Reuters
poll had predicted a 0.3% rise. The sharp upturn does not change much when excluding the more volatile food and energy prices. The index still registers 0.7% growth, which is 0.6% more than expected. These numbers suggest that despite
Federal Reserve officials repeatedly stating that inflation remains in control, there may still be cause for concern. In such a scenario, the central bank will be even more wary of lowering interest rates in the near future.
Housing starts
(
definition |
chart |
source
) show that the real estate market is retaining considerable strength. The number of new privately owned units being built rose by 5.3% to 1.651 million in January, while 1.697 million building permits were issued in the same period, up by 12.6%. This rate hasn't been seen since Jan. 1990. Although private home building has been robust for the last three months, both numbers are higher than anticipated.
Industrial production
(
definition |
chart |
) fell by 0.3% last month, which was less-than-expected. The capacity utilization rate, which shows how much of the factory equipment and personnel is being put to use, was 80.2% for January and not much below the earlier reading of 80.7%. These anemic manufacturing numbers are well accounted for by the bond market since it is well understood that this sector of the economy is having problems.
The
Consumer Sentiment Index
(
definition |
chart ), which has a 1966 base value of 100, is 87.8 in the first half of February, its lowest level since Nov. 1993 and down sharply from the revised number of 94.7 last month.
Back to top
International
The Nortel news didn't just demolish American bourses. It crushed a would-be rally in Japan and wreaked havoc on Europe.
London's
FTSE
slid 109.6 to 6088.3, as telecommunications companies continued to get creamed in the wake of last week's failed attempt to float shares of telco
Orange
. Between the Nortel warning and recent troubles in
Lucent
(LU)
, telecommunications has faced much adversity lately. Frankfurt's
Xetra Dax
dropped 102.11 to 6489.6. The Parisian
CAC
dropped 109.4 to 5595.1.
Lately, in those wild and wooly currency markets, the euro has been sliding while the yen has been firming. After trading around 93 cents, the euro has slid back down to a level just above 90 cents. It was last at $0.9146. And the yen, which was at the 117 level just a few days ago, has strengthened to 115.5.
Over in Asia, markets were disappointed by the Nortel news, which came out after the trading day yesterday. Usually, Japan's
Nikkei
would have rallied, since the Nasdaq Composite rallied. Japanese trading tend to follow what occurs here. But Nortel's warning ruined that rally and Nikkei fell 151.9 to 13,175.5. Hong Kong's
Hang Seng
slid 126.1 to 15,630.3.
Back to top