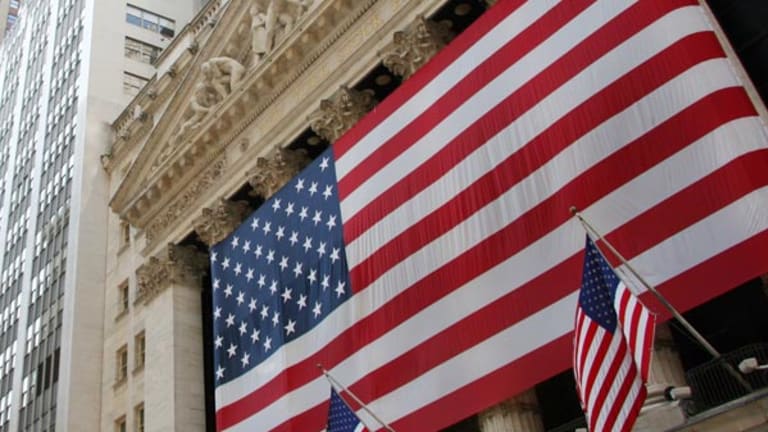 Today's Market: Tech and Blue-Chips Move Lower
<LI>And they're off -- investors await election results.</LI> <LI>Semiconductors falling.</LI> <LI>JDSU, Applied Micro Circuits lower after Cisco earnings.</LI>
(Updated from 9:53 a.m.)
A double dose of disappointment about
Cisco
(CSCO) - Get Cisco Systems Inc. Report
and weakness in the semiconductor sector put some pressure on technology this morning. And don't forget pre-election jitters. The latter had investors in the broader market pacing nervously.
Okay, so Cisco did it again. The networking wonder boy last night said it beat Wall Street's first-quarter earnings expectations and revenue estimates for the 15th consecutive quarter. Even more importantly, it boosted guidance about its finances for the rest of the year -- and it was aggressively optimistic about business going forward.
TheStreet.com
wrote a
separate story on the company's earnings and outlook. (We also looked at how
mutual fund eyes were on Cisco. And
TheStreet.com's
Adam Lashinsky took a
close look at the company.
The
Dow Jones Industrial Average was lately 39 lower to 10,937. The
Nasdaq Composite Index was down 42 to 3374. And the
S&P 500 moved down 7 to 1426.
But (there had to be a "but") with so many expectations built into this earnings announcement, weakness in the company's broadband access sales -- just a tiny corner of its total business -- was a letdown. The stock traded lower overnight and was lately off 1.1%. It had climbed 15% last week in anticipation of its earnings.
Other networking companies, including
JDS Uniphase
(JDSU)
,
PMC Sierra
(PMCS)
and
Nortel Networks
(NT)
were also falling. PMC Sierra was off 18%.
After a 159-point run up in the
Dow Jones Industrial Average yesterday on anemic volume, the broader market seems to be holding its breath ahead of today's election results.
Some market pros said they interpreted Monday's rally as a move to "pre-price" what are considered the "Bush stocks" for a potential Bush win in the White House. The Dow was led higher yesterday by drug stock
Merck
(MRK) - Get Merck & Company Inc. Report
, antitrust target
Microsoft
(MSFT) - Get Microsoft Corporation Report
, defense industry behemoth
United Technologies
(UTX) - Get n.a. Report
and tobacco titan
Philip Morris
(MO) - Get Altria Group Inc. Report
.
Wall Streeters had been hoping Cisco's earnings report and outlook would belie signs of weakness in the networking business from
Nortel
(NT)
, which reported
lower-than-expected revenue late last month due to weakness in optical sales. The market has been harboring growing concerns about whether there is a
slowdown in capital spending on computer and telecom equipment.
You don't need to understand the string theory to grasp that investors are jittery about the future of tech earnings. They're watching the
economy slow and trying to adjust stock valuations accordingly. Cisco was the last big company to report its earnings during this season of the earnings blitz, which turned out to be the year's most difficult
earnings season.
Meanwhile, semiconductors were looking weak this morning after a weeklong rally, with
Intel
(INTC) - Get Intel Corporation Report
and
Applied Micro Circuits
(AMCC)
slipping. Chip companies, which make the brains inside computers and cell phones, plunged earlier this fall after Intel and other companies issued warnings that scared investors about how quickly the sector could keep growing.
Investors were looking just as uneasy with old-timers today. This is the closest presidential race in four decades, and the outcome of today's election is still very uncertain. So investors may not be confident enough in a Bush win to continue sending Bush stocks higher today. Then again, they probably aren't confident enough in a Gore victory to obliterate yesterday's bounce, either. In a separate
story,
TheStreet.com
took a look at which stocks are expected to fare better under Gore and which under a Bush administration.
The market will also keep a close eye on how congressional elections stack up, as that will determine what either president will be able to get done on the legislative front. The stock market is seen favoring a divided Congress, which would minimize any president's ability to make major changes to taxes or government spending.
Back to top
Bonds/Economy
Bond prices were flat this morning ahead of this evening's election results. The benchmark 10-year
Treasury note was off 2/32 to 99 3/32, yielding 5.872%.
Bond prices have slipped sharply over the past two days, albeit on light volume, and some fixed-income investors say they are attempting to account for what they believe will be a Bush win ahead of time.
TheStreet.com
recently took a look at how the bond market should
respond to elections .
Back to top
International
European markets were mixed, also impacted by the U.S. elections, with London and Paris markets flat and Frankfurt trading lower.
The
FTSE 100
was lately down 3.70 points at 6427.30. On the Continent, the
CAC-40
in Paris was up 3.18 points to 6355.42 and the
Xetra Dax
in Frankfurt was off 75.13 points at 7061.17.
The euro was shrugging off the European Central Bank's third intervention, which was made yesterday, to support the beleaguered currency. The euro was slipping, lately at $0.8587.
Asian
equity markets slipped quietly lower overnight ahead of the U.S. presidential elections as investors stepped in to take light profits on the previous day¿s gains.
Tokyo's
Nikkei 225
closed down 31.11 points, or 0.20% to 15,340.33. In currency trading, the dollar was lately trading lower at 107.34 yen.
Hong Kong's
Hang Seng
index, meanwhile, dropped 47.31 points, or 0.30%, to 15,632.84.
Back to top