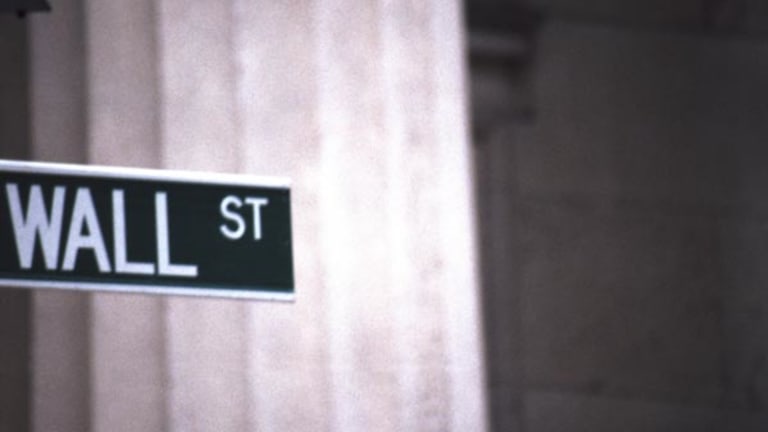 Today's Market: Strong? Weak? Whatever Jobs Report Said, Investors Don't Like It
After this week's rate cut, investors are dumping stocks on news job growth was much stronger than expected in January.
Everything good is bad today, and everything bad is rotten. Stocks are falling following this morning's surprising
employment report and a couple of stock-specific earnings releases.
Technology stocks, so strong during January, continue to sag in the shortest month of the year, with the
Nasdaq Composite Index,
S&P 500 and the
Dow Jones Industrial Average all fading.
Today, the market is feeding its own depression on the realization the Fed will likely not cut interest rates as aggressively as it did last month. The latest employment report was a bit stronger than expected in parts, with job growth increasing 268,000 in January.
Now, of course, a stronger-than-expected economic environment, from a long-term view, is a good thing. But that doesn't help a nearsighted market, which in January found it easy to ride the pessimistic view into its own warped version of paradise. As this theory goes, lots of Fed rate cuts would help things recover later, which is what the stock market wants. Now then, if the economy isn't as weak, as the thinking goes, the Fed will likely be less aggressive, and then where does that leave stocks?
"That's how the market sets itself up -- by believing that the recession is the preferred scenario for the equity markets to go higher," said Barry Hyman, chief investment strategist at
Weatherly Securities
. "It gets to the point of accepting the recession, and so it's looking for more interest-rate cuts. The market wants to see lower interest rates now and the belief that the economy will turn later -- anything that disrupts this scenario creates that cloud over how low interest rates go."
And this report certainly disrupts the scenario, even if it is unduly influenced by seasonal factors. Total nonfarm payroll growth was affected by a 145,000 increase in construction jobs. The unemployment rate, meanwhile, ticked up to 4.2%, yet 183,000 jobs were created in the service sector. Overall, it's a mixed report, but one that doesn't lend itself to believing the Fed will cut rates in-between meetings, as it did Jan. 3. The
fed funds futures contract, the best indication of the market's thinking of future Fed action, is downgrading its expectations for a rate cut prior to the Fed's next meeting on March 20.
Stocks that tend to benefit from rate cuts (because they presume a future recovery in economic growth), such as retailers, cyclicals and brokerages, are down today. The
Amex Broker/Dealer Index
was lately down 1.4%. The
S&P Retail Index
was lately down 1.8%, reeling from losses in names like
Home Depot
(HD) - Get Home Depot Inc. (The) Report
(down 3.8%) and
Wal-Mart
(WMT) - Get Walmart Inc. Report
(down 1.6%).
Among the industrial names losing ground are
Emerson Electric
(EMR) - Get Emerson Electric Company Report
and
Illinois Tool Works
(ITW) - Get Illinois Tool Works Inc. Report
.
Technology stocks can be thrown into that boat too, because their growth is certainly cyclical, although the sector grows more rapidly than those companies making hammers and backhoes.
Yet another warning, this time from
National Semiconductor
(NSM)
, is screwing with the psychology in chip stocks because it messes up the equity market's carefully crafted theory that tech stocks and tech spending will recover in the second half of the year. The company
said its fiscal third quarter revenues will be 20% below the previous quarter. It had earlier said revenues would drop 10%.
The stock was lately down 5.7%, and the
Philadelphia Stock Exchange Semiconductor Index
, which tracks the chip sector, was lately down 2.9%. Among the other losers were
Applied Materials
(AMAT) - Get Applied Materials Inc. Report
and
Advanced Micro Devices
(AMD) - Get Advanced Micro Devices Inc. Report
.
"If we see some more preannouncements and some downward guidance, you could see 'em decimate this market," said Peter Blatchford, trader at
Miller Tabak
. "We're kind of trading at levels that have discounted a lot of bad news. But it might not be that in the third quarter things get better; maybe it'll be in the fourth quarter."
Meanwhile, photocopier maker
Xerox
(XRX) - Get Xerox Holdings Corporation Report
, struggling under a mountain of debt, was lower today, losing almost 3%.
TheStreet.com's
Adam Lashinsky
reports the company is in talks with various leveraged buyout firms regarding a buyout of the company.
Market Internals
Breadth was mediocre on the NYSE on average volume; terrible on the Nasdaq on reasonable volume.
New York Stock Exchange: 1,428 advancers, 1,501 decliners, 561.7 million shares. 159 new 52-week highs, 4 new lows.
Nasdaq Stock Market: 1,246 advancers, 2,255 decliners, 910.7 million shares. 81 new highs, 11 new lows.
Back to top
Most Active Stocks
NYSE Most Actives
Nasdaq Most Actives
Back to top
Sector Watch
Healthcare stocks were getting a nice boost today, following the release of
UnitedHealth Group's
(UNH) - Get UnitedHealth Group Incorporated (DE) Report
earnings release. The company said profits rose 27% and bested analyst estimates by 3 cents in its earnings release. That stock rose 8.7%.
Some major technology indices were having a rough time finding their way today. The
Amex Networking Index
undefined
was getting taken apart, losing 3.8%, while the
Nasdaq Telecommunications Index
dropped 3.3%. The
Philadelphia Stock Exchange Computer Box Maker Index
, which tracks computer companies, lost 1.1%.
Biotech stocks were red today. Sector tracker
Nasdaq Biotechnology Index
was falling 1.1%, and some of the sector's sickliest stocks were falling as well.
Millennium Pharmaceuticals
undefined
was down 5.1% and
Celera
(CRA)
was losing 7.7%.
Back to top
Bonds/Economy
Treasury prices are lower after moving up for three consecutive days. The bond income market pulled back in the early session as hopes diminished of yet another rate cut before the next Fed meeting.
The benchmark 10-year
Treasury notelately was down 11/32 to 104 19/32, pushing its yield up to 5.132%.
In economic news, the
employment report
(
definition |
chart |
) showed the number of new nonfarm jobs to have increased dramatically to 268,000 for January, much higher than expectations. Economists polled by
Reuters
had been expecting 83,000 additions. Data for the first month of the year fluctuates considerably. The December numbers were noticeably revised, to 19,000 from 105,000. Average hourly earnings remained unchanged after having increased by 0.4% in December. They had been expected to grow by 0.3%.
The unemployment rate rose to 4.2% in January from 4% in the previous month. It is the highest reading since July 1999. Economists had been expecting a 4.1% rate. The augmented unemployment rate, which includes those who are willing to work but are not actively looking for a job, rose to 7.1%, its highest level since March. The pool of available workers rose to 10.37 million in January from 10.19 million in December.
The
Future Inflation Gauge
(
definition |
chart ) slipped to 112.4 in January, having now decreased for the ninth consecutive time. Inflationary fears are minimized.
Factory orders
(
definition |
chart |
) in December were up more than expected, growing at a rate of 1.1% rather than the anticipated 0.6%. However, excluding the key transportation sector that comprises the aircraft industry, monthly orders actually dropped 0.8%. It reflects the slowing down in new auto sales and a weak turnout for year-end shopping. The year-to-year growth of the overall number has been plunging and stands at 0.5% -- from a 12-month high of 16.3% in June.
Finally, the
Consumer Sentiment Index
(
definition |
chart ) is at its lowest level in more than four years, at 94.7. It was revised through the second half of January from a preliminary reading of 93.6.
Back to top
International
At the close, European markets were generally weaker. London's
FTSE 100
gained 4.6 points to 6256.4. Paris'
CAC 40
finished down 73.35 to 5826.37. Frankfurt's
Xetra Dax
, still open, was lately off 70 to 6634.
Meanwhile, in Asia, Hong Kong's
Hang Seng
dropped 92.70 to 16071.29, and Tokyo's
Nikkei 225
lost 75.92 to 13703.63.
Back to top