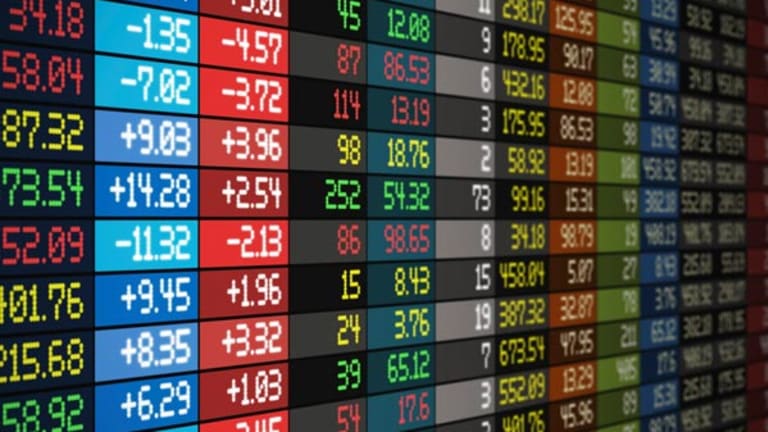 Today's Market: Stocks Walking a Cautious Path in Thin Election Day Trading
Today's focus is on the polls, but Cisco is moving solidly higher following last night's earnings release.
In his inter-galactic epic,
2001: A Space Odyssey
, Stanley Kubrick used lots of elevator music; minimalist, yet cutting-edge special effects; and a creepy computer to keep audiences enthralled forever. Or three hours, whichever came first.
But if you took away the special effects and plot, you've got a pretty good idea of what today's stock market action looks like.
Insert elevator music here.
Ahead of tomorrow's election, Wall Street was slow. Volume was pretty light, movement was real scarce and all eyes were on tonight's big electoral hoo-hah. The
Dow Jones Industrial Average has capped yesterday's big day with a pretty mild one today. It was recently up 10 to 10,987, really not doing very much and trading around its session median.
Within the blue-chips, 18 were positive and 12 were negative. The biggest losers were
General Motors
(GM) - Get General Motors Company Report
, which took off 19 from the Dow and coughed up a sizable amount of yesterday's $4 gain, and
J.P. Morgan
(JPM) - Get JP Morgan Chase & Co. Report
.
IBM
(IBM) - Get International Business Machines Corporation Report
and
Microsoft
(MSFT) - Get Microsoft Corporation Report
were plus-side winners.
Over in four-lettered territory, those stock tickers on the
Nasdaq Composite Index were muddy, with half still feeling the affect of the
Cisco
(CSCO) - Get Cisco Systems Inc. Report
. The Comp was up marginally higher with a gain of 10 to 3425.
Death, taxes and Cisco
releasing earnings, which beat analyst estimates by a penny while guiding estimates higher for future quarters. Sure, it doesn't really have the same ring as the clich¿ it's based on, but it's just as true. Last night, Cisco released third-quarter estimates that did just that, beating estimates by a penny. And after taking an early morning hit, the company has rebounded nicely and was last up 3.3% to $56.94.
And Cisco's release touched a myriad of other companies. First, Cisco's competitors felt the heat, thanks in part to some gloating in Cisco's conference call about the earnings. (The company's CEO, John Chambers said: "If we continue to execute effectively on our strategy, these large competitors have clearly given Cisco the opportunity to repeat our breakaway in the enterprise market in the service-provider market.") As a result,
Lucent
(LU) - Get Lufax Holding Ltd American Depositary Shares two of which representing one Report
fell 0.8% to $24.38,
Nortel
(NT)
fell 1.6% to $43.06 and
Juniper Networks
(JNPR) - Get Juniper Networks Inc. Report
, a lesser competitor, fell 0.9% to $217.16.
Semiconductors also took a hit. Within the earnings release, Cisco mentioned that it is carrying a large amount of inventory, sparking fears that the company will not need to purchase as many chips from its suppliers. Specifically speaking, the company has 75 days of inventory on hand, up from 55 days, the highest peak since April 1996. And raw material inventory is up 335%.
Headed into the afternoon, markets were awash in calm. A check of the
Chicago Board Options Exchange Volatility Index
, a mathematical measure of how much the market thinks the
S&P 100 Index
option will fluctuate over the next 12 months, drives this point home. The VIX, as the volatility index is informally known, was down 2.8% to 26.28.
Where will markets end up? Who will be the next president? Can someone really diss
2001
and get away with it?
We shall see.
Market Internals
There were more losers than winners out there, so you can probably draw a comparison between today's market activity and the parking lot during a junior high school dance. Volume was relatively thin.
New York Stock Exchange: 1,252 advancers, 1,411 decliners, 478 million shares. 37 new 52-week highs, 29 new lows.
Nasdaq Stock Market: 1,547 advancers, 1,990 decliners, 915 million shares. 48 new highs, 50 new lows.
Back to top
Most Active Stocks
NYSE Most Actives
Lucent: 10.8 million shares. AT&T (T) - Get AT&T Inc. Report: 9.6 million shares. Nortel (NT) : 9.1 million shares.
Nasdaq Most Actives
Back to top
Sector Watch
Chipmakers took it in the chops, right from the opening bell. The
Philadelphia Stock Exchange Semiconductor Index
fell from the opening bell and was dragging near session lows as the New York lunch hour began. It was last off 3.6%. None of this can be particularly pleasant for the semis, which took the seasonal change to fall more like a command and less like a gradual lowering of temperature. These guys have lost 38% since Sept. 1.
The worst chipmakers were the smaller guys.
Xilinx
(XLNX) - Get Xilinx Inc. Report
,
Linear Technology
(LLTC)
,
Lattice Semiconductor
(LSCC) - Get Lattice Semiconductor Corporation Report
and
Altera
(ALTR) - Get Altair Engineering Inc. Report
were far lower.
Intel
(INTC) - Get Intel Corporation Report
and
Motorola
(MOT)
were lower, but not nearly as bad.
In more positive news, the drillers in the oil service sector were doing quite well. The
Philadelphia Stock Exchange Oil Service Index
rose 1.7%.
Back to top
Bonds/Economy
Bonds opened slightly lower but have since edged back to virtually unchanged levels as the market watches developments in the Presidential election. (Bush is seen as negative for bonds while a Gore victory would probably have little effect. The reaction in the equities markets is likely to lead to an opposite response in bonds.) Once again volume is light.
The benchmark 10-year
Treasury note is at 99 3/32, down 2/32, to yield 5.874%.
The 30-year
Treasury bond is at 104 22/32, down 11/32, to yield 5.912%.
Back to top
International
European markets were mixed, also impacted by the U.S. elections, with London and Paris markets flat and Frankfurt trading lower.
The
FTSE 100
was lately down 3.70 points at 6427.30. On the Continent, the
CAC 40
in Paris was up 3.18 points to 6355.42 and the
Xetra Dax
in Frankfurt was off 75.13 points at 7061.17.
The euro was shrugging off the
European Central Bank's
third intervention, which was made yesterday, to support the beleaguered currency. The euro was slipping, lately at $0.859.
Asian
equity markets slipped quietly lower overnight ahead of the U.S. presidential elections as investors stepped in to take light profits on the previous day's gains.
Tokyo's
Nikkei 225
closed down 31.11 points, or 0.20% to 15,340.33. In currency trading, the dollar was lately trading lower at 107.22 yen.
Hong Kong's
Hang Seng
index, meanwhile, dropped 47.31 points, or 0.30%, to 15,632.84.