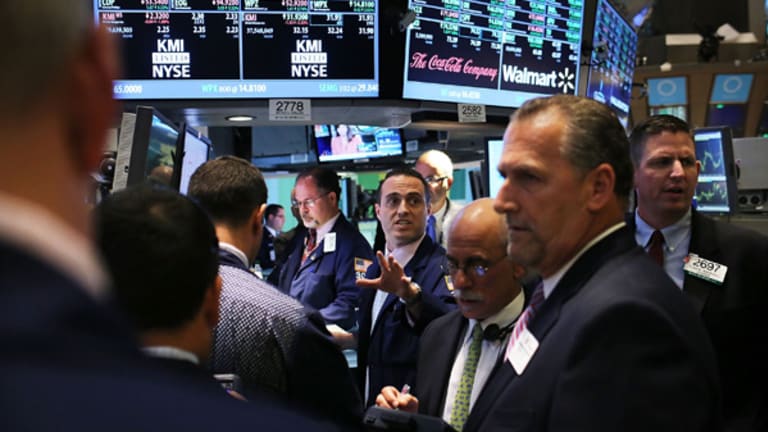 Today's Market: Stocks Volatile as Fed Chief Speaks
<LI>Greenspan grows more concerned about the economy.</LI> <LI>Fourth-quarter GDP falls to 1.1%.</LI> <LI>Altera, Xilinx fall.</LI>
(Updated from 9:32 a.m.)
Investors are hoping
Fed Chairman
Mr. G will tip his hat toward imminent rate cuts when he speaks before the House Finance Committee today. His speech kicks off in a few minutes, and the text of his speech shows he's more concerned about the economy than he was when he spoke before the Senate on Feb. 13.
But, so far, stocks aren't sure what direction they should take today. The
Dow Jones Industrial Average was up 8 to 10,645. The
Nasdaq Composite Index fell 14 to 2194. And the
S&P 500 moved 1 lower to 1257.
Stocks have seesawed in the past several days as expectations wavered over whether the Fed will cut rates before its next official meeting on March 20.
This morning's Greenspan spirit had investors brushing aside a
warning from programmable chipmaker
Altera
(ALTR)
this morning. The company said after the close of regular trading yesterday that its first-quarter revenue will fall 20% sequentially. But, like countless other companies, the chipmaker is holding on to the hope of a turnaround in the second half of the year. But if you believe
Lehman Brothers'
analyst
Dan Niles, you shouldn't hold your breath. He took a long, hard look at those numbers and decided to
revise his estimates on the company's earnings for the second time in a week. Niles also
jumped on Altera rival
Xilinx
(XLNX)
.
Altera was down 5.6%, but it wasn't putting major negative pressure on other tech stocks.
"Action on the Nasdaq yesterday suggests that, at a minimum, it's got to retest its Friday lows of 2155," said Todd Clark, head of listed trading at
W.R. Hambrecht
. "Hopefully, we can hold there. The market just isn't acting well at all. Greenspan is going to be key for getting a bounce."
In Greenspan's last speech, the Fed chief said he thought some of the arctic freeze blowing through the economy had worn off in January. Since then, some
new data has emerged indicating greater weakness in consumer confidence -- something Greenspan has indicated he is watching closely -- and in manufacturing spending. On the other hand, a possible threat of inflation has also emerged, a trend that has the potential to stay the Fed's hand on cutting rates.
The weaker the economy looks, the sooner and more aggressively the Fed is likely to cut interest rates.
Clark said the defensives are probably the best play in this environment, though one positive sign to watch for is continuing strength in financials. "There was one thing different about yesterday's action: Financials held up," he said. "If that can continue, it's a very good sign."
Meanwhile, data out this morning on fourth-quarter
gross domestic product showed estimates were revised downward to 1.1% annual growth from a previous estimate of 1.4%. Economists had forecasted that that the revision -- which entails a more complete calculation of GDP -- would bring this number down to 1%. GDP -- the output of goods and services produced in the U.S. -- has slowed sharply; it was 5.6% in the second quarter of 2000.
But there was good news in the report for the inflation picture. The price index, an important inflation measure, was revised down for the quarter to 1.9%. Economists were expecting it to remain at 2.1%, on par with the advance estimate, but up from 1.6% in the third quarter. The impact of this number on the market may be limited since the earlier "advance" estimate was released last month. Plus, most of the data used to calculate this number has already been issued.
The February
Chicago Purchasing Manager's Index
is also released today. It measures the performance of the manufacturing sector in Chicago and is a relatively good predictor for the broader
National Purchasing Manager's Index. The number signals factory-sector expansion when it is above 50 and contraction when below it. The manufacturing sector has been on the decline the past several months and, in January, the Chicago PMI came in at 40.2.
Back to top
Bonds/Economy
Treasury prices were rallying this morning, with the benchmark 10-year
Treasury note up 5/32 to 100 16/32, yielding 4.936%.
Back to top
International
European markets were mixed near midday as investors waited on any news about interest rates in the U.S. After dropping to a 16-month low of 5901 earlier in the trading day, the
FTSE 100
has rebounded, lately up 24.1 to 5965.3. Volume was thin and chipmakers were big losers.
The Paris
CAC-40
fell 25.5 to 5412.3, while Germany's
Xetra Dax
was up 33.5 to 6254.0.
British telecommunications stocks have been quite a drag on the
FTSE
in the new year. Ever since telecom
Orange's
public offering went belly-up -- attracting far less interest than expected -- many of the bigger names have suffered. Companies like
Vodafone
(VOD)
have been pushing the London index to lower lows.
The euro was lately trading at $0.9225.
Asian markets continued to slide overnight, tripping on the heels of the battered
Nasdaq
. Japan's beleaguered
Nikkei 225
dropped to a 15-year intraday low, but rebounded a bit to close down 176.32 to 12,883.54. Tokyo traders had reason to smile, however. After the market closed, the
Bank of Japan
announced that it would cut interest rates, dropping the key overnight money-market call rate to 0.15% from 0.25%. The move comes as a surprise to many, who expected the BOJ to make its move at its next meeting on March 19.
Hong Kong's
Hang Seng
dropped 46.86 to 14,787.87.
The dollar was trading at 117.28 yen.
Back to top