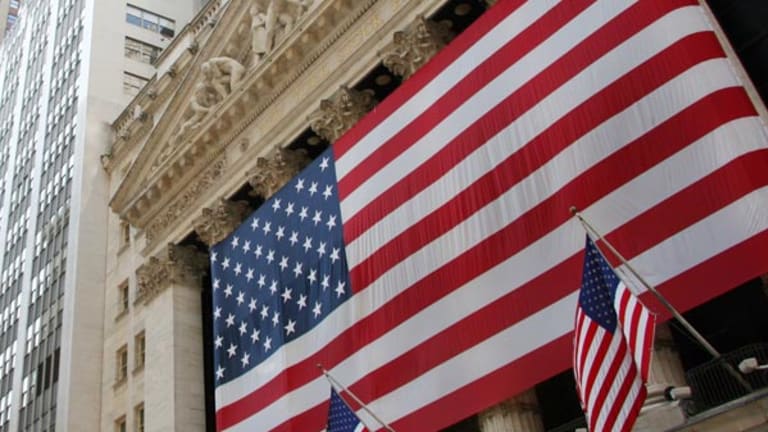 Today's Market: Stocks Unsure Ahead of Rate Verdict
Volume is light as market awaits signal from Greenspan.
Volume is light as market awaits signal from Greenspan.
(Updated from 9:35 a.m.)
High noon on Wall Street comes at 2:15 p.m. EDT today, as the market hangs in the balance ahead of the
Federal Reserve's decision on interest rates.
The
Dow was lately down about 16 points to 10,861; the
Nasdaq was down 0.1 points to 2082; and the broader
S&P 500 was down 1 point to 1248.
Trading is subdued and rudderless this morning, the same as it's been over the past week as Wall Street waits on the Fed's decision. Trading volume is likely to be as meager as it has in the past week until the verdict is out.
Matt Johnson, head of Nasdaq trading at
Lehman Brothers
, said he hopes volume picks up once the decision is out. "If it doesn't pick up, that's a sign of downright despair," he said. "It would mean market participants see no light at the end of the tunnel."
Wall Street is overwhelmingly expecting a half-point cut, but strong retail sales data and consumer confidence numbers last Friday raised the possibility of a quarter-point cut. Investors will also pay close attention to what the Fed says in its accompanying statement about its predilection toward or away from more rate cuts down the line. Some economists speculate that the Fed will hint that it's done cutting rates -- at least for the summer. But if the Fed indicates continued vigilance about the slowing economy, it would probably mean more rate cuts.
Fed Chairman Alan Greenspan and his band have slashed rates four times this year, dropping the target lending rate to 4.5% from 6.5%. A 50 basis-point cut would knock the rate to 4%.
If Wall Street does get a half-point rate cut, and the market decides that's great news, any rally could be challenged by technical resistance levels -- which analysts define as 2250 on the Nasdaq and
11,000 on the Dow. Technical resistance levels are key psychological points past which it is often difficult for the indices to trade.
Lehman's Johnson outlined his take on the various different scenarios that could unfold following the decision. "If they go 50 basis points and neutral, it will kill the market," he said. A "neutral" stance -- any statement that indicates the risks of inflation and recession are in balance -- would signal an end to rate cuts.
"If they go 25 and say they continue to be vigilant on the economy, it's OK for the market, which should trade within a 1% range. If they cut 50 and say they continue to be vigilant about the economy, the market has a bit of recovery in it, some 2% to 3%," he said.
Stocks soared in April on expectations that a profits recession was nearing a bottom and that the economy would get better in the second half of this year, but some market pros worry that the monthlong rally was overdone. The Nasdaq is up 27% since hitting a recent low of 1638.80 on April 4; it remains down 15.7% for the year. The Dow, meanwhile, up 15.8% since its recent low on March 22, is up 0.8% for the year.
Meanwhile, there's more than just the Fed to digest today, as earnings season gets swinging again after a relatively quiet week. Unless the Fed indicates it's done cutting rates, and the market tanks, today's earnings will be important to watch. Once the Fed decision is out of the way, investors will begin to
focus more keenly on companies' financial reports as they look for clues to whether the economy is really coming around.
Before the bell,
Wal-Mart
(WMT) - Get Report
posted first-quarter earnings up 4% to 31 cents per share, in line with estimates. Same-store sales rose 3.7%. Also this morning, home-improvement retailer
Home Depot
(HD) - Get Report
, posted earnings of 27 cents a share, matching last year's results and edging Wall Street estimates by two pennies. Wal-Mart was down 0.9% to $53.85 in early action; Home Depot was up 1.2% to $49.80.
Chip firm
Applied Materials
(AMAT) - Get Report
, software outfit
BEA Systems
(BEAS)
and storage firm
Brocade Communications
(BRCD)
are reporting earnings after the close. So far this morning, Applied Materials was down 1.1% to $49.14; BEA was up 0.9% to $33.27; and Brocade was up 0.1% to $40.14.
Back to top
Bonds/Economy
The Treasury market was quiet this morning ahead of the Fed meeting. The benchmark 10-year
Treasury note was down 1/32 to 96 21/32, yielding 5.443%.
Treasuries were subdued yesterday.
Back to top
International
Banks and oil stocks carried London's
FTSE 100
higher this morning, as the proxy rebounded from a major last-minute derivatives program trade yesterday afternoon, according to
FT.com
. The London Stock Exchange is investigating the big share selloff. The FTSE was lately up 151.7 to 5842.2. Program trades are computerized to take effect when certain equity holdings reach previously decided prices.
Earlier weakness in Paris and Frankfurt had turned, and the major indices there were lately in the green. The Paris
CAC-40
was up 33.6 to 5521.3, while Frankfurt's
Xetra Dax
was up just 6.9 to 6071.5.
Asian stocks were mixed overnight, with strong gains in Tokyo and mild losses in Hong Kong. After a week-long correction, Tokyo's key
Nikkei 225
closed 181.0 higher to 14,054, led by gains in blue-chips such as wireless NTT DoCoMo. Hong Kong's
Hang Seng
slipped just 22.0 points to 13,237.2, as investors waited on the U.S. rate cut.
Back to top