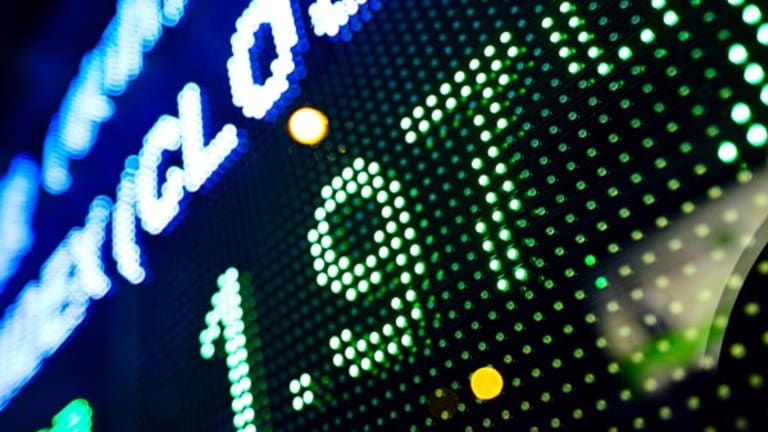 Publish date:
Today's Market: Stocks Turn into the Red in Afternoon Trading
<LI>Intel, up earlier in the day, is trading lower.</LI> <LI>Sprint gaining after upgrade, but WorldCom and AT&T fall.</LI>
<LI>Intel, up earlier in the day, is trading lower.</LI> <LI>Sprint gaining after upgrade, but WorldCom and AT&T fall.</LI>
(Updated from 1:29 p.m. EDT)
Last week's 800-pound gorilla was not enough to keep this market down earlier in the trading day. But the market recently gave back its gains from earlier today.
The
Dow Jones Industrial Average and the
Nasdaq Composite Index had both slipped into negative territory.
Last Thursday, the world's leading semiconductor company,
Intel
(INTC) - Get Report
, warned that third-quarter revenue would fall short of the forecast, shocking Wall Street and triggering a massive sell-off early Friday. Rallying ahead of the closing bell, however, the Dow ended up 82 to 10,847 and the Nasdaq managed to finish behind only 25 to 3,804.
Over the past few weeks, high oil prices, a weak Euro and slowing demand have weighed on the minds of corporate leaders and market investors. Intel has not been the only company to warn during this third-quarter
confession season. Companies including
PSINet
(PSIX)
,
Viant
(VIAN)
and
McDonald's
(MCD) - Get Report
have all issued earnings pre-announcements.
"The fact that the Nasdaq closed behind only slightly on Friday -- given Intel's announcement -- is amazing," says Peter Coolidge, director of trading at
Brean Murray Foster Securities
. "There is not a lot of market conviction out there and still many unknowns, but Friday's momentum appears to have spilled over into trading today."
Short-term relief on the euro and oil fronts has made investors cautiously optimistic today. Last week, the European, U.S. and Japanese central banks agreed to intervene to support the currency. Though it got a boost from the joint intervention on Friday, the euro was down from the highs it had reached on Friday. It was lately at 0.8746.
Late Friday, President Clinton's approved the release of 30 million barrels of oil over the next 30 days from the
Strategic Petroleum Reserve
. On the heels of that announcement, Brent crude oil for the November settlement fell to around $30 a barrel in Europe this morning. Oil stocks have retreated today. The
Philadelphia Stock Exchange Oil Service Index
was down 0.3%, while the
American Stock Exchange Oil & Gas Index
was off 1.9%.
Bargain Hunting
Investors looking for a bargain have returned to the tech arena. But trading in technology stocks has seen mixed results today. Shares of Intel were off 1.8% to $47.13 in recent activity.
eBay
(EBAY) - Get Report
, up 3.7%, and
Sun Microsystems
(SUNW) - Get Report
, up 3%, have shown a little life today.
On the flipside,
Microsoft
(MSFT) - Get Report
,
Cisco
(CSCO) - Get Report
and
Yahoo!
(YHOO)
were lower.
Market Internals
Breadth was mixed.
New York Stock Exchange: 1,265 advancers, 1,534 decliners, 702.5 million shares. 62 new 52-week highs, 72 new lows.
Nasdaq Stock Market: 1,874 advancers, 1986 decliners, 1.2 billion shares. 113 new highs, 110 new lows.
Back to top
Most Active Stocks
NYSE Most Actives
Lucent (LU) : 22.4 million shares. AT&T (T) - Get Report: 12.5 million shares. Micron Technology (MU) - Get Report: 12.3 million shares.
Nasdaq Most Actives
Intel: 90 million shares. Cisco (CSCO) - Get Report: 38 million shares. Ericsson (ERICY) : 33.3 million shares.
Back to top
Sector Watch
Telecommunications stocks have rebounded in trading this afternoon. The
Nasdaq Telecommunications Index
was up 1%. Last Thursday,
Sprint
and
Sprint PCS
(PCS)
warned that their results would fall short of expectations.
This morning, however,
Lehman Brothers
raised its rating on Sprint, sending its stock up 1%.
WorldCom
(WCOM)
and
AT&T
(T) - Get Report
were lower. AT&T was trading near its 52-week low.
Back to top
Bonds/Economy
Treasuries are under pressure following a stronger-than-expected
existing home sales
(
definition |
chart |
) report.
Also, foreign governments that participated in Friday's
joint intervention in the currency market to boost the value of the euro are thought to be liquidating Treasuries to finance those purchases, which will settle this week. Treasuries are a main asset of central banks.
The benchmark 10-year note lately was unchanged at 99 8/32, yielding 5.850.
Benefiting from a decline in mortgage interest rates to the lowest levels of the year, existing home sales rebounded 9.3% to a 5.27 million pace in August, after falling 9.2% in July. Economists polled by
Reuters
had expected a much smaller gain.
Meanwhile, oil is trading at a one-month low after the Clinton administration's
decision to tap the country's emergency stockpiles. That is helping the 30-year Treasury bond, which has been guided primarily by oil prices lately, falling in price when oil rises and rising when oil falls. The bond has surrendered earlier gains, but is still faring better than the rest of the Treasury market today. Rising oil prices are negative for long-term bonds because of their potential to lead to higher inflation.
Back to top
International
Telecom, media and technology stocks rebounded in both Europe and Asia.
The
FTSE 100
closed up 51.20 to 6257.10. Across the channel, the
CAC 40
in Paris finished ahead 77.70 to 6336.28, and the
Xetra Dax
in Frankfurt rose 48.44 to 6788.69.
TheStreet.com
covered today's markets in
Europe in a separate story.
Asian markets ended higher.
The
Nikkei 225
index rose 174.65, or 1.1%, to close at 15,992.90,
The greenback climbed against the yen in Tokyo trading to 108.05. The dollar was lately trading at 107.6 yen.
A bout of short-covering in the futures market helped Hong Kong's
Hang Seng
surge 816.07, or 5.6%, to close at 15,428.95. Computer maker
Legend Holdings
fared exceptionally well, climbing HK$1.05, or 17.5%, to 7.05 ($0.90) after falling 26.83% last week alone
Korea's
Kospi
index jumped 31.38, or 5.7% higher, to stand at 584.63 thanks to a rally in bank shares
Back to top