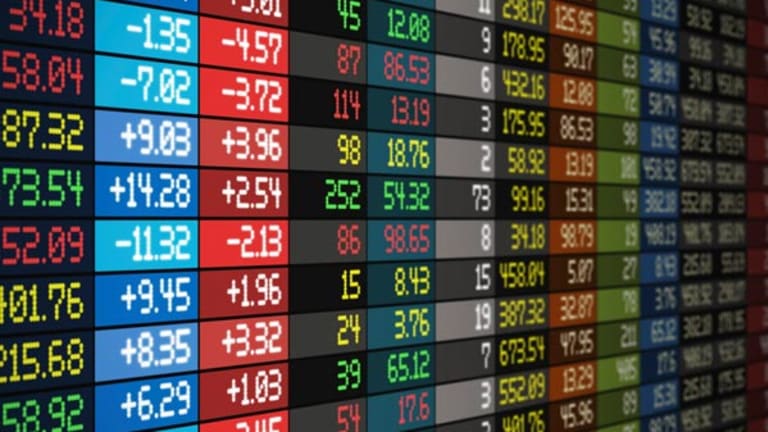 Today's Market: Stocks Tumble Out of the Gate
After breaking a winning streak yesterday, the major stock indices are in the red again.
After breaking a winning streak yesterday, the major stock indices are in the red again.
(Updated from 9:05 a.m. EST)
The market was getting hit with a sober bit of selling at this morning's open. But earlier weakness in stock futures had faded as the open neared.
Another couple of earnings warnings from tech companies after the market close yesterday were disappointing, but not surprising. Data storage equipment maker
JNI
(JNIC)
and equipment maker
Tech Data
(TECD) - Get Report
both lowered their future quarterly targets.
Coke Enterprises
(CCE)
this morning lowered its outlook for the first quarter, and
Delphi Automotive
(DPH)
announced layoffs.
But rather than trade on today's news, the market will likely move on sentiment left over from the past few trading sessions. After the recent market rally was brought to a screeching halt yesterday, investors want to see how fiercely the selling unfolds in order to gauge how much power is behind the bulls' rally cry. How stocks perform during selloffs can tell you
quite a lot about the rallies that precede them.
The
Dow Jones Industrial Average was off 40 to 9744 soon after the open. The
Nasdaq slipped 13 to 1841, while the
S&P 500 lost 4 to 1149.
What do yesterday's selloff and this morning's losses signal? Both good and bad. Some were hoping the market's emerging bulls would succeed in shrugging off the round of earnings warnings and other bad news coughed up before Wednesday's market open. But they didn't. Still, considering the strapping gains of previous days, stocks may have been due for some pullback. And yesterday's downturn could have been far worse. The Dow is still well above bear-market territory, defined as 20% below an index's highs
Some market pros still feel that underlying sentiment has
finally improved.
But others are skeptical.
Goldman Sachs
analysts Rick Sherlund and Laura Conigliaro said in a note Wednesday that business is terrible across all industries, that we are in a capital spending recession, and that the peak in earnings warnings will be next Monday and Tuesday. Companies that don't warn will guide lower with their earnings reports, they say, and all rallies will be led by short-covering and difficult to sustain.
A couple of pieces of
economic data released before the market open did little to change market sentiment. The final reading of fourth quarter
gross domestic product, came in at 1.0%, just a tick below economists forecasts and previous figures of 1.1%. The GDP price component for the fourth quarter came in unchanged from previous estimates at 1.9%. GDP has slowed markedly from second quarter of last year, when it hit 5.6%.
Back to top