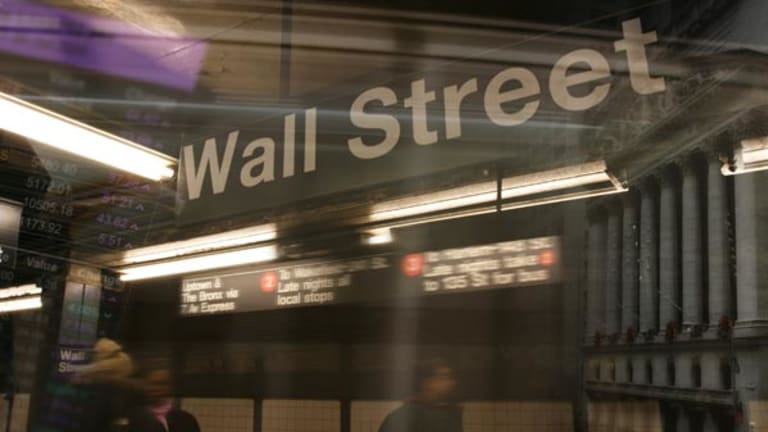 Today's Market: Stocks Tread Water After Mixed Jobs Report
The stock market is in a wait-and-see mood ahead of next week's Cisco report and Presidential election.
Technology shares are strong and cyclicals are weak, as the
Nasdaq Composite Index is catching up to the
Dow Jones Industrial Average today.
The October
employment report, released today, was mixed. It displayed some signs of slowing job growth, but the consensus is the increase in hourly wages and continued low unemployment rate aren't enough to give the stock market what it wants -- a signal that the
Federal Reserve may retreat to a neutral stance in preparation for a rate cut.
All this means the market is going to remain in limbo, according to analysts. The Dow, according to some, is nearing the upper reaches of its trading range, while the Nasdaq is still somewhere in the middle, having been hit hard from Labor Day through mid-October as investors retrenched and re-evaluated technology valuations.
"We're in a rebuilding stage," said Bryan Piskorowski, market analyst at
Prudential Securities
. "We've seen, in the last 10 months, a major shift in sentiment, from euphoria to sobriety, and we're in a rebuilding phase now."
Also in a rebuilding stage is
priceline.com
(PCLN)
, which is getting crushed after reporting disappointing results for the third quarter. A multitude of analysts (cue
CNBC's
clip of the penguins) cut earnings estimates for the next couple of years, and
Goldman Sachs
and
Merrill Lynch
downgraded the stock today. priceline was lately down $2.81 to $4.50, a whopping 34.3% loss.
Today's unemployment data didn't give the market the juice it needed, according to Piskorowski. The market, aware of the current low-inflation environment and concerned about the possibility of a slowing in profit growth, is always on the lookout for signals that the Fed might become a bit more friendly in coming months. The Fed hasn't moved on interest rates since May, when it upped the
fed funds rate to 6.50%; since then, in its statements it has maintained that the economic risks are tilted toward higher inflation.
Nonfarm payroll growth
increased by 137,000 in October, short of the expectations for 184,000. However, the unemployment rate was steady at 3.9% and average hourly earnings grew 0.4%, ahead of the consensus looking for 0.3%. The data indicates that job growth is slowing, but there are lots of people working, and the Fed is unlikely to cut rates with labor markets as tight as they are.
"Today's data was a push," Piskorowski said. "Ostensibly, when you're presented with an economy with unemployment at a generational low, it undercuts any chance of a move at the Fed meeting on the 15th."
The lack of news today has left the market without many significant moves on a sector-specific basis. The exception are the food stocks, which are rallying despite reports that
PepsiCo
(PEP) - Get PepsiCo Inc. Report
and
Quaker Oats
(OAT)
have been unable to agree on terms of a possible sale of Quaker Oats to the beverage company.
Quaker Oats is up 7.9% to $88.75, as the market believes the company will ultimately be sold. Expectations of consolidation also has produced rallies in
Ralston Purina
(RAL)
up 4.4% to an all-time high of $26.81 today, and
Kellogg's
(K) - Get Kellogg Company Report
, up 2.1% to $26.81.
Prominent technology shares are generally stronger in today's action.
Oracle
(ORCL) - Get Oracle Corporation Report
is up 2.9% to $30.63, while
Corning
(GLW) - Get Corning Incorporated Report
, the
New York Stock Exchange's most-active, is up 2.4% to $73 after pricing a secondary offering.
But market mavens have noticed a bit of hesitance in the action today, perhaps a pre-election and pre-
Cisco
(CSCO) - Get Cisco Systems Inc. Report
earnings effect. The networking giant is expected to report earnings after the close Monday. It's expected to have earned 17 cents a share during its fiscal first quarter.
"There's such general apathy with the election Tuesday, and of course with Cisco's numbers," said Larry Rice, chief investment strategist at
Josephthal
. "The whole world has to stop with Cisco's 14th-consecutive quarter of beating earnings by a penny."
Market Internals
Breadth was mediocre on better-than-average volume.
New York Stock Exchange: 1,138 advancers, 1,452 decliners, 590 million shares. 59 new 52-week highs, 20 new lows.
Nasdaq Stock Market: 1,727 advancers, 1,909 decliners, 1.048 billion shares. 60 new highs, 51 new lows.
Back to top
Most Active Stocks
NYSE Most Actives
Nasdaq Most Actives
WorldCom (WCOM) : 51.6 million shares. Oracle: 45 million shares. Cisco: 36.3 million shares.
Back to top
Sector Watch
After a strong day yesterday despite weak same-store sales figures, retail stocks are struggling today.
Gap
(GPS) - Get Gap Inc. (The) Report
is sharply lower, losing 5.1% to $25.81, while
Ann Taylor
(ANN)
has lost 3.9% to $32.63 today. The
S&P Retail Index
has declined 2.3%.
Drug stocks are also somewhat weaker, with a significant decline in
Merck
(MRK) - Get Merck & Company Inc. Report
, which has dropped 3.1% to $86.38 today.
Back to top
Bonds/Economy
Bonds slipped following mixed signals from the employment data, as average hourly earnings rose faster than expected.
The benchmark 10-year
Treasury note is at 99 19/32, down 14/32, to yield 5.804%.
The 30-year
Treasury bondis at 105 27/32, 20/32 lower, to yield 5.832%.
The
employment report
(
definition |
chart |
) for October presented a mixed picture. Nonfarm payrolls grew 137,000, below expectation of a rise of 184,000 and down from September's 195,000. The unemployment rate was unchanged at 3.9%. Average hourly earnings however, rose 0.4% ahead of expectation of a 0.3% rise and well above the September increase of 0.2%.
Back to top
International
The major European indices were mixed at the close.
European markets had plenty to think about Friday, with news that the U.K.'s
Abbey National
and the
Bank of Scotland
have held preliminary merger talks, and confirmation that the
European Central Bank
intervened to buy euros in the foreign exchange market. That's its second move in recent times to prop up the battered single currency of the euro zone.
TheStreet.com
wrote a
separate story on the action.
By midday, the euro was trading around $0.8624, slipping after rising to about $0.88. It had hit an all-time low last month of $0.82. The ECB said later that it had not asked any of its
Group of Seven
partners to help in the intervention.
London's
FTSE 100
was down 6.6 points to 6385.4. Over on the Continent, the
CAC-40
in Paris was down 1.39 points to 6398.92, and the
Xetra Dax
in Frankfurt was up 31.04 points to 7119.68.
Most Asian
equity markets ended the week on a positive note, as the Nasdaq's rally Thursday buoyed tech shares. Tokyo's market was closed for a holiday.
As Japanese investors enjoyed a three-day weekend, elsewhere in the region, bank and telecom issues were snapped up alongside technology stocks.
In Hong Kong, the
Hang Seng
index rose 302.6, or 2%, to 15,594.1, as
China Mobile
(CHL) - Get China Mobile Ltd. Report
rose HK$1.65, or 3.3%, to 51.25 ($6.57) and
HSBC
(HBC)
surged HK$3.50, or 3.1%, to 116.50. Internet firm
Pacific Century Cyber Works
(PCW)
rose HK$0.20, or 3.5%, to 5.95.
Back to top