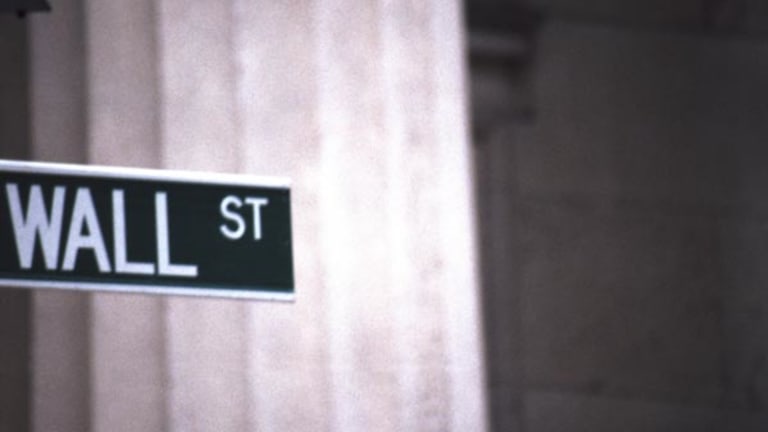 Today's Market: Stocks Struggle to Stave Off Inflation Fears
<LI>The CPI rose 0.6% in January, double the expected increase.</LI> <LI>Agilent, VA Linux cut growth forecasts.</LI> <LI>Sun Microsystems drops on Merrill downgrade.</LI>
(Updated from 9:34 a.m.)
So much for that lousy snapback. The release of the
Consumer Price Index this morning fanned fears that inflation has indeed become a concern again. After opening in the red, stocks were slightly higher.
The
Dow Jones Industrial Average was lately up 9 to 10,739. The
Nasdaq Composite Index was edging 6 higher to 2325. And the
S&P 500 moved fractionally lower to 1279.
The CPI showed that the prices consumers paid for goods and services in January rose twice as fast as economists had been expecting. The headline inflation number showed a 0.6% rise on the month compared to forecasts for a 0.3% rise and December's 0.2% increase. The core number, which excludes volatile food and energy prices, also rose faster than expected, at 0.3%, compared to forecasts of 0.2%. They'd inched up only 0.1% in December.
Economists generally believed inflation was no longer a major problem. They, and the
Fed, were far more worried about depressed consumer sentiment levels and a potential recession. But a report on the latest
Producer Price Index last Friday showed a surprising spike in price inflation at the producer level. The headline number showed a 1.1% jump, four times consensus forecasts.
The PPI is volatile, and almost all of Wall Street's talking heads had called the recent spike a blip caused by higher energy prices in a cold winter. But this morning's CPI made that argument a lot harder to make. If higher energy prices are lasting and inflation continues to soar, the thinking goes, that could
cripple the Fed's interest-rate cutting plans even as the economic slowdown continues to creep along.
Other data due today include
initial jobless claims and the
BTM-UBSW Retail Sales Index.
Investors were already having a hard time getting out from under recent warnings by some of Wall Street's giants --
Cisco
(CSCO)
and
Nortel
(NT)
. And even as the fourth-quarter earnings season winds down, negative forecasts keep surging out of tech companies. Last night, the culprits were
Agilent Technologies
(A)
and
VA Linux
undefined
.
Agilent Technologies makes technology for the communications, health care and electronics industries. This spinoff from
Hewlett-Packard
undefined
beat analyst targets by a penny, but cut its growth forecast to a range of 10% to 15%. Wall Street expected 19% growth. Agilent was off 6.3%. And VA Linux -- a software manufacturer -- announced losses that were wider than analysts' targets by 2 cents. In an effort to cut costs, the company said it would slash 25% of its workforce. Worse still, VA Linux said it now expects that it won't turn a profit until October 2002, about nine months later than expected. It was falling hard, down 14.7%.
It's hard to know how much lower stocks can go, however. So many bellwethers hit 52-week lows yesterday that the market looked like a junkyard pileup. Networker Cisco Systems, Internet consulters
Exodus Communications
undefined
and
i2 Technologies
(ITWO)
and software cowboy
Adobe Systems
(ADBE)
, for example, were all higher this morning after hitting 52-week lows yesterday.
In other news this morning,
Merrill Lynch
analyst Tom Kraemer cut his rating on
Sun Microsystems
(SUNW)
to neutral from accumulate while scaling back earnings estimates. The stock was falling 8.2%. One concern cited by Kraemer was inventory levels, something that has been hitting stocks all across the tech universe in recent days.
Kraemer said that Sun's channel inventories were at a three-year high and that the situation could get even worse, due in part to equipment returns from failed dot-coms. Adding insult to injury, those companies lucky enough to still be around have already blown their bucks on new servers and aren't likely to go shopping at Sun.
And food heavyweights
Coca-Cola
(KO)
and
Procter & Gamble
(PG)
announced today that they are
forming a stand-alone company to sell their juices, juice-based drinks and snacks. Annual sales are expected to reach up to $5 billion in two years. Coke, slaughtered by analysts this morning, were trading lower.
J.P. Morgan Chase
downgraded Coke, and
Goldman Sachs
removed it from its U.S. "recommended for purchase" list. Goldman also lowered its earnings targets for the company.
Well, at least fortune was smiling on
TMP Worldwide
undefined
and
Intuit
(INTU)
, which had some
Oearnings
news to report after regular trading closed yesterday. Both stocks were rising, with Intuit gaining 10.3%.
The market may want a rally, but most folks don't think it will see anything lasting until there's some real improvement in both corporate earnings and the economy -- or at least until the fog lifts and
visibility improves. A bunch of Wall Street's high-tech corporate hot-shots have recently said their crystal balls are getting awfully murky and that their companies no longer have a clear sense of how future business performance will shake out.
So watch for any errant earnings warnings. As this earnings season winds to a close, companies and investors are beginning to look ahead to first quarter and future earnings. A recent report from earnings tracker
First Call/Thomson Financial's
Joseph Kalinowski suggested that the unofficial earnings warning season may get off to an early start for first quarter. As the economy has slowed, consumer spending and corporate investment have taken a plunge, inventories have ballooned, and corporate profits have been squeezed. Plenty of companies missed already lowered targets for the fourth quarter and most analysts expect earnings to get worse before they get better. But, as the stock market is showing, investors are having a hard time figuring out just how much worse.
Back to top
Bonds/Economy
Treasury prices were flat this morning following the higher-than-expected CPI. This morning, the benchmark 10-year
Treasury note was down 4/32 to 99 1/32, yielding 5.123%.
Back to top
International
Technology concerns have gone global, evidenced in recent backtracking in London's
FTSE
. Around the middle of the European trading day, those tech woes were apparent. The FTSE was off 40.6 to 5939.5 as the mighty upswing in drugmakers was humbled by another day of losses for telecommunications stocks. Germany's
Xetra Dax
slid 128.67 to 6322.9, while Paris'
CAC
slopped 110.04 to 5438.70.
The euro was lately trading at $0.9171. And please, just don't look directly at the land of the rising sun. You'll burn your eyes.
Japan's
Nikkei
has performed so poorly in the last few months that it makes the Nasdaq look like pure gold. Today, reeling in the wake of yesterday's 4% fall in the Comp, the Nikkei dropped 148.28, or 1.1%, to 13,100.08, touching a 28-month closing low. That turns the clock all the way back to October 1998. Spooked investors stayed away from high technology stocks because of profit warnings, general uncertainty and the terror of getting burned -- again.
Meanwhile, across the sea, the Hong Kong
Hang Seng
fell 175.85, or 1.1%, to 15,351.51. That's a five-week low for the index, which was still up on the year despite its recent selloffs. Telecommunications stocks were the biggest losers, led by
China Mobile
.
The dollar was trading at 116.58 yen.
Back to top