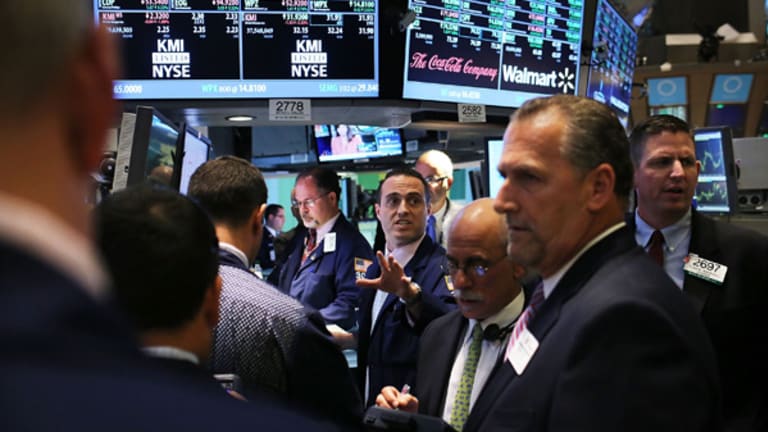 Today's Market: Stocks Strengthen Into Close; Nasdaq Tops 4000 Again
<LI>Lehman Brothers wallops Next Level, down 54.4%.</LI> <LI>VA Linux climbs 18.5% on upgrade.</LI> <LI>Durable goods orders fell 12.4% in July.</LI>
(
Updated from 4:15 p.m. EDT
)
A muddled session gained conviction in its last hour, leaving the major indices with decent gains.
The
Dow gained 38.09, or 0.3%, to 11,182.74 and the
Nasdaq Composite Index zipped up 42.27, or 1.1%, to 4053.28.
The Comp got some support from its performance yesterday, when it broke above the critical resistance level of 4000. The last time the Nasdaq closed above that line was July 25.
The broader
S&P 500 moved up 2.28 to 1508.25, and the small-cap
Russell 2000, after a late run, improved 5.42, or 1.1%, to 523.30.
"Technology
stocks -- semiconductors and fiber optics in particular -- are quietly strong," said Brian Finnerty, head of trading at
C.E. Unterberg Towbin
. Yesterday's steadily rising Comp, he said, "tried to go down, but came back because there were no sellers."
Chip stocks advanced solidly after dipping into the red not long before, with the
Philadelphia Stock Exchange Semiconductor Index
up 0.5%. The semiconductor index, known as the SOX, has been on fire lately -- it was up 21% for the month through yesterday.
"These infrastructure stocks are where it's at," Finnerty said. "You can have all the application service providers in the world; the concept stocks are not it. It's the nuts and bolts" of the Internet that are hot now, he said.
Software maker
VA Linux
undefined
rode high, up 18.5% after last night reporting a narrower-than-expected loss and drawing positive analyst comments today. The company supplies products and services for use with Linux, a free computer operating system.
Red Hat
undefined
and
PeopleSoft
(PSFT)
also got a pop on the news. Red Hat was up 8.5%, while PeopleSoft rose 10.3%. The
Goldman Sachs Technology Index
software sub-index was up 2.3%.
Fellow Nasdaq dweller -- but decidedly nontech issue --
Krispy Kreme
undefined
got a sugar rush from a positive earnings report and outlook. The stock powered up 23.6%.
The disaster du jour was telecom equipment company
Next Level Communications
undefined
, which got pummeled 54.4% to 41 3/4 after a downgrade from
Lehman Brothers
.
TheStreet.com
wrote about Next Level's plunge in an earlier
story.
Lehman slashed its rating due to forecasts that broadband communications giant
Qwest's
undefined
contribution to Next Level's sales would diminish dramatically now that Qwest has bought
U S West
, hurting Next Level's top line. Such an event would remove "the potential for one of the most important sources of significant upside to our revenue projections, which
was the key factor in our investment recommendation," the report said.
'No Guarantee of Safety'
"There is really no guarantee of safety," said Adam Wagner, president of
Wagner Hermann & Herbst
in Houston. "People say I only do blue-chips, but what happened to Next Level can happen to anyone."
Wagner said he favors using direct hedging as a downside protection. As long as he believes in the long-term upside of a stock, he said, he doesn't mind owning it, since hedging -- taking steps, such as buying put options or selling a stock short, to protect against losses -- is a good way to protect against getting whacked in a situation like this one.
TheStreet.com Internet Sector
, the
DOT, jumped 11.27, or 1.4%, to 802.21, following encouraging comments from
Merrill Lynch
Net-meister
Henry Blodget. He pegged
America Online
(AOL)
,
Yahoo!
(YHOO)
and
Amazon.com
(AMZN)
among his recommendations in the consumer sector. Today's
Pulse of the New Economy story looks at Blodget's comments.
The Dow was getting some upside action from a number of its technology components, as well as
Boeing
(BA)
, which was up 6.8% despite an announcement by the
National Transportation Safety Board
that a design defect by the company caused the mid-air explosion of TWA Flight 800 four years ago.
Maytag
(MYG)
motored up 9.9% after reports it was in talks to be acquired by
Electrolux
undefined
.
TheStreet.com/NYTimes.com
joint newsroom covered these talks in a
separate story.
Durable Goods No Spark for a Big Rally
This morning's cooler-than-expected July
durable goods orders
report was good news for inflation hawks. Then again, the durable goods number is volatile and will be revised next week, so it is not the stuff of a rally.
Durable goods orders came in at a 12.4% drop vs.
Reuters
expectations of a 6.7% drop and the previous month's 9.7% rise. Minus transportation, the number came in at a 4.8% drop, the largest fall since December 1991. These numbers were much lower than expected, reflecting the effects of Fed tightening and giving more support to those who believe the Fed is done raising interest rates for the year.
The Dow got no any help from
ExxonMobil
(XOM)
after
Morgan Stanley Dean Witter
downgraded a couple of big energy bellwethers this morning. ExxonMobil slashed 9.52 points from the index.
And
J.P. Morgan
downgraded
BP Amoco
(BP)
and
Royal Dutch/Shell Group
undefined
, saying recent gains fueled by rising oil prices were unsustainable.
TheStreet.com
covered the froth in energy stock prices -- and how it might not last -- in a
story yesterday.
Other strength on the New York Stock Exchange came from transport and financial stocks.
Bausch & Lomb
undefined
warned of slower growth in its vision care unit and sees revenues for the remainder of the year flat to down. Bausch & Lomb also announced today that it fired COO and President Carl Sassano and eliminated the position. The stock plummeted 35.9%.
Back to top
Market Internals
Breadth was positive for the NYSE and the Comp on moderate volume.
New York Stock Exchange: 1,429 advancers, 1,383 decliners, 837.1 million shares. 67 new 52-week highs, 42 new lows.
Nasdaq Stock Market: 2,200 advancers, 1,772 decliners, 1.519 billion shares. 79 new highs, 81 new lows.
Back to top
Most Active Stocks
NYSE Most Actives
Lucent (LU) : 20.2 million shares. Texas Instruments (TXN) : 17.3 million shares. General Electric (GE) : 11.9 million shares.
Nasdaq Most Actives
Cisco (CSCO) : 26.6 million shares. Next Level: 24.8 million shares. WorldCom

undefined

: 22.8 million shares.
Back to top
Sector Watch
Biotechs were the big winners today, while energy stocks took a hit.
The
Nasdaq Biotechnology Index
was up 4.8%.
Alexion Pharmaceuticals
(ALXN)
gained 11.6%,
Xoma
(XOMA)
was up 24.4% and
Protein Design Labs
(PDLI)
was higher by 10.6%.
Downgrades in the energy sector from J.P. Morgan and Morgan Stanley Dean Witter hurt components of the
American Stock Exchange Oil & Gas Index
, down 2.8%, and the
Philadelphia Stock Exchange Oil Service Index
, off 1.7%. The
American Stock Exchange Natural Gas Index
was 2.3% lower.
Enron
undefined
was its biggest drag.
Transportation stocks were rebounding slightly from yesterday's weakness. The
Dow Jones Transportation Average
edged up 0.8%. The
American Stock Exchange Airline Index
was higher by almost 2%.
Back to top
Bonds/Economy
Treasuries were nearly unchanged today, giving back a mild rally built on this morning's durable goods release, which showed durable goods orders fell 12.4% in July. It is the largest decrease on record, according to the
Commerce Department
. A decrease wasn't unexpected, as durable goods orders rose a revised 9.5% in June. But economists were only looking for a 6.7% decline in July, according to the
Reuters
consensus.
The decrease is largely due to a 31.7% decline in transportation orders, largely due to declines in aircraft orders. That reverses last month's whopping 41.7% increase in transportation orders. Excluding transportation orders, durable goods fell 4.8%, after rising 0.5% in June. The durable goods release is a volatile one, subject to wild swings month to month.
The benchmark 10-year Treasury bond was up 1/32 at 100 6/32, its yield at 5.725%.
The Treasury Department conducted another successful buyback today, repurchasing $750 million in long-dated Treasury securities. The average maturity of the securities purchased was 8.6 years; the Treasury received $4.949 billion in interest for the buyback.
The
minutes from the
Federal Reserve's June 27-28 meeting released today around 2 p.m. EDT showed the Fed voted unanimously to leave rates unchanged on Tuesday. The minutes also showed the Fed's stance on monetary policy relaxing a bit. In May, after raising the
fed funds rate 50 basis points, or 0.5%, to 6.50%, the committee was gunning for more hikes.
"Many Committee members noted that, based on the currently available information, additional firming of policy could well be needed at some point in the future, though a number also expressed the opinion that less tightening probably would be required than they had thought at the time of the May meeting," the minutes said.
Back to top
International
European markets ended trading sessions on the downside.
The
FTSE 100
fell 9.2 to 6557. Across the channel, the
CAC 40
in Paris dropped 39.77, or 0.6%, to 6461.93. Late in the German session, the
Xetra Dax
was near unchanged at 7227.8.
The euro was lately trading at $0.9023.
Asian markets moved higher overnight, with tech stocks giving Tokyo a boost and financials buoying the market in Hong Kong.
Tokyo shares climbed as a host of long-term investors, including foreign and local fund managers, returned to the market to pick up selected semiconductor and electronic stocks.
Although the long-term economic and financial outlook remains cloudy, traders said the next several weeks bode well for stocks because a host of data should signal strength in certain areas of the economy.
The
Nikkei 225
index rose 234.17, or 1.4%, to close at 16,670.82.
The greenback barely budged against the yen and fetched 107.05 in Tokyo trading. The greenback was lately trading at 106.86 yen.
Hong Kong's
Hang Seng
index clung to earlier gains, rising 12.30 to close at 17,439.70, largely on the back of a rally in bank shares.
HSBC
(HBC)
jumped HK$1.50, or 1.3%, to 114.50 ($14.68), while
Dao Heng Bank
rose 1.00, or 2.6%, to 39.90.
Back to top