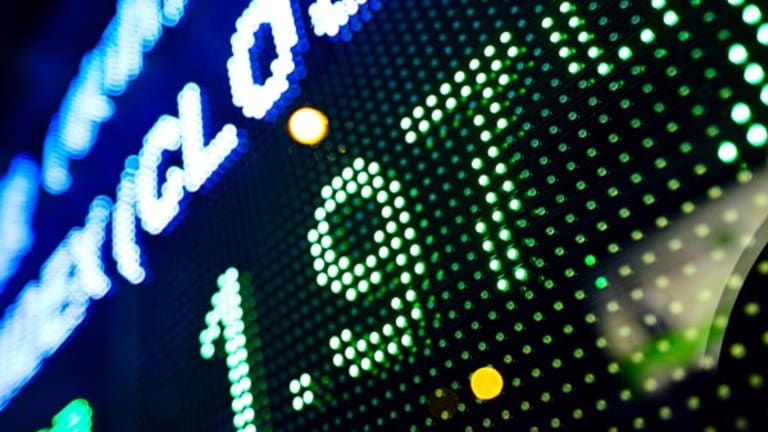 Today's Market: Stocks Still Red, but Bouncing Off Lows at Midday
Big tech was being a help today, instead of the hindrance it's been all week.
The stock market continued to be a pretty ugly place to be today. However, despite a pretty grim opening, the major indices have bounced well off their lows from this morning.
The
Dow Jones Industrial Average, which plummeted 200 points yesterday, and the
Nasdaq Composite Index, which yesterday had its lowest close since March 3, 1999, were still in the red numbers, but looked like they might make a go at the green before the day is through.
Investors had plenty of reasons -- murky earnings views, negative analyst notes and seemingly contradictory economic news -- to maintain the bloodletting this morning. But, as the day has wore on, sentiment seems to have improved a bit.
OK, first off, you probably heard about
Brocade
(BRCD)
which last night added to the pain already inflicted upon the data storage industry by saying that although it
beat estimates, it was expecting
modest sales growth for its second quarter. Brocade makes switches that connect storage-area networks. It was lately down 9.9% to $40.25.
Last week,
Emulex
undefined
opened the sector up to punishment when it
warned of a softening third-quarter outlook thanks to order delays. The news has killed such data storage-related companies as
EMC
(EMC)
,
McData
undefined
and
Veritas
(VRTS)
. EMC, lately the most actively traded stock on the
Big Board, was tumbling 7.7% to $39.66. McData was off 11.1% to $22.44 and Veritas was falling 13.3% to $62.63.
Cisco
(CSCO)
and
Sun Microsystems
(SUNW)
, though, were working on a bit of a comeback after hitting 52-week lows this week. Bargain hunters were picking up Sun before its post-close conference call today. It was falling earlier on concern that it would be cutting its earnings outlook in the call.
Not all the news was bad on the Nasdaq, however.
Efficient Networks
undefined
was jumping 86.4% to $23.06 after Germany's
Siemens
said it would buy the broadband equipment maker for $1.5 billion in cash, or $23.50 a share.
Meanwhile on the NYSE,
Nokia
(NOK)
was falling 5% to $23.04 and was one of the NYSE's most actively traded issues. The stock helped sink European markets today on talk of a profit warning from the Finnish mobile phone making giant. The news put pressure on
Qualcomm
(QCOM)
, which was down 8.1% to $65.50.
The Dow had the most drag coming from consumer staples
Johnson & Johnson
(JNJ)
,
Coca-Cola
(KO)
and
Procter & Gamble
(PG)
. Those last two announced that were
partnering to form a stand-alone company to sell juice, juice-based drinks and snacks, expecting sales of up to $5 billion in two years.
In merger news, Italian eyeglass maker
Luxottica
undefined
announced that it was buying specialty retailer
Sunglass Hut
(RAYS)
for about $462 million. Sunglass Hut was 36.1% higher to $11.31. Luxottica was off 0.8% to $13.40.
Talk about miscommunication.
Checkpoint Software
(CHKP)
was taking a hit reportedly because of confusion with
Checkpoint Systems
(CKP)
, which reported that its 2001 results may be affected by slower U.S. economic growth and volatile foreign exchange rates. Checkpoint Software was down 11.1% to $74.75, while Checkpoint Systems was unchanged at 9.15.
Signs of a slowing economy are everywhere (fourth-quarter earnings and 2001 forecasts, anyone?), everywhere, that is, except the latest economic news. Last week, the market took a
higher-than-expected
Producer Price Index on the chin and yesterday, it got kicked in the gut by a
Consumer Price Index that rose much
more than anticipated. The Street's hoping both sets of news are aberrations since such inflationary signs in a slowing economy leave the
Fed's hands tied.
What didn't help was the report that
initial jobless claims
for the week ended Feb. 17 came in slightly below forecast this morning, showing that the economy may be a bit stronger than some people had thought. Jobless claims for the week totaled 348,000, compared to
Reuters'
consensus forecasts of 355,000. The previous week's numbers were also revised downward to 344,000 from 352,000.
Market Internals
Breadth was terrible on active to heavy volume.
Back to top
Most Active Stocks
Back to top
Sector Watch
Lately, semiconductors and computer boxmakers were taking a breather. The
Philadelphia Stock Exchange Semiconductor Index
was 1.1% higher, with help from such components as
Novellus Systems
undefined
, up 8.2% to $44.56, and
KLA-Tencor
(KLAC)
, up 5.8% to $42.25.
The
Philadelphia Stock Exchange Computer Box Maker Index
was rising 1.1%, with support from the aforementioned Sun as well as
Dell
(DELL)
, 6.4% higher to $22.
Back to top
Bonds/Economy
Treasury prices are moving up as a result of steady economic data and continued weakness in stocks. The money market had been weaker at the opening bell as traders continued to worry about the potentially inflationary implications of higher-than-expected producer and consumer prices in January. Higher inflation reduces the chances of a near-term interest rate cut, which the bond market doesn't like. But with equities getting battered yet again today, investors are looking toward government securities as the safest place for their money for now.
The benchmark 10-year
Treasury notelately was down 3/32 to 98 29/32, raising its yield to 5.141%.
In economic news,
initial jobless claims
(
definition |
chart |
source
), which track the number of people applying for unemployment benefits for the first time, rose to 348,000 in the week ended Feb.17. Although this is 4,000 more than the prior week's revised number, the figure is substantially lower than the 355,000 that economists had predicted in a
Reuters
poll. The four-week moving average, however, climbed for the third consecutive week, to 350,750. Still, recent figures suggest that the string of layoffs may be drawing to a close.
The index of
leading economic indicators
(
definition |
chart |
), which forecasts economic activity more than half a year in advance, rose by 0.8% in January after having fallen for two consecutive months. The anticipated rise had been for 0.3%.
The
Help-Wanted Index
(
definition |
chart |
) fell by 3 points, to 76, last month. The gauge, which had a base value of 100 in 1987, tracks jobs openings in newspapers nationwide.
The
Consumer Comfort Index
(
definition |
chart ), which measures how consumers view the economy's direction and their participation in it, fell by a point, to 19, for the week ended Feb. 18.
Finally, the surplus in the
federal budget
(
definition |
chart |
source
) rose to $76.38 billion in January from $32.67 billion in December. It is also $14.2 billion higher than the number from a year ago.
Back to top
Back to top
International
Europe's major indices were down at the close, with much of the drag coming from mobile-phone makers
Nokia
(NOK)
and
Ericsson
undefined
.
France's
CAC-40
was down 34 to 5441 and Germany's still-rallying
Xetra Dax
was falling 79 to 6269. Things were a little better in the U.K., where the
FTSE 100
was off just 13 to 5960.
The euro was lately trading at $0.9033.
Asian markets fared no better. Japan's
Nikkei 225
closed off 26.72, or 0.2%, to 13,073.36 overnight. Hong Kong's
Hang Seng
got slammed, losing 252.87, or 1.65%, to 15,098.64.
The dollar was trading at 116.63 yen.
Back to top