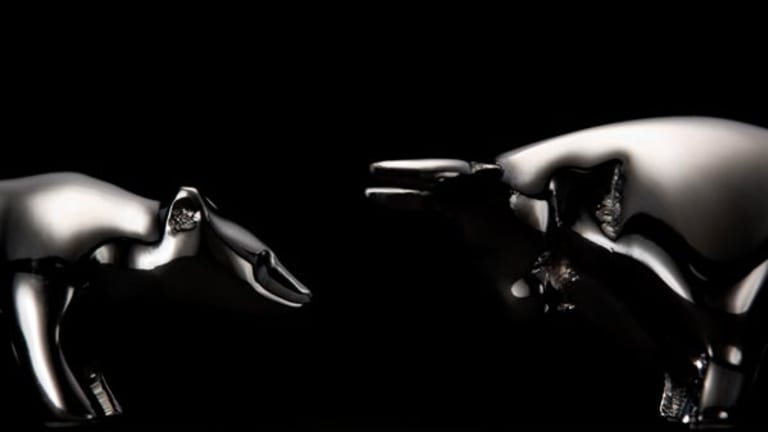 Today's Market: Stocks Start Off Weak
Rest of day in doubt after six straight positive sessions on the Nasdaq. Dell looks sharp, though.
Rest of day in doubt after six straight positive sessions on the Nasdaq. Dell looks sharp, though.
(Updated from 9:39 a.m.)
Investors were doing a bit of profit-taking at the open this morning.
The
Dow was already down some 33 points to 11,225; the
Nasdaq was off about 28 points to 2286; and the broader
S&P 500 was down 5 points to 1304.
Apart from some positive analyst comments on
Dell
(DELL) - Get Report
and other PC makers this morning, there were few catalysts to inspire buying this morning.
"The market looks set for a little profit-taking this morning. It's a bit sloppy out there," said Barry Berman, trader at
Robert W. Baird
. "We've had a good run in the market, we've got a three-day weekend coming and we're waiting for Friday's economic data."
The tech-heavy Nasdaq closed slightly higher Tuesday marking its sixth-straight up close, while the S&P 500 and Dow retreated slightly from recent gains. The Nasdaq is now up 41% since falling to its recent low of 1638.8 on April 4. It remains 54% off its all-time high. The Dow is only 4% below its all-time high, and 20% above the two-year low of 9389.48 hit March 22. The S&P 500 has climbed 19% from its lows of April 4.
On Tuesday and in other recent sessions, early weakness in equities was reversed later in the afternoon as bullish sentiment regained the upper hand. The
Federal Reserve cut interest rates a fifth time May 15, propping up faith in an economic and profits recovery late this year. And technical indicators on volume and volatility have been interpreted as bullish over the past week.
"If the selling runs out of gas this morning, you'll see the buyers come back in," Berman said.
A pair of brokerages talked up Dell this morning, with
Merrill Lynch
putting the company on its Focus One list because of the computermaker's long-term outlook.
Goldman Sachs
initiated coverage on the PC maker and its rivals, starting Dell on its U.S. recommended for purchase list, while doling out market outperform ratings on
Apple
(AAPL) - Get Report
,
Compaq
(CPQ)
and
Gateway
(GTW)
.
Apple was up 0.4% to $23.60; Compaq was off 0.1% to $17.70; and Gateway was up 0.5% to $19.17. Dell was the most actively traded stock on the Nasdaq so far this morning; it was rising 4% to $27.
Micron Technology
(MU) - Get Report
was trading up 1.1% to $41.34 after Goldman Sachs added the chipmaker to its recommended list.
And French telecom-equipment maker
Alcatel
(ALA)
was lately down 7.6% to $29.25 after
The Wall Street Journal
reported that it and rival
Lucent
(LU)
were moving forward with merger talks. The
Journal
said boards of the two companies had agreed to more talks.
The economic calendar yields nothing new until Friday's preliminary first-quarter
gross domestic product and the April
durable goods orders.
Asian markets closed slightly lower overnight. European stocks were narrowly mixed, with most indices trading near the flatline. Treasury prices were weaker on the long end of the market.
Back to top
Bonds/Economy
Treasury prices were weaker at the longer end of the Treasury market this morning. Benchmark 10-year
Treasury note prices were up 2/32 to 97 1/32, while yields had edged down to 5.395%.
The 30-year note prices were up 1/32 to 94 12/32, as yields rose to 5.772%.
Long-term Treasury prices were weaker yesterday as the market traded in a limited range ahead of Thursday's speech by Federal Reserve Chairman
Alan Greenspan and Friday's economic data.
Back to top
International
Europe's major indices were posting moderate losses this morning. Again, weakness in techs and telecoms was putting pressure on London's
FTSE 100
, which was lately down 43.4 to 5933.2. Across the channel, the Paris
CAC-40
was sliding 29 to 5664.5, while Frankfurt's
Xetra Dax
was losing 21.2 to 6249.4.
Asian stocks closed slightly lower overnight. Tokyo's key
Nikkei 225
lost 23.5 to 14067.7. Hong Kong's
Hang Seng
sank 38.9 points to 13,839.1.
Except for some intermittent selling, the European and Asian indices have been rising steadily since March, when most of them hit lows not seen in 18 months or more.
Back to top