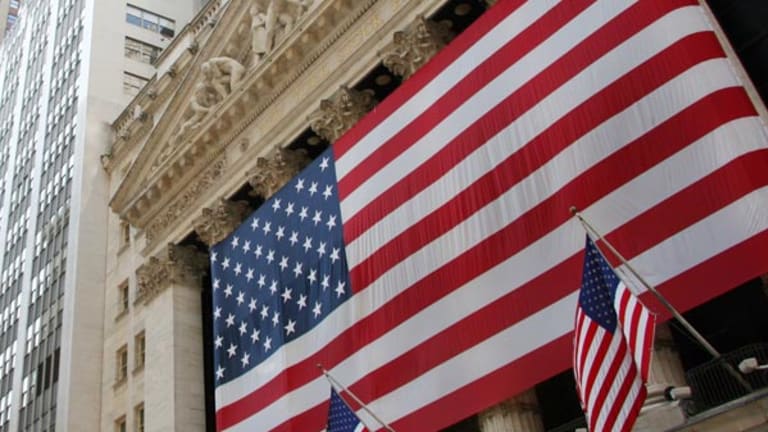 Publish date:
Today's Market: Stocks Start Off Feeling Fine, End Session With Scarlet Fever
Both the Dow and the Nasdaq were stuck in the red by the end of the day; Intel continues to struggle.
Both the Dow and the Nasdaq were stuck in the red by the end of the day; Intel continues to struggle.
What seemed like a rather benign day turned a bit more sinister in the last hour of the trading session, as money managers stepped up selling pressure on the bellwether technology stocks and semiconductors. The major indices, close to unchanged most of the day, dropped deeper into negative territory at the day's end.
The
Dow Jones Industrial Average, weakened by the tech components and the retailers, dipped 39 to 10,808. The
S&P 500 lost 10 to 1439 and the
Nasdaq Composite Index fell 62 to 3741, finishing near the day's lows of 3737. The small-cap
Russell 2000 fell 3 to 516, and
TheStreet.com Internet Sector
index lost 16 to 764.
After
Intel's
(INTC) - Get Report
warning Thursday evening, sparking a massive selloff followed by an amazing recovery in the Nasdaq, today seemed downright docile.
Investors appeared content with current prices for most of the day, but pressure was evident on the big-cap tech stocks like
Cisco
(INTC) - Get Report
,
Microsoft
(MSFT) - Get Report
and
Oracle
(ORCL) - Get Report
.
Selling accelerated near the close. The relative health of the market can't be considered strong when investors start to aggressively tag market leaders like big-cap technology stocks and semiconductor makers.
It's hard to pick what, exactly, investors are keying on. Clearly, there's concern that Intel's European
woes aren't confined to Intel, and that other big-cap tech stocks will report earnings that show diminished results due to lack of demand in Europe. Intel lost another $2.56 to $45.38 today, on 130 million shares traded, after the stock dropped 21% sharply on over 300 million shares Friday.
Analysts also link the problems more directly to expectations -- namely, that they were simply too high at a time when the
Fed was raising rates and was sure to slow the economy. The extreme valuations that these stocks had been pushed to earlier this year (yes, even after spring) are being taken down. Strategists were quick to note that Cisco, at least from a technical perspective, broke through what was viewed as a support level -- since May, the stock has traded between 60 and 70, but it closed down $3.13 to $57.19 today.
"The market doesn't care right now
about good numbers; they're just lopping off valuations," said Gary Kaltbaum, chief technical analyst at
J.W. Genesis
. "You can't hide institutional selling or buying. When you see the Ciscos of the world breaking down on huge volume, with big price swings, that's not Aunt Mary or Uncle Bob selling."
Which is why Oracle's good numbers from last week are being ignored; investors' worry grows in direct proportion to the number of companies that are issuing warnings. Laser printer manufacturer
Lexmark
(LXK)
warned of lower-than-expected earnings after the close; the stock lost 4.8% today.
Oracle finished down $1.98 to $78.75; Microsoft lost $2 to $61.25. The
Philadelphia Stock Exchange Semiconductor Index
dipped 5%, as worries about demand continue. Prices for spot delivery of DRAM memory dropped again today, according to analysts, and that hurt DRAM producers like
Micron Technology
(MU) - Get Report
, which lost 10.9%. Selling in these stocks, in particular, picked up in the last hour.
It wasn't all bad for technology. Investors are still in love with fiber optics stocks, which continue to run to incredible levels.
Ciena
(CIEN) - Get Report
rose $6.81 to $127.56 today, lifting that price-to-earnings ratio to 630 (the S&P average is 26.3).
The Big Board Was Better
Brokerage stocks and reasonable strength in a number of Dow components held up the
New York Stock Exchange today, but nonetheless, losers were ahead of winners in a generally poor session. The market rediscovered a bit of leadership in the guise of brokerage stocks.
Morgan Stanley Dean Witter
(MWD)
gained 2%;
Lehman Brothers
(LEH)
rose 2.64.8%, and
Merrill Lynch
(MER)
gained 4.8%.
The Clinton Administration's decision to release 30 million barrels from the
Strategic Petroleum Reserve
took some shine out of energy prices, and energy stocks followed. Crude oil futures dropped $1.11 to $31.57, taking with it oil service, refining and production stocks.
ExxonMobil
(XOM) - Get Report
lost 0.8%,
Chevron
(CHV)
dropped 1.7% and oil processing company
Baker Hughes
(BHI)
lost 3.4%.
Market Internals
Breadth was negative on mediocre NYSE volume, and on strong Nasdaq volume.
New York Stock Exchange: 1,267 advancers, 1,581 decliners, 982 million shares. 72 new 52-week highs, 93 new lows.
Nasdaq Stock Market: 1,789 advancers, 2,252 decliners, 1.74 billion shares. 132 new highs, 173 new lows.
Back to top
Most Active Stocks
NYSE Most Actives
Lucent Technologies (LU) : 29.4 million shares. Micron Technology: 18.2 million shares. AT&T (T) - Get Report: 16.1 million shares.
Nasdaq Most Actives
Intel: 130 million shares. Cisco: 57.5 million shares. Ericsson (ERICY) : 41.2 million shares.
Back to top
Sector Watch
The decline in oil prices didn't light a fire under transportation stocks. Airlines are reportedly increasing prices to offset the increase in fuel costs; the
American Stock Exchange Airline Index
lost 0.3% today, helping prod the
Dow Jones Transportation Average
to a 1.6% loss.
Retailers were weak today, after
K-Mart
(KM)
reached an agreement with 1,600 unionized warehouse workers, which includes signing bonuses and other benefits. K-Mart lost 6.5% today, and the
S&P Retail Index
dropped 2%.
Home Depot
(HD) - Get Report
was down 2.6% today.
Back to top
Bonds/Economy
Treasuries were unchanged today, despite a stronger-than-expected
existing home sales
(
definition |
chart |
) report.
The benchmark 10-year note lately was up 1/32 to 99 10/32, lifting its yield to 5.842%.
Benefiting from a decline in mortgage interest rates to the lowest levels of the year, existing home sales rebounded 9.3% to a 5.27 million pace in August, after falling 9.2% in July. Economists polled by
Reuters
had expected a much smaller gain.
Meanwhile, oil fell to a one-month low after the Clinton administration's
decision to tap the country's emergency stockpiles. That is helping the 30-year Treasury bond, which has been guided primarily by oil prices lately, falling in price when oil rises and rising when oil falls. Rising oil prices are negative for long-term bonds because of their potential to lead to higher inflation.
Back to top
International
Telecom, media and technology stocks rebounded in both Europe and Asia.
The
FTSE 100
closed up 51.20 to 6257.10. Across the channel, the
CAC 40
in Paris finished ahead 77.70 to 6336.28, and the
Xetra Dax
in Frankfurt rose 48.44 to 6788.69. TheStreet.com covered today's markets in
Europe in a separate story.
Asian markets ended higher.
The
Nikkei 225
index rose 174.65, or 1.1%, to close at 15,992.90. A bout of short-covering in the futures market helped Hong Kong's
Hang Seng
surge 816.07, or 5.6%, to close at 15,428.95. Computer maker
Legend Holdings
fared exceptionally well, climbing HK$1.05, or 17.5%, to 7.05 ($0.90) after falling 26.83% last week alone
Back to top