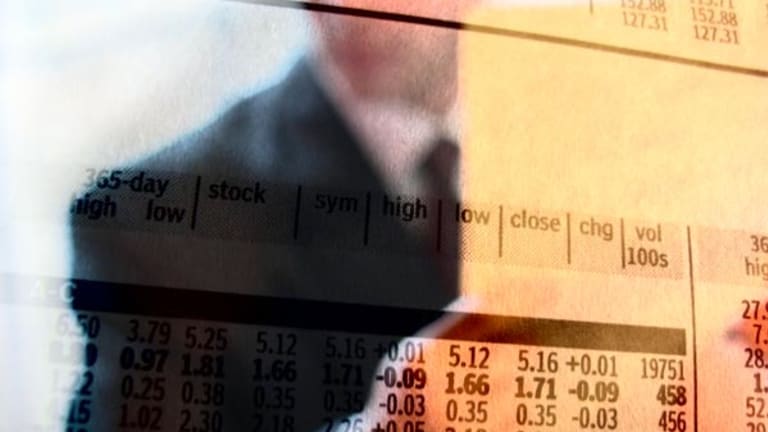 Today's Market: Stocks Start New Quarter on Shaky Ground
American Express falls on warning news. Market awaits latest pulse of manufacturing, due at 10 a.m.
(Updated from 9:32 a.m.)
The dawn of a new month and quarter aren't bringing the market much of a fresh start. Both tech stocks and the broad market were skipping just slightly higher soon after the opening bell.
But stocks could catch a bullet train south if the
National Purchasing Managers' Index, or PMI, for March is as ugly as the Chicago PMI was on Friday. The National PMI is released this morning at 10 a.m. The Chicago PMI, a regional survey that's a good predictor for the entire manufacturing sector, fell to 35, its
worst level since 1982.
Still, economists are forecasting a rise in March's National PMI, with consensus estimates putting it at 42.2 compared to February's 41.9. A strong reading could give stocks a boost. A reading above 50 in the index signals expansion in the manufacturing sector; a number below that indicates contraction. Manufacturing is the most beleaguered area of the slowing U.S. economy. As demand has slowed for goods, inventories have piled up and many companies have had to cut production.
The
Dow was recently off 1 to 9877. The Nasdaq was up 12 to 1852, while the S&P 500 was gaining 1 to 1161.
The flood of earnings warnings some market pros predicted for today and tomorrow already has begun to trickle into Wall Street this morning. Financial giant
American Express
(AXP)
was off 7% to $38.40 after it warned early today that its first-quarter earnings would decline as much as 18% from the previous year, or 48 cents per share. Analysts have been expecting 51 cents per share. Business-to-business Internet software company
i2 Technologies
(ITWO)
also lowered its first-quarter earnings forecast, and it also said it might cut 10% of its workforce. The company is now expecting 2 cents per share compared to analysts' forecasts of 5 cents per share. It was rising 13.4% to $16.50.
The market is on the cusp of earnings reporting season, and companies are scrambling to give the market a heads-up before they release the official financial reports. Electronics retailer
Circuit City
(CC)
reported this morning that its fiscal fourth-quarter earnings fell 4% from a year ago to 49 cents per share, beating analyst estimates by 3 cents. It was up 5.2% to $11.15.
After some pretty rough riding in March, most market pros say stocks will continue to slush out a bottom and won't likely sustain any real gains until corporate earnings begin to improve. But don't expect to see that happen soon. This preannouncement season might turn out to be the worst in at least five years, according to a report out this morning from earnings tracker
Thomson Financial/First Call
. "Current figures suggest we should be in for 1,200 to 1,400 total preannouncements; and should the 70% ratio of negative guidance hold, we would be looking at roughly 200 to 250 more negative preannouncements before the reporting season commences."
On the other hand, some bellwethers could actually beat their numbers, given the drastic cuts to earnings estimates in recent weeks. If that happens, the market will celebrate.
Among some of the latest big names to warn are former New Economy favorites
Nortel
(NT)
and
Palm
(PALM)
, as well as some Old Economy names, such as
International Paper
(IP)
and
Ingersoll-Rand
(IR)
.
In the past two weeks, the market has reacted violently to the warnings as well as to heightened worries about the slowing economy. Stocks have swung wildly, with the Dow and
Nasdaq alternately falling to and bouncing off two-year lows.
In other news this morning,
Vitesse Semiconductor
(VTSS)
says it will acquire Denmark's
Exbit Technology
for over $100 million. Vitesse was gaining 1.8% to $24.25. But energy powerhouses
Entergy
(ETR)
and
FPL Group
(FPL)
said they have abandoned their planned $7.6 billion merger. The coupling would have created the No. 1 U.S. power distribution company.
Back to top
Bonds/Economy
Bond prices were edging higher this morning as the broad market readied for a flat open. The benchmark 10-year
Treasury note was up 5/32 to 100 27/32, yielding 4.892%.
The Treasury market rose Friday even as stocks turned higher in the second half of the trading session. The long end of the money market led the robust performance, while yields for the notes dipped back near 30-month lows.
Back to top
International
Overseas markets didn't do anything to lift sentiment in the U.S. The major European indices were posting moderate losses as they approached midsession. Led down by weakness in the banks, London's
FTSE 100
was down 66.2 or 1.2%, to 5567.5, near its two-year lows. Across the channel, the Paris
CAC 40
was off 63.8, or 1.2%, to 5116.6 and Frankfurt's
Xetra Dax
was shedding 101.5, or 1.7%, to 5728.5.
The euro was lately trading at $0.8790.
Asian markets continued to slog lower overnight. Adding to last week's losses, Tokyo's
Nikkei 225
overnight slipped another 0.48%, or 61.9 points, to 12937.9. Japanese investors sold stocks partly out of disappointment over the "tankan" survey of business sentiment, which showed new signs of economic weakness. Hong Kong's
Hang Seng
slipped 33.3 points, or 0.3%, to 12,727.3 overnight.
The dollar was trading at 126.24 yen.
Back to top