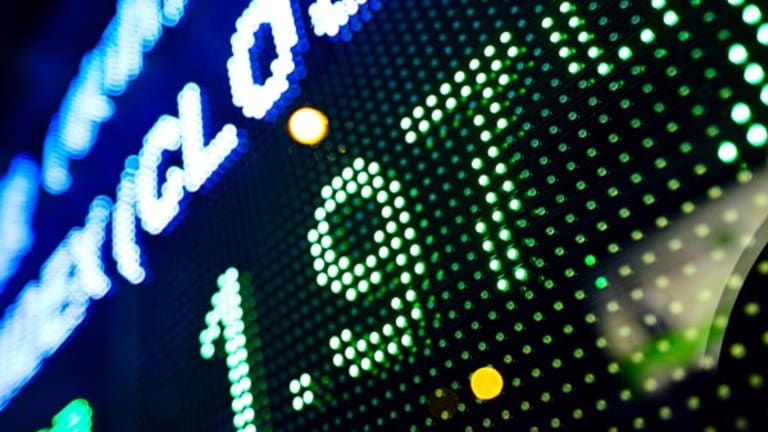 Today's Market: Stocks Spike Higher as Greenspan Testimony Begins
<LI>Fed chairman's speech before Senate started just after 10 a.m.</LI> <LI>Retail sales gained more than expected in January.</LI> <LI>CSFB downgrades Broadcom, Intel.</LI>
(Updated from 10:13 a.m. EST)
Some retail sales data out this morning sparked a bit of fire in the market's belly; and stocks spiked higher as Fed chairman Alan Greenspan began speaking before Congress.
The latest
retail sales number renewed investor optimism. The data showed that sales picked up in January a bit more than economists had expected. The headline number rose 0.7% during the month, compared with forecasts for 0.6% growth and December's 0.1% increase in sales. The core number, which excludes volatile auto sales, rose 0.8%, double the 0.4% rise expected by economists and well above December's flat performance.
The less-watched
BTM-UBSW Weekly Chain Store Sales Index
for the week ended Feb. 10 came out at 9 a.m. and it looked good, too.
Still, the market's real
focus today is
Federal Reserve head
Alan Greenspan and his
Humphrey-Hawkins testimony before the Senate, which began shortly after 10 a.m.
The
Nasdaq was lately up 58 to 2547. The S&P 500 was up by 3 at 1333. And after early trading in the red, the
Dow had turned higher by 15, to 10,961.
Chip stocks might get knocked around today.
Credit Suisse First Boston
downgraded
Broadcom
undefined
,
Texas Instruments
(TXN)
and
Intel
(INTC)
. All three stocks were trading higher after falling early on. Often seen as leaders of the tech stocks, chip companies rebounded yesterday after a week of losses.
Then again, maybe it's old news.
"These CSFB downgrades don't seem to be having a huge affect. The downgrades seem to be coming after the fact," said Brian Finnerty, head of trading at
C.E. Unterberg Towbin
.
Just last week, CSFB issued a dire note about the semiconductor industry after new data from the
Semiconductor Industry Association
showed that chip sales were falling. That report said sales were down 6% in the Americas in the period from the third quarter to the fourth quarter, and that they've dropped 3% worldwide. Normally, sales increase 5% quarter-over-quarter.
At that time, CSFB said inventory levels have worsened in recent months and could likely take until the end of the second quarter to burn off.
But today, CSFB said a new word. It now has
visibility worries. And that means it's no longer so sure that inventory levels will burn off in the second quarter.
Tech company after tech company -- and the analysts that watch them -- have lately begun to voice concerns about visibility, or companies' ability to project future performance. It's not an easy thing to do when the economic picture is so murky and the Fed's future interest-rate moves unknown.
But the focus shifted to Greenspan and the Humphrey-Hawkins after his speech began. This speech usually represents his most extensive annual address to lawmakers. And while Greenspan isn't going to tell anyone what the Fed's interest-rate plans are for the next few months, he's likely to regale the
Senate Banking Committee
with his assessment of current economic conditions and the Fed's forecasts for economic growth for the coming year.
He'll also probably focus extensively on a few facets of the economy of greatest concern to him -- financial conditions, inventory concerns and recent productivity figures that were stronger than expected. Given recent events, Greenspan will also probably be forced to say a little something about the government's plans for tax cuts.
"There should be a big Q-and-A here," said Finnerty. "Congressmen love to get their face on TV. He said any negative comments would be seen as positive for the markets because it would signal more interest-rate cuts to come.
Retail Sales
In this period of transition for the economy, the retail data are especially important because consumer spending accounts for the majority of U.S. economic growth. Stock market losses, growing talk of recession and the recent spike in layoffs have all helped to erode consumer confidence levels.
But while the December and January numbers might seem to indicate a real rebound in consumer spending -- retail sales had dropped 0.1% and 0.5% in October and November -- some are concerned that the winter strength is due more to sharp discounts and decent weather rather than any fundamental change in shopping behavior. Big home-improvement retailer
Home Depot
(HD)
and its largest competitor,
Lowe's
(LOW)
, for example, recently warned about future earnings. And they're not alone.
The
Weekly Chain Store Sales Index
rose 0.8% in the week ended Feb. 10, blowing away the previous week's 0.1% drop.
Investors may continue to shower their riches on industrials and defensive stocks, meanwhile. A bit of bargain-hunting on the
blue-chip Dow yesterday turned into a ripping rally. After a four-day selloff, the Dow had racked up a 16 -point gain by the market close yesterday. That sweet action left it sitting at 10,947 -- not far from the psychologically key level of 11,000.
The Nasdaq couldn't drum up much support yesterday and didn't get far from the flatline. The closely watched tech index closed up a measly 18.69 to 2490.
But some think the Nasdaq is bottoming out. "I think the Nasdaq is seeking to make a bottom here. Even if we stay in a trading range, we'll probably see a bounce."
Back to top
Bonds/Economy
The benchmark 10-year
Treasury note was rising 3/32 this morning, to 99 22/32, yielding 5.04%.
Back to top
International
Stocks in Europe were mixed this morning. U.K.-based
BP Amoco
(BP)
reported its sixth-straight record profit this morning, citing higher oil and natural gas prices as well as lowered costs and recent takeovers. The third-largest publicly traded oil company, the company reported earnings of 18.25 cents per share. Despite that news, London's
FTSE 100
was lately down 3.9, or 0.06%, to 6245.30. In Paris, the
CAC-40
was down 9.54, or 0.17%, to 5749.94 and the German
DAX
was up 16.95, or 0.26%, to 6581.86.
The euro was lately trading at $0.9233.
Tokyo investors may have wished Monday's national holiday could have extended into today, as the key
Nikkei 225
shed 148.13, or 1.1%, to 13274.70. Hong Kong's
Hang Seng
, on the other hand, gained back almost all of the previous session's 180 point loss. The benchmark index rose 1549.61, or 0.95%, to 15942.72.
The dollar was trading at 117.21 yen.
Back to top