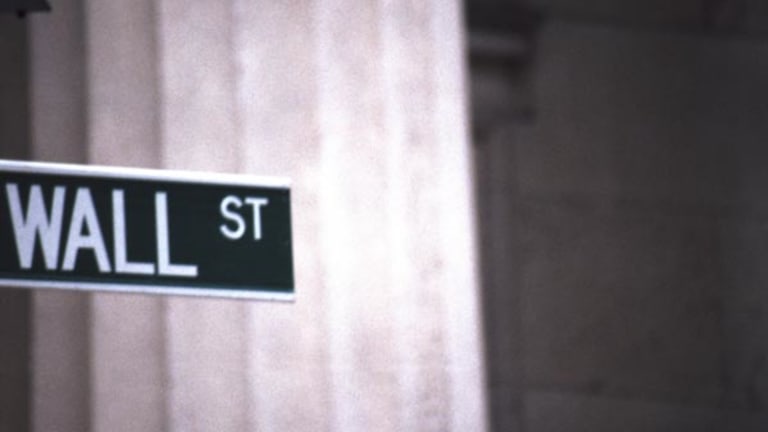 Today's Market: Stocks Soaring After Unexpected Rate Cut
The Fed unexpectedly cuts rates 50 basis points, and the Dow gains more than 400 points.
(Updated from 11:42 a.m.)
Ready, set, cut!
The major market indices surged just before 11 a.m. on the news the
Federal Reserve -- in a move not expected on Wall Street -- cut interest rates by 50 basis points to 4.5%.
The
Dow Jones Industrial Average rocketed and was recently up 441 to 10,657. The tech-heavy
Nasdaq Composite Index also soared, lately up 170 to 2094.
After all but telling the world that it wouldn't cut rates before its May 15 meeting, the Fed has -- for the second time this year -- taken the unusual step of cutting interest rates between regularly scheduled meetings. The Fed had cut the
fed funds rate on Jan. 3 during the market session, sparking a substantial rally in the market that lasted through most of that month. All told, this is the Fed's third rate cut since the beginning of the year, with the moves aimed at putting life back into the sagging economy.
The bond market, which has been selling off because of the rally in stocks, didn't move too much. It already was priced for additional interest-rate decreases.
Financial stocks, which are most closely affected by interest-rate policy, rallied fast and furiously in response to the move. The
Philadelphia Stock Exchange/KBW Bank Index
was lately higher by 5.3%, with components
Citigroup
(C)
and
Bank of America
(BAC)
among the companies jumping.
Following the Fed's announcement, investors rotated out of some of the safer sectors. Shares of drug stocks, as tracked by the
American Stock Exchange Pharmaceutical Index
were moving lower by 1.8%, while gold stocks, as tracked by the
Philadelphia Stock Exchange Gold & Silver Index
were rising, but only slightly.
The Dow already had been enjoying gains today, and it climbed about 300 points on news of the cut. The Nasdaq moved up almost 100 points. Stocks already were higher today on
positive guidance from
Intel
(INTC)
released after the market closed yesterday.
Last night, the semiconductor bellwether spilled the bad news about its first quarter: Earnings fell 64% and sales dropped 16% from the comparable period last year. But it offered an optimistic outlook for the months ahead, sayings its PC-related businesses have bottomed and that it expects revenue to decline at a slower pace in the second quarter -- and maybe even grow. Given that investors have gotten used to companies saying they have little visibility about their future earnings prospects, these were especially welcome words.
After months of downward spiraling in technology earnings -- which began with a warning from Intel last fall -- the bullish clique interpreted Intel's forecast for the second half of the year positively.
Prudential Securities'
Han Mosesmann was so moved by Intel's report that he upped his rating on the chip stock to a strong buy. "Intel is now seeing evidence of normal seasonal demand patterns, entering the second quarter, for core processor products," he wrote in a research note, telling investors that orders and normalizing inventory levels suggest that a bottom will be hit in the second quarter.
Demand remains problem, however. According to
Lehman Brothers'
Dan Niles, who rates the stock at market perform, the real issue was whether demand for Intel's gear was spurred by the rock-bottom prices the company is charging to spur business or by its customers replenishing inventories. And based on his conversations with brand-name computermakers, Niles said demand has not yet bottomed.
The
Philadelphia Stock Exchange Semiconductor Index
, already soaring before the rate cut, was gaining 14.4%. Still, in this day and age, when the market can turn on a dime, corporate and economic fundamentals remain a problem.
While the rate cut was dominating market sentiment, there was also a host of important corporate news. Computermaker
Hewlett-Packard
undefined
said it expects to badly miss Wall Street's second-quarter consensus forecast for its earnings, citing the rapid global slowdown in consumer information-technology spending. The company expects its third-quarter revenues to be flat compared to the year-ago period. And it set plans for layoffs. Still, amid today's tech euphoria, the stock was gaining 12.1% to $32.81.
And Internet and media beast
AOL Time Warner
(AOL)
is helping sentiment since it beat its cash-per-share estimate for the first quarter by 3 cents, with 23 cents a share. AOL also reported revenues of $9.1 billion, up from $8.3 billion from a year ago. AOL was rising 10.5% to $48.51 in recent trading.
And before the rate cut was announced,
Goldman Sachs
strategist Abby Joseph Cohen lowered her year-end price targets on the S&P 500 to 1550 from 1650. She also
cut her targets for the Dow to 12,500 from 13,000. Cohen says she still thinks stocks are undervalued, but she lowered her earnings target for the S&P 500 to $56.50 from $60. That means she expects the tally of earnings of all 500 companies in the index to be lower than her earlier estimates.
Back to top