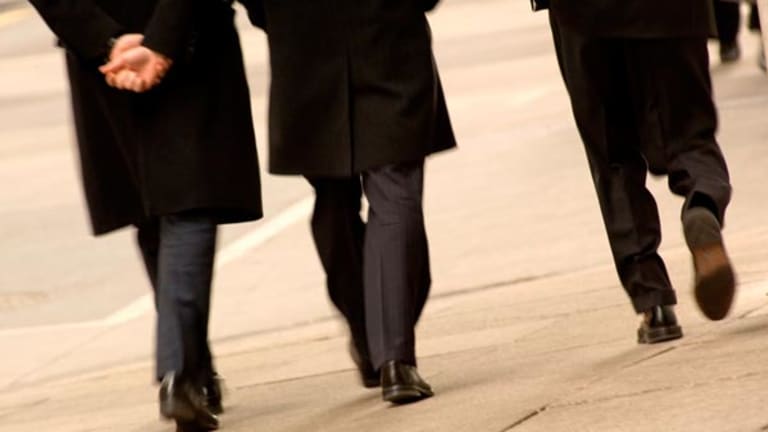 Today's Market: Stocks Slip South
<LI>Network Associates plunges on bad news about its earnings.</LI> <LI>Energy stocks continue to gain.</LI>
(Updated from 8:49 a.m. EST)
If you like records and you're a tech investor, this is one statistic you'll likely remember for a long time. The stuffed-with-tech
Nasdaq is moving closer by the minute to racking up its worst year ever.
Unless it changes course, Nasdaq 2000 will have bigger losses than the 35.1% drop in 1974.
The
Dow Jones Industrial Average was off 25 to 10,668. The Nasdaq was -- surprise -- off another 27 to 2467. And the
S&P 500 moved 2 lower to 1313.
The most active stock today on the Nasdaq is
Network Associates
(NETA)
, a provider of software security systems that is plunging on news it expects to post a fourth-quarter loss of between $130 million and $140 million due to reduced orders and a slowing economy. It was lately off 66%. Network Associates did not provide earnings-per-share figures, but the 11 analysts polled by
First Call/Thomson Financial
are calling for the company to earn 31 cents a share for the quarter. The company earned 20 cents in the year-ago period.
Not surprisingly, analysts swung into action this morning.
Robertson Stephens
, for example, chopped its earnings-per-share estimates for 2000 to 9 cents from $1.01.
TheStreet.com
wrote a
complete story about Network Associates' news last night.
TheStreet.com's
Herb Greenberg has been following this company for a while and has had interesting
insights into its accounting.
There is little market-moving economic data due today. Still, one piece of chatter that keeps popping up these days is a question of whether the
Federal Reserve will lower interest rates before the next meeting of the policy-making
Federal Open Market Committee. Speculation rose last week that the Fed would consider cutting rates before its next meeting at the end of January because the economic slowdown has strengthened. But then the tech-heavy Nasdaq rose 7% on Friday. And momentum in the closing stages of the critical holiday shopping season now has the bond market pricing in a 32% chance of a rate cut before the next FOMC meeting, down from a 44% chance that was priced in to the bond market last week.
At its last meeting the Fed kept interest rates unchanged, but it switched its outlook about the economy to one that said the risks of recession now outweigh the risks of inflation. The Fed had long held that inflation was a big concern -- and hiked interest rates six times since June 1999 in an effort to put the brakes on the then-rapid pace of economic growth.
To be sure, the holiday shopping season got off to a slow start. But then, over the weekend, people went to the stores in droves to get in last-minute holiday shopping. Whereas it had looked like another bad week for the retailers on Friday, by the time the stores shut on Sunday, sales were well above plan. The bad news is the last-minute sales were not enough to save the season. In its weekly sales report yesterday, for example,
Wal-Mart
(WMT) - Get Walmart Inc. Report
said same-store sales for December will likely not reach the company's growth target of about 3%. The
Standard & Poor's Retail Index
was lately slipping 0.6%.
Goldman Sachs
this morning cut its earnings estimates on some apparel retailers, including
Gap
(GPS) - Get Gap, Inc. (GPS) Report
.
TheStreet.com
yesterday took a look at how the holiday season
turned out.
Bad weather can keep investors from the malls or it can give them a warm place to go. And it's the cost of fuel that is having a direct affect on some investors these days. Companies that profit from rising natural-gas prices soared yesterday as natural gas hit 10-year highs. And with cold weather continuing in much of the country and energy prices staying high, look for more action in the energy sector today. The
American Stock Exchange Natural Gas Index
, for example, was gaining 0.8% this morning.
The next round of meaty information that investors can sink their teeth into will come when companies begin to report their fourth-quarter and full-year earnings. While two companies in the
S&P 500 report earnings today --
Countrywide Credit
(CCR) - Get CONSOL Coal Resources LP Report
and
Shiloh
(SHLO) - Get Shiloh Industries, Inc. Report
-- the downpour of earnings information will hit after the New Year.
Back to top
Bonds/Economy
Treasuries ended lower yesterday after a very slow day of trading. This morning, the
10-year Treasury was moving lower again. It was recently off 1/32 to 105 6/32, pushing its yield to 5.062%. Prices and yields move in the opposite direction.
Back to top
International
At midsession, the major European markets were higher. In London, the
FTSE
was gaining 86, or 1.5%, to 6183.50. Across the Channel and through the Chunnel, the
CAC-40
in Paris was up 71.25, or 1.39%, to 5854.98 and the German
DAX
was 69.58, or 1.06%, higher to 6320.98.
The euro was trading at $0.9298. The euro has been gaining strength over the past several weeks as the U.S. economy weakens.
Asian markets were mixed, with the Hang Seng squeaking 10.15 higher to 14,748.36 and the Nikkei 225 edging 26.36 lower to 13,981.49.
The dollar was buying 113.92 yen.
Check out
TheStreet.com's
Global Indices page, where we have complete information on world markets.
Back to top