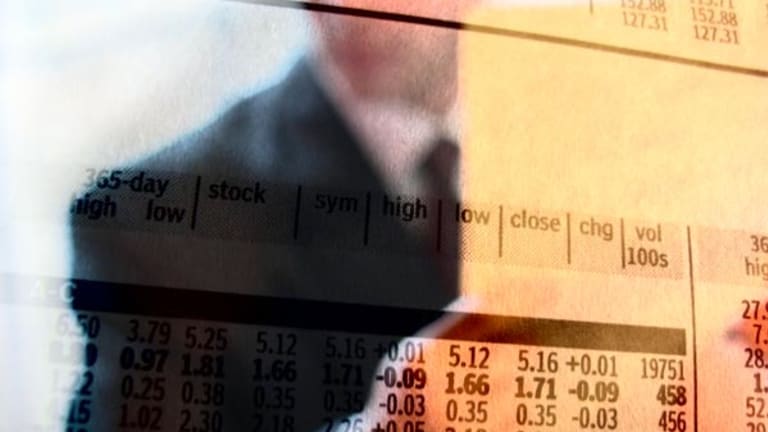 Today's Market: Stocks Slide as Bad Earnings News Outweighs Good PPI Report
<LI>ASM Lithography and Computer Sciences join warning parade.</LI> <LI>European markets slip.</LI> <LI>Core producer prices fell in February.</LI>
(Updated from 9:41 a.m.)
Some better-than-expected economic data was battling a pretty nasty earnings warning for which way to pull the market in futures trading right before the open, but the good news seemed to count for less with investors than the bad: Stocks fell out of the gate, and, after struggling for direction for a while, had settled on a decidedly downward direction half an hour into the open. At last look, the Dow Jones Industrial Average was down 83 to 9948 (yes, it is once again below 10K) and the Nasdaq Composite Index was off 24 to 1919.
February's
Producer Price Index
rose 0.1%, while the core rate -- which excludes volatile food and energy prices -- fell 0.3%. The numbers were better than expected, and stock futures rose as the figures were released from the
Labor Department
. It's the biggest drop in the core rate since August 1993.
The PPI, a key indicator of inflation at the producer level, has been rising slowly on a year-over-year basis, but today's report shows that the recent slowing in economic activity has served to restrain inflation, at least at the producer level.
January's PPI killed the market when it came in at a 1.1% increase -- a 0.7% increase in the core rate. That was the overall figure's highest rise since September 1990, and the core figure's highest since December 1998.
Meanwhile,
Computer Sciences
(CSC)
came out this morning with a
warning about its upcoming and ugly earnings report. The company said it expects fourth-quarter earnings of 35 cents to 37 cents, well below the current estimates of 92 cents from analysts polled by earnings tracker
First Call/Thomson Financial
. The company also plans job cuts of 700 to 900. The culprit, by now, is well-known. Computer Sciences blamed, in part, the decline in global customer demand for information-technology consulting and systems integration services, as well as reduced demand within the health care market for software licensing.
Goldman Sachs
was swift to punish the company, banishing it from its recommended for purchase list and slashing 2001 and 2002 EPS estimates.
Computer Sciences' warning came out on top of the less-than-sparkling news released after the close yesterday by
Oracle
(ORCL)
and
Compaq
( CPQ).
Business-software giant Oracle managed to meet lowered earnings estimates, but
offered no real guidance for future quarters, while computermaker Compaq
lowered first-quarter earnings estimates and said it would cut 5,000 jobs, or 7% of its workforce. Analyst acted quickly against both companies, trimming estimates.
In early trading this morning, Oracle was down 3% to $14.31. Compaq was off 0.9% to $18.34.
Not all was crummy in techland, though.
Software maker
Adobe Systems
(ADBE)
reported first-quarter earnings that beat estimates -- though they were estimates that had previously been revised down. And while its second-quarter revenue guidance and got hit with a price target cut from
Prudential Securities
, it still was rallying. Adobe was up 14.3% to $28.50.
Credit Suisse First Boston
raised the stock to a buy from hold.
Also due out today is the
University of Michigan's
preliminary
Consumer Sentiment Index, reported at 10:30 a.m. Consumer confidence readings have grown in importance since
Fed Chair
Alan Greenspan said he cares about the information. And of late, consumer confidence has been on the wane.
Because of the past month's mix of inflationary- and recessionary-tinged economic data, Fed-watchers will be paying close attention to today's data because it comes so close to Tuesday's
Federal Open Market Committee meeting in which the Fed -- the market believes -- will announce a 50 basis-point interest-rate cut. There's even talk of a 75 basis-point cut fueled by this week's big drops in both the
Dow and the
Nasdaq.
Don't forget to add to the pagan practice of
triple-witching. Well, not exactly pagan, but the way triple-witching can cause atypical gyrations in the market could be considered akin to witchcraft. Triple-witching is the quarterly and simultaneous expiration of futures, index options and equity options contracts.
Back to top
Bonds/Economy
The benchmark 10-year
Treasury note was last up 15/32 to 102 2/32, yielding 4.734%.
Back to top
International
Tech and telecom issues were weighing on Europe's major indices. One of the biggest drags was Dutch chip production equipment maker
ASM Lithography
(ASML)
, which warned 2001 sales would fall 10% to 25% because of sliding demand in semiconductors. In preopen action stateside, ASM was off about 9%.
France's
CAC 40
had bucked the trend and was higher, just barely, but hey beggars can't be choosers. It was 1 higher to 5178. Germany's
Xetra Dax
was tumbling 90 to 5800 and the U.K.'s
FTSE 100
was sinking 116 to 5613.
The euro was last trading at $0.8981.
Asian indices fared better, with Japan's
Nikkei 225
gaining 80 to 12,233 overnight and Hong Kong's
Hang Seng
tacking on 18 to jump to 13,522. Asian markets are being watched closely this week because of fears that Japan's economic problems are starting to hurt investor confidence in the United States.
The dollar was trading at 122.51 yen.
For more on the world stock markets, check out
TheStreet.com's
global indices information.
Back to top