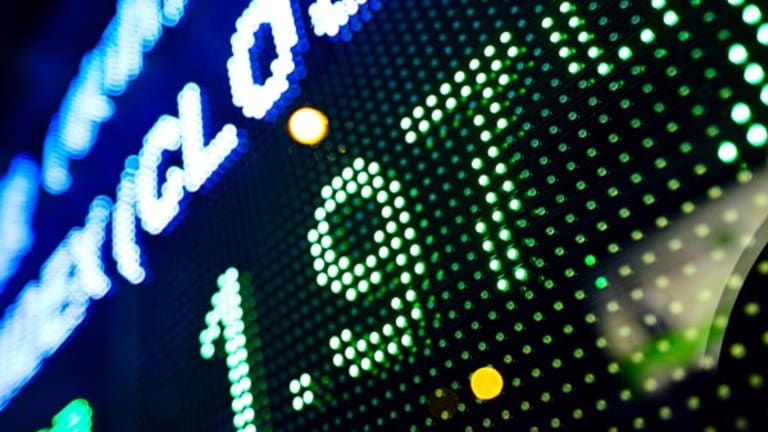 Today's Market: Stocks Slammed as Middle East Situation Worsens
<LI>Dow down over 200 points, Nasdaq also lower.</LI> <LI>AMD, Applied Micro beat earnings estimates, trading higher.</LI> <LI>CSFB lowers GM's estimates and stock trades lower.</LI>
(Updated from 9:40 a.m.)
This morning, increasing tensions in the Middle East have sent the Dow and Nasdaq sharply lower. The Dow was recently off 271 points to 10,141 and the Nasdaq was down 49 to 3119.
After failing miserably to sustain yesterday's midday bounce in tech, investors seems game to give it another try this morning.
Hmmmm. Well, at least there's some good earnings news -- from chipmakers
Advanced Micro Devices
(AMD) - Get Advanced Micro Devices, Inc. Report
and
Applied Micro Circuits
(AMCC)
-- driving this morning's optimism. AMD was up 2.7% in early action, while Applied Micro Circuits was adding 6.8%.
Yesterday's turnaround looked more like a technical snapback. As many stocks reached new lows for the year, investors stepped in to buy on the cheap. But they were happy to unload those shares again for a profit shortly afterwards.
The
Dow Jones Industrial Average, however, was getting slammed because home improvement retailer
Home Depot
(HD) - Get Home Depot, Inc. Report
warned this morning that slower sales -- from lower retail prices -- had forced it to revise its earnings outlook downward. Home Depot was falling a grand total of 23.9%.
The
Nasdaq Composite Index was lately up only 8 to 3177 after earlier, higher gains. And the
S&P 500, which was higher earlier this morning, was losing 17 to 1347.
"What we'll see off the open is a little bit of buying in techs and maybe financials, which were also stronger at the end of yesterday. Some of that money will come out of the health care sector. People were selling health care stocks just because it has risen so much. So we may get a little rotation," said Ray Hawkins, vice president of block trading at
J.P. Morgan
.
Better-than-expected earnings from AMD and Applied Micro last night -- and more importantly, the absence of any nasty guidance on coming quarters -- sent the companies' shares higher in extended-hours trading. Even the shares of semiconductor bellwether and AMD's primary competitor,
Intel
(INTC) - Get Intel Corporation Report
were getting a lift.
AMD also soothed fears of a slowdown in European demand during its conference call, saying it hadn't seen the kind of sales weakness that Intel partially blamed for its revised earnings forecast. Intel was gaining 5.3% this morning.
The real question is whether a bounce will hold. It may take a lot more than a few good earnings reports to convince this market. After a full month of horrific and high-profile earnings warnings, investor confidence is sorely shaken.
"I think the tech market is extremely oversold -- but there is still a fair amount of skepticism out there as to whether we've seen a bottom or not. We should see more churning," Hawkins said.
But if the earnings warnings really do finally dry up, and earnings season starts yielding some positive surprises, the market could slowly start moving higher.
There were a few elements in the mix yesterday that portend well for the formation of a bottom -- awful breadth and hefty volume. Nasdaq losers outpaced winners by a count of 29 to 11, and 20 stocks finished down for every nine stocks that finished up on the
New York Stock Exchange. And it was the seventh-highest volume session in Nasdaq history.
Strength in semiconductor stocks should certainly help. The sector has been beaten down for over a month as fears of a slowdown in chip demand scared away investors.
The sector led the selloffs on the Nasdaq Composite on Monday and Tuesday -- following a couple of downgrades on
Xilinx
(XLNX) - Get Xilinx, Inc. Report
and
Altera
(ALTR) - Get Altair Engineering Inc. Class A Report
-- and helped drive yesterday's short-lived midday rally. Xilinx was jumping back by 6.7% this morning. And Altera was 4.1% higher.
Meanwhile, the other fish in this morning's earnings pond had less fortunate news, however. Investors may punish retailers and car-makers today following the bad news from Home Depot and car-maker
General Motors
(GM) - Get General Motors Company Report
.
And shortly after
Credit Suisse First Boston
cut its earnings estimates for this year and next on the company, General Motors reported third-quarter earnings per share of $1.55. Consensus estimates had initially totaled $1.55, but were revised downward yesterday to $1.54. The company issued a $181 million loss, compared with a $32 million profit last year, mostly due to weakness at its European operations. GM was off 2.2%.
Back to top
Bonds/Economy
Treasuries, under pressure earlier as stock futures rallied, have recouped those losses and moved into positive territory followed reports of escalating violence in the Middle East.
Bond and note prices starting moving sharply off their lows shortly after 9 a.m. Tony Crescenzi, CEO of
Bondtalk.com
cited news reports that Israeli helicopter gunships were firing on the West Bank and that Palestinian President Yasir Arafat's headquarters in Gaza had been attacked. Arafat was reportedly unhurt.
As the world's safest and most liquid asset,
Treasury securities typically rally in response to reports of international strife.
The benchmark 10-year
Treasury note, down as much as 9/32 earlier, lately was up 5/32 at 99 30/32, dropping its yield to 5.755%.
Back to top
International
Tech and telecom stocks were leading European stocks higher near midsession, helped by the expectations of a rebound in the U.S. this morning.
London's
FTSE 100
was up 87.30 to 6204.90.
The
CAC 40
in Paris was 95.23 higher to 6051.35, while the
Xetra Dax
in Frankfurt was up 72.20 to 6633.83.
The euro was falling again after seeing some mild strength in recent days, lately lower to 0.8649.
The major
Asian equity markets ended mixed Thursday, as investors in Japan stepped in to buy some oversold technology stocks, but in South Korea and Taiwan tech shares continued tumbling lower.
In Tokyo, the
Nikkei 225
closed up 37.1, or 0.2%, to 15,550.7.
In Tokyo trading, the dollar traded fractionally down to 107.63 yen. The greenback was lately trading at 107.55 yen.
Elsewhere, South Korea's stock market looked like it might recoup part of its 5.3% loss from Wednesday in early trade, but after all was said and done the
Kospi
index ended down 22.5, or a further 4%, to 534.7.
Taiwan's
TWSE
index fell 235.5, or 3.9%, to 5805.0, as big chipmakers continued to feel the pain and the government reinstated the market's normal limit for a maximum 7% fall per day. Hong Kong's
Hang Seng
index fell 52.2, or 0.4%, to 15,074.8.
Back to top