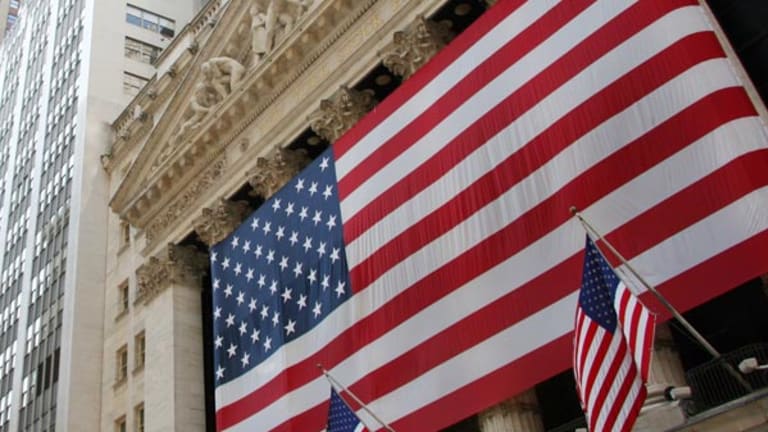 Today's Market: Stocks' Sickening Downward Lurch Worsens
<LI>Market sells off hard on earnings worries, brokerage rumors.</LI><LI>Nasdaq Comp at lowest point since May.</LI>
New riddle: What walks on all fours before the open, walks on two legs before 10 a.m., and gets the legs kicked out from under it after 10 a.m.? If you said the stock market, you're correct.
The equity market is sick again, with the major indices succumbing to increasing worries over upcoming earnings reports and, to a lesser extent, the tight labor markets as evidenced in this morning's September
jobs report. The
Nasdaq Composite Index lately was trading at its lowest point since May 30.
Financial stocks, which had acted as leadership for the market, are dropping sharply today, and there's significant weakness in technology stocks, extending recent losses largely attributable to earnings warnings from companies such as
Dell
(DELL)
and
Intel
(INTC)
.
"It's the same thing at 10 a.m. every morning: sell, sell, sell," said Scott Curtis, trader at
Kaufman Brothers
. "You buy at 9:30 and sell at 10."
Hardest hit today are the brokerages, which are diving on concerns of margin calls and chatter over rumored losses on
junk-bond trading desks. They're rumored to be sitting on large amounts of money-losing debt. The concern among investors would be that trading-related losses would hurt revenues of the big brokerages.
Wall Street has witnessed significant losses today in the shares of
Morgan Stanley Dean Witter
undefined
(down 8.4%),
Bear Stearns
(BSC)
(off 8.8%), and
Lehman Brothers
undefined
(down 7%). The
American Stock Exchange Broker/Dealer Index
was lately off 5.5%. The banks were dropping in sympathy; the
Philadelphia Stock Exchange/KBW Bank Index
lately lost 4.2%.
"It's sort of pulled one of the legs of the stool out of from under the market," said Todd Clark, head of listed trading at
WR Hambrecht
in San Francisco.
Meanwhile, the recent malaise in the technology sector continues, but those concerns are largely macroeconomic, related to an apparent reduction in demand for semiconductors and telecommunications equipment.
Veeco Instruments
(VECO)
, for one, was down $33.66, or 32.8%, to $68.88 after an earnings warning.
Fiber optics stocks were getting hurt.
JDS Uniphase
(JDSU)
was down 3.7%;
Sycamore Networks
(SCMR)
was off 12.3%, and
SDL
undefined
was down 4.1%.
Lowe's
(LOW)
, the home improvement retailer, was reeling today after disclosing that
same-store sales for the third quarter would fall short of expectations. The stock was down 5%.
Other big retailers were getting hurt on the news, including Dow component
Home Depot
(HD)
, off 5.4%.
Today's jobs report cannot help the situation. A number of traders expressed the view today that the market, by and large, was expecting some relief from the
Federal Open Market Committee, in the form of a modification of the
Fed panel's policy statement to indicate that it was less worried about rising inflation. They got no such relief from the Fed Tuesday, when the Fed maintained that the economic risks still lean toward higher inflation.
The September employment report showed a decline in the unemployment rate to 3.9%, matching the 30-year low hit in April. It's an indication of continued tightness in the labor market, and the Fed has remained concerned that tight labor markets could ultimately lead to wage-cost pressures and rising wage inflation.
"I'm trying to get the needles out of my eyes," said Tony Cecin, manager of Nasdaq trading at
U.S. Bancorp Piper Jaffray
. "I think people were hoping for a sign that the next move was going to be down, so part of it is psychology."
Market Internals
Breadth was horrific on strong volume.
New York Stock Exchange: 957 advancers, 1,722 decliners, 686 million shares. 37 new 52-week highs, 86 new lows.
Nasdaq Stock Market: 937 advancers, 2,735 decliners, 1.1 billion shares. 19 new highs, 260 new lows.
Back to top
Most Active Stocks
NYSE Most Actives
AT&T (T) : 15.6 million shares. Clear Channel (CCU) : 11.2 million shares. America Online (AOL) : 10.8 million shares.
Nasdaq Most Actives
Intel (INTC) : 42.8 million shares. Dell (DELL) : 31.3 million shares. Cisco (CSCO) : 29.4 million shares.
Back to top
Sector Watch
Internet stocks are among today's weakest.
priceline.com
undefined
, which has been massacred in the last few days after announcing it would shutter its online grocery business, was down 16.7%.
Yahoo!
(YHOO)
lost 5.9%, and
TheStreet.com Internet Sector
index was lately down 6.4%.
Back to top
Bonds/Economy
Bonds have pared their losses thanks to the weakness in stocks. Falling stock prices are seen as a leading indicator of economic activity. They also make bonds more appealing as an alternative investment.
Earlier, bond prices fell as investors concluded that the September
employment report
(
definition |
chart |
) makes the
Fed less likely to ease up on interest rates in the near future.
The September jobs report measured a decline in the unemployment rate to 3.9% -- matching the 30-year low it hit in April -- from 4.1% in August. A low unemployment rate is a key indicator of a healthy economy, one that does not require assistance from the Fed in the form of easier monetary policy.
Also indicating that the economy is strong, the employment report counted 252,000 new nonfarm jobs in September. Netting out the loss of 27,000 temporary Census jobs and the return of 75,000 strikers, the underlying increase was 204,000, in line with the recent trend. A shift in monetary policy is unlikely to occur unless there is a pronounced slowdown in the pace of job-creation.
The benchmark 10-year
Treasury note lately was up 7/32 at 99 14/32, lowering its yield to 5.825%.
Back to top
International
European stocks were mixed following this morning's U.S. employment report.
In London, the
FTSE 100
was lately up 9.1 to 6391.2.
Across the channel, the
CAC 40
in Paris was down 76.71 to 6258.41, while the
Xetra Dax
in Frankfurt was off 143.74 to 6748.75.
The euro was squeezing out some slim gains, lately up to 0.8677.
TheStreet.com
recently looked at what
ails the euro.
Amid a powerful earthquake in Japan and government-supported buying in Taiwan,
Asia's major stock markets closed out the week Friday on a mixed note.
Japan's financial markets largely ignored a strong tremor in the Western part of the country, as trade remained lethargic ahead of a three-day weekend. The
Nikkei 225
closed down 105.0, or 0.7%, to 15,994.2.
In Tokyo currency trading, the dollar was little changed against at 109.40 yen. It was lately trading at 108.77.
Taiwan's
TWSE
index surged 324.0, or 5.4%, to 6353.7, as the government continued to support the market with buying from its $16 billion stabilization fund. The country's equity market has been wracked by political uncertainty in the country this week.
South Korea's
Kospi
index closed up 2.1 points, or 0.3%, to 608.9, and Hong Kong's
Hang Seng
index was closed for a holiday.
Back to top