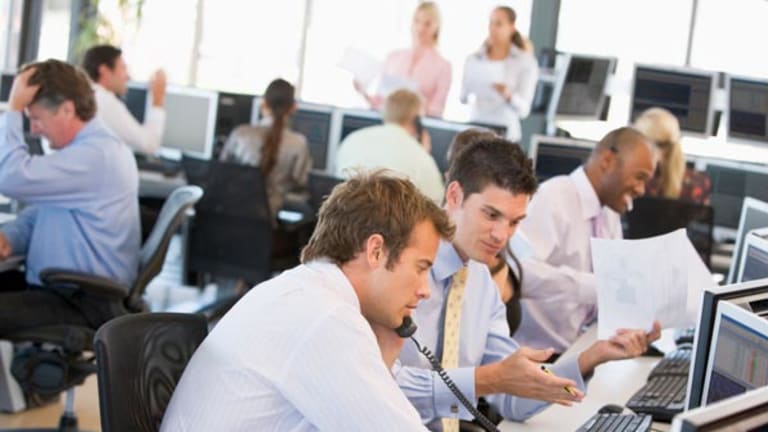 Today's Market: Stocks Shaking Off Thursday's Blues; Tech Leading Rally
It might not be the most convincing rally we've ever seen, but after yesterday it still looks pretty sweet.
A temporary, technically motivated bounce? A response to a few strong earnings reports? Whatever one calls it, analysts expected some kind of a rally today, and for that reason there isn't much confidence in today's market action. (Although it beats another selloff.)
Shaking off reports of continued fighting in the Middle East, stocks are rallying after a number of companies reported strong third-quarter earnings last night, helping to quell some of the pessimism that's dominated the market since earnings preannouncement season began in September. Lately, the major indices were trading near their session highs, on what's been a remarkably calm session.
A number of prominent strategists, including
PaineWebber's
Edward Kerschner and
Goldman Sachs'
Abby Joseph Cohen, are calling the recent weakness a long-term buying opportunity. (Cohen's been ringing this bell for the last several months,
however.)
Gains are most notable in the PC manufacturing and computer hardware sectors after
Gateway
(GTW)
reported strong third quarter results last night. This is
significant, following warnings from computer manufacturers
Dell
(DELL) - Get Dell Technologies Inc Class C Report
and
Apple
(AAPL) - Get Apple Inc. Report
and chip maker Intel, which supplies its product to PC makers. Gateway was lately up 17.7% to $51.34, and Dell gained 9.2% to $25.31. The
Philadelphia Stock Exchange Computer Box Maker Index
gained 6.7%.
Overall, the strong reports from Gateway and high-growth names like
Juniper
(JNPR) - Get Juniper Networks, Inc. Report
and
Veritas
(VRTS) - Get Virtus Investment Partners, Inc. Report
have assuaged some concerns that the recent slowing in economic growth would take a bite out of profits for the entire market. Until now, the news has been almost uniformly bad -- and what good news there was had been glossed over.
"That is lending some calm right now to the front, so to speak," said Brian Belski, fundamental market strategist at
U.S. Bancorp Piper Jaffray
. "We'll have to see how the market closes today though."
The
Federal Reserve's efforts to slow the economy, in tandem with rising fuel costs, weakness in foreign currencies and a slowing in demand are going to hurt corporate profits for the third quarter. Some companies, like
Motorola
(MOT)
, are already expecting weakness in the fourth quarter. The stock market's been adjusting aggressively to the anticipation of slower growth, but analysts aren't quite sure that the indices have reached their low points.
It should be noted that recent government data on consumption and spending showed a modest increase in spending after a slowing during the summer. Today, the
Labor Department
reported retail sales rose 0.9% in September, the largest rise since February. Kerschner alluded to strength in demand in his comment, calling current levels the most attractive buying opportunity since 1998.
"It's not about calling market bottoms," he wrote today. "It's about identifying levels of attractive valuations."
Stocks rebounding today include
Home Depot
(HD) - Get Home Depot, Inc. Report
, killed yesterday on an earnings warning. The stock is up 3.2% to $36, and it's the
New York Stock Exchange's most active. Other bright spots include the semiconductors; the
Philadelphia Stock Exchange Semiconductor Index
, a.k.a. the SOX, was lately up 7.3%.
Another sector gaining ground is the financials. Banks and brokerages are higher after another selloff yesterday. These stocks, for long considered the market's leaders, have been reeling of late. Today, they're a little stronger.
Morgan Stanley Dean Witter
(MWD)
was lately up 9.5% to $77.50; the
American Stock Exchange Broker/Dealer Index
rose 5.1% and the
Philadelphia Stock Exchange KBW/Bank Index
rose 5.4%.
People are still hesitant to call yesterday's selloff climactic, or to assert that the market has indeed hit a bottom. Even those that concede that yesterday could have been the near-term low, the concern that earnings will fall short of expectations. The Middle East conflict remains an issue as well.
"This is a technical rally after the market's been beat up so badly," said Jim Volk, co-director of institutional trading at
D.A. Davidson
. "I don't see much except an oversold bounce; a lot of damage has been done on valuations here, and I think this has a lot further to go."
The market's response this afternoon is important, Belski said. So far, today's gains look like they're going to hold, but if the market should start to wane, he said he wouldn't be surprised if investors start heading for the exits, unwilling to hold positions heading into what looks to be a politically sensitive weekend.
Market Internals
Don't look now, but breadth was positive moderate volume.
New York Stock Exchange: 1,382 advancers, 1,316 decliners, 706 million shares. 16 new 52-week highs, 136 new lows.
Nasdaq Stock Market: 2,177 advancers, 1,558 decliners, 1.113 billion shares. 11 new highs, 279 new lows.
Back to top
Most Active Stocks
NYSE Most Actives
Home Depot: 27.2 million shares. Lucent Technologies (LU) : 19.5 million shares. Motorola: 19.2 million shares.
Nasdaq Most Actives
Back to top
Sector Watch
Retailers are improving, bolstered by the rebound in Home Depot.
Circuit City
(CC) - Get Chemours Co. Report
is particularly strong, gaining 7.7%, and department stores like
J.C. Penney
(JCP) - Get J. C. Penney Company, Inc. Report
are moving up sharply. Penny's is moving up solidly in particular, rising 18.3%, and the
S&P Retail Index
is gaining 2.3%.
Oil and gas indices are hurting today, after Saudi Arabian officials said they do not intend to undertake any kind of oil embargo as a result of the Middle Eastern conflict and the potential opposing roles the U.S. and Saudi Arabia might play. (The U.S. and Saudi Arabia have a reasonably strong relationship, politically.) Lately, November crude oil futures were traded at $35.50, down from $36.09 yesterday.
Back to top
Bonds/Economy
Bond prices turned lower follower hotter-than-expected reports on both consumer spending and wholesale prices.
Retail sales increased 0.9% in September, the largest gain since February, and 0.7% excluding autos. Economists polled by
Reuters
had forecast gains of 0.6% overall and 0.5% excluding autos. The data suggest that consumer spending, the primary driver of economic growth, continues to run at a very strong pace.
Meanwhile, the
Producer Price Index also rose 0.9% in September, the largest gain since February. Oil prices, which rose 3.7%, were largely responsible. The core PPI, which excludes food and energy prices, gained 0.3%. But that gain too was larger than expected. On average, economists had forecast the PPI to rise 0.5% overall and 0.1% excluding food and energy. The report fans fears that rising oil prices are leading to a faster rate of inflation overall.
The benchmark 10-year
Treasury note lately was down 4/32 at 100 5/32, lifting its yield to 5.724%.
Back to top
International
European stocks rose sharply in late trading, following the strength in the U.S. market.
London's
FTSE 100
finished up 77.70 to 6209.60.
The
CAC 40
in Paris ended 73.57 higher to 6064.21, while the
Xetra Dax
in Frankfurt was up 137.57 to 6602.83.
The euro was falling again after seeing some mild strength in recent days, lately lower to 0.8574.
The major
Asian equity markets ended Friday lower, as investors lost their nerve after Wall Street stumbled Thursday and tensions rose in the Middle East. Most indices managed to close off of their intraday lows, however.
Tokyo's
Nikkei 225
closed down 220.3, or 1.4%, at 15,330.3, which reflected a bounce back after hitting a 19-month low at one point during the session.
In Tokyo trading, The dollar was little changed at 107.59. The greenback was lately trading at 107.66 yen.
Elsewhere, South Korea's stock market dropped more than 5% early on, before trimming those losses near the close. The
Kospi
index ended down 10.1, or 2%, at 524.6. Hong Kong's
Hang Seng
index fell 394.3, or 2.6%, to 14,680.5.
Back to top