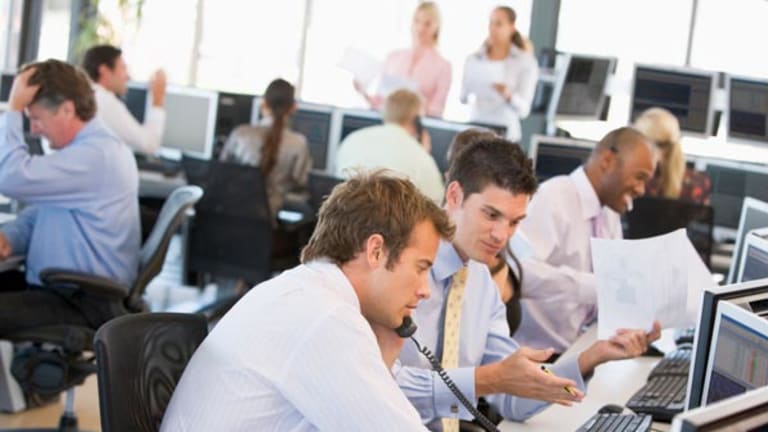 (Updated from 9:43 a.m.)
Stocks are shaking off a host of bad news this morning.
The
Nasdaq was lately up 67 to 2464, while the
Dow was adding 48 to 10,669.
But some bad news this morning from mobile-phone maker
Nokia
(NOK) - Get Nokia Oyj Sponsored ADR Report
is going to be having an impact on the market today. The Finnish company disappointed analysts with its handset sales numbers. It was lately off 9%.
It's not a great time to guess the market, anyway. That nasty gremlin called recession continues to escape from the lips of many on Wall Street. And the fourth-quarter earnings season has just begun. In a slowing economy, corporate and consumer spending on technology has already prompted the best of the bellwether companies to lower forecasts for earnings. As companies report earnings and issue forecasts for coming quarters, the market will get a sense of how much worse corporate sales, profits and the economy in general can get.
This morning, Bruce Steinberg, chief economist at
Merrill Lynch
, weighed in on the economy. Steinberg lowered growth forecasts for first-quarter
GDP by half a percentage point, but said he doesn't expect a recession. "We now expect GDP growth in a 1.5% to 2% range in Q1 and about 2% during the first half of 2001, before picking up to about 3.5% in the second half," the report said. Merrill also expects the
Fed to lower interest rates on Jan. 30 by another 50 basis points and drop rates to 5% by June.
Meanwhile, the Federal Reserve's surprise interest-rate cut last week is a move toward economic recovery. Lower rates encourage consumers and corporations to borrow and spend more than they might with higher rates. While the effects of the rate cut aren't expected to be fully felt for months, investors are divided about whether to stick with defensive stocks or anticipate a shift and move back into cyclical stocks. Cyclicals, like PC makers and semiconductors, tend to grow and slow in synch with economic expansion and contraction. Defensive stocks, on the other hand, do not depend on the economy as much and so tend to provide shelter from a market storm.
Speaking of storms, Nokia was whipping up one of its own this morning. The company disappointed analysts and investors with lower-than-expected handset sales numbers. As a result, the telecom sector was spinning unhappily lower -- putting a dent in European stock market indices. Nokia announced 64% growth year-on-year in handset sales, which totaled 128 million compared to analyst forecasts for as much as 140 million. Amid concern over slowing global handset demand, many analysts fear that mobile-phone companies are propping up sales by slashing prices. That's no good for earnings or for stock price valuations.
Nokia did not change its forecasts for the next few years. In early December -- in the thick of a sharp correction in companies' earnings forecasts -- Nokia was one of the few to issue
encouraging words. At that time, the world's biggest mobile-phone maker had said it expected growth for 2001 through 2003 to be at the high end of the 25% to 35% range.
Competitor
Motorola
(MOT)
, which in December warned it wouldn't meet its already lowered fourth-quarter earnings estimates, reports earnings tomorrow. Nokia doesn't release earnings until the end of month. Swedish mobile-phone giant
Ericsson
(ERICY)
was also trading lower this morning. Motorola was off 1.7% and Ericsson was losing 5.5%.
Another bellwether to watch today: Internet giant
Amazon.com
(AMZN) - Get Amazon.com, Inc. Report
. The company said after the market closed yesterday that it expects fourth-quarter earnings to come in at the lower end of the range previously forecast. The e-tailer also reported fourth-quarter sales of $960 million, below consensus estimates of $1.01 billion.
It was lately off up 5.4%, after falling earlier this morning. Analysts were divided on what the news meant.
W.R. Hambrecht
this morning reaffirmed its buy rating on the stock, saying it anticipates the stock "will outperform its peer group over the next 12 months," while
Robertson Stephens
dropped its rating to market performer from long term attractive.
Salomon Smith Barney
also issued a negative report on the company. Hello? Too little, too late from the analysts. Amazon, if you recall, had hit a 52-week high of almost $86. Amazon is now trading near prices it hasn't seen in several years.
Internet heavy-hitter
Yahoo!
(YHOO)
was lately shaking off
ABN-Amro's
downgrade of the stock to a hold from an add, saying it trades at a premium that "does not take into consideration slowing growth, declining operating margins, and options-related issues." ABN-Amro also said it believes there is another 20% of downside on the stock, particularly if management talks down 2001 estimates, or misses fourth-quarter numbers on Wednesday's earnings call. Yahoo! was lately up 4.1% after trading lower earlier this morning.
And W.R. Hambrecht gave a sobering fourth-quarter earnings preview for the e-services. "Of the 22 pure-plays companies we track, all but five have pre-announced disappointing results for the quarter. Among the 12 companies that have given specific revenue guidance after pre-announcing, as well as the one that reiterated comfort with its previous guidance, revenues are projected to decline 12%, or 2% points worse than our expectation for the group." Revenue problems, Hambrecht said, stem from a drop off in business from dot-com clients -- increasing competition from old-line companies -- price cuts, an inadequate skill and experience base and the longer sales cycles at enterprise clients.
Notable e-services companies that announced they would miss earnings targets include consultants
Cambridge Technology Partners
(CATP)
,
Sapient
(SAPE)
and
Scient
(SCNT)
.
Back to top
Bonds/Economy
Bond prices were falling again early this morning, but their weakness yesterday morning gave way to mild gains at the end of the day. Yields, which move inversely to price, remain near two-year lows. The benchmark 10-year
Treasury note was lately down 6/32 to 105 25/32, yielding 4.982%.
Back to top
International
Nokia gave European markets a scare this morning, and all the major indices were lower near their midsession.
London's
FTSE
was 58.40 lower, or 0.95%, to 6091.20. Across the channel, Paris'
CAC-40
was falling 73.13, or 1.28%, to 5659.67. Germany's
Xetra Dax
was down 3.34, or 0.05%, to 6388.83.
The euro was trading lower to $0.9412 this morning. It has been gaining slowly in the past few weeks as the U.S. dollar is weakening in the face of a slowing domestic economy.
Asian markets were mixed overnight. Tokyo had some catching up to do on the Nasdaq's wipe-out slide last Friday as markets there were closed Monday for Coming of Age Day, a national holiday for 20-year-olds, who are considered adults at that age. Hong Kong stocks were on the rise again after closing flat Monday. Last week the Hang Seng had a three-day winning streak after its central bank cut interest rates.
Hong Kong's key
Hang Seng
index closed up 0.41%, or 64.06 points, to 15,500.59.
Tokyo stocks spiraled lower on worries over the U.S. economy. The
Nikkei 225
closed down 257.10 points, or 1.85% to 13,610.51.
The greenback was lately rising against the yen, trading at 115.735 yen.
Back to top