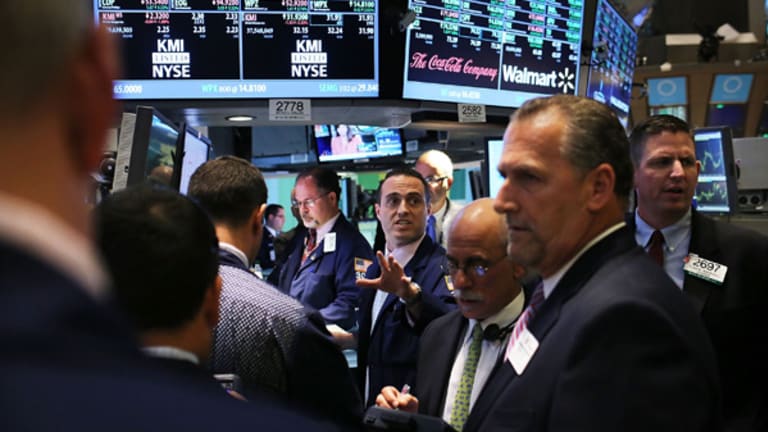 Today's Market: Stocks, Saving Best for Last, Stage Afternoon Rally
<LI>Semis rebound.</LI> <LI>Earnings warnings wreak havoc with Visual Networks, FirstWorld.</LI>
(
Updated from 4:08 p.m. EDT
)
Always leave 'em wanting more, they say, and the tech sector figured that out today, ending a generally decent session with a flourish. While technology rebounded sharply from yesterday's selloff, leaving market mavens warm and tingly heading into tomorrow's important
employment report, the
Dow Jones Industrial Average couldn't keep its head above water.
The
Nasdaq Composite Index ended the day up 97.47, or 2.5%, to 3960.57, while the Dow finished down 2.13 to 10,481.47, and the
S&P 500 gained 10.44, or 0.7%, to 1456.67. The
Russell 2000 closed up 5.07, or 1%, to 523.32.
Technology stocks generally had a strong day, one day after a 9% selloff in the
Philadelphia Stock Exchange Semiconductor Index
, predicated by a downgrade in the sector by
Salomon Smith Barney
analysts. That index finished up 4.5% today, as several firms came out in support of the sector.
Merrill Lynch
,
Chase Hambrecht & Quist
,
Donaldson, Lufkin & Jenrette
and
ABN Amro
all defended the sector, and ABN Amro analysts, while not naming Salomon, said yesterday's selloff was due to others' "wrong judgments about limited market segment."
"It's tough to have a bear market in technology when semiconductor fundamentals are so good, because they're a critical part of the technology sector," said Brian Gilmartin, portfolio manager at
Trinity Asset Management
.
According to other sources, there aren't many people willing to believe that the technology sector is headed for a precipitous slowdown, despite earnings warnings from several business software companies, including
Computer Associates
.
Some, including Gilmartin, believe the market's been under the thumb of the recent spate of earnings warnings. While preannouncement season -- where companies frequently come forth to throw themselves on the mercy of the market -- is nearly over, earnings season hasn't kicked into gear yet, and the market hasn't been given its share of good news that will come from grade-A types such as
Microsoft
(MSFT) - Get Microsoft Corporation Report
and
Intel
(INTC) - Get Intel Corporation Report
.
"The guys we talk to, the hedge funds and mutual funds, are starting to put money to work, and saying at some point, enough is enough," said Phil Ruffat, vice president at
Fuji Futures
. "They're saying, 'I get paid to buy stocks, not to do money market stuff.'"
And they're buying tech -- because long-term growth in those sectors still looks strong, even if chip stocks or software companies are going to suffer a rough quarter or two. Computer Associates was one of the day's most active, gaining 3% on 15 million shares. Meanwhile,
Entrust Technologies
(ENTU)
climbed 4%. Both companies issued profit warnings earlier in the week and were killed yesterday, and investors came back into those companies today.
"I think you have to continue to use days like this as a buying opportunity," said Gilmartin. Not so for
BMC Software
(BMCS)
, which shed 1% a day after losing 45% of its value on earnings warnings.
Beyond that, however, the market was a mixed bag. Some sectors, like biotechnology and computer box makers, trended generally lower, but the heaviest trading was limited to stocks with news out, such as
Qwest
(Q)
, recently added to the S&P. That stock fell 5% on 23 million shares, making it the most active on the
New York Stock Exchange.
The Internet stocks were slightly higher.
TheStreet.com Internet Sector
index finished up 8.1, or 1%, to 825.3, while bellwethers such as
Yahoo!
(YHOO)
ended up 1.2%.
Among the biggest Nasdaq losers today:
Visual Networks
(VNWK)
warned of disappointing earnings and was brained, down 54% and
FirstWorld Communications
(FWIS)
dropped 57% after it warned of lower-than-expected earnings and the CEO resigned.
"The market has taken a couple of hits based upon second and third-tier companies pre-announcing, and that's resulted in some short-term setbacks," said Jerry Hegarty, chief analyst at
Cape Market Research
in Cape Cod, Mass. "We haven't seen front-line companies such as Microsoft or Intel warn."
Retailer Woes
Cracks in the armor are starting to appear for the retailers. The low interest rate environment that resulted from the emerging markets crisis in late 1998 made lenders more willing to extend credit. Now that standards have tightened and bills are coming, that's coming back to bite certain companies in the rear.
Federated Department Stores
undefined
lost 14.9% today after reporting greater credit delinquencies in its
Fingerhut
stores and disappointing same-store sales figures.
While the
S&P Retail Index
was strong today, other similar department store stocks were also hurt today, including
J.C. Penney
(JCP) - Get J. C. Penney Company, Inc. Report
, down 1.4%, and
Nordstrom
(JWN) - Get Nordstrom, Inc. Report
, off 5.3%, due to poor year-over year sales comparisons.
However, specialty retail stores were stronger, such as
Bed Bath & Beyond
(BBBY) - Get Bed Bath & Beyond Inc. Report
, gained 7%, and
Gap
was up 12.6%. Meanwhile,
Borders
(BGP)
was much weaker, losing 15.3% after announcing that talks for potential acquisition of the company had ended.
The fortunes of those companies may depend on the strength in monthly retail sales reports for June and July, of which the former is due out June 14. Those reports might also be something the entire market hangs its view of the economy on, because while tomorrow's employment report is always important, it's usefulness is somewhat diminished this month.
The consensus for June is for 263,000 in new nonfarm payrolls after a 231,000 increase in payrolls in May, mostly due to the hire of temporary census workers. What strategists are looking to see is whether tomorrow's report confirms the weakness from
last month's report, which would support burgeoning sentiment that the economy is slowing and labor markets are beginning to loosen up.
But that's not likely to happen, said Brian Jones, economist at Salomon Smith Barney, who's looking for 395,000 in nonfarm payrolls, 3.9% unemployment, and for the year-over-year rate of increase in average hourly earnings to rise to 3.7%.
Should the figures come in-line with consensus, "it puts more heavy weight on the retail sales figures," said Jones. "What's happened in the second quarter is a pronounced slowdown in second-quarter spending, and if that's going to continue the spending numbers have to remain soft."
This morning's
initial jobless claims figure came in a little stronger than expected. Claims for the week ended July 1 fell to 296,000, while the four-week average slipped to 301,500, compared to a revised four-week average of 305,750 the previous week.
May
factory orders came in at a 4.1% rise versus
Reuters
consensus estimates of a 3.4% rise. The number was the
largest gain since December 1992. April factory orders declined 3.8%. Factory orders measure sales, inventories and orders for the manufacturing sector.
Market Internals
Breadth was positive on moderate volume.
New York Stock Exchange: 1,624 advancers, 1,234 decliners, 947 million shares. 66 new 52-week highs, 27 new lows.
Nasdaq Stock Market: 2,073 advancers, 1,866 decliners, 1.45 billion shares. 80 new highs, 73 new lows.
Back to top
Most Active Stocks
NYSE Most Actives
Qwest: 23 million shares. Lucent Technologies (LU) : 16.6 million shares. Motorola (MOT) : 16.4 million shares.
Nasdaq Most Actives
Back to top
Sector Watch
Tobacco stocks were strong again, as investors hold onto these defensive plays as the rest of the market bounces wildly from one extreme to another. The
American Stock Exchange Tobacco Index
gained 2%.
Transportation stocks, which rallied yesterday, were better again today. The
Dow Jones Transportation Average
closed up 1.3%, led by auto stocks such as
Ford
(F) - Get Ford Motor Company Report
, up 3.4% today. The
Dow Jones Utility Average
was lately up 1.1%.
Financials were queasy today. The
American Stock Exchange Broker/Dealer Index
ended up just 1%, being weighted down by
Goldman Sachs
(GS) - Get Goldman Sachs Group, Inc. Report
, 2.9% lower, after filing for a 40 million-share secondary offering.
The
S&P Chemical Index
suffered losses today, down 3%.
Biotechs helped keep the Nasdaq afloat yesterday. This afternoon, the
Nasdaq Biotechnology Index
was up 2.2%.
Saudi Arabia's plans to up oil output by half of a million barrels a day ignited the transports yesterday, but sent the oil and oil service sector plunging. But oils found themselves back in investors' favor today, with the
American Stock Exchange Oil and Gas Index
bouncing 1.6%.
Back to top
Bonds/Economy
Treasuries surrendered yesterday's gains amid strong economic data. Initial jobless claims dropped back below the 300,000 level and factory orders rebounded sharply. The benchmark 10-year Treasury note lately was down 15/32 to 103 9/32, lifting its yield back above 6% to 6.044%.
Back to top
International
European markets closed mixed this session despite the
European Central Bank's
decision to keep interest rates unchanged, a move that had been expected. Investors may fear that recent signs of strong economic growth will spark a rate hike later this year.
Only London's
FTSE
hung in there, closing up 37.10, or 0.5%, to 6419.60. Across the channel, the Paris
CAC
ended down 8.7, or 0.1%, to 6453.97, while Frankfurt's
Xetra Dax
finished off 7.8, or 0.1%, to 6953.87.
The euro was lately trading at $0.9501.
Asian markets were mostly lower overnight after Salomon Smith Barney issued its pessimistic report on the future of the industry. What was left behind was major confusion over the potential growth of the region's markets, especially in Japan.
The
Nikkei 225
index shed 153.58 points to 17,282.37.
In currency trading, the greenback was slightly higher against the yen to 107.40 yen.
Hong Kong's
Hang Seng
index bucked the regional trend, closing up 15.32 to 16,489.59.
Back to top