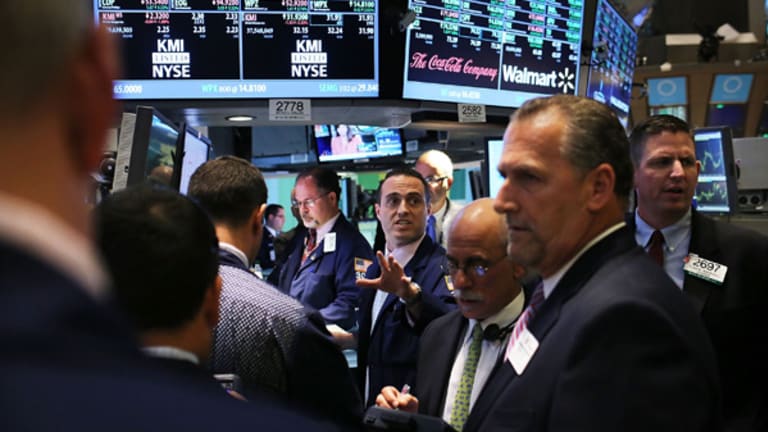 Today's Market: Stocks Rodeo Out of the Gate
<LI>Amazon.com drops on patent ruling, downgrade.</LI><LI>Ciena pops on solid earnings, rosy forecast.</LI><LI>Import prices fell, export prices rose in January.</LI>
(Updated from 9:29 a.m.)
Tech investors picked up and ran. The
Nasdaq Composite Index scored 51 to 2543 soon after the opening bell.
The
S&P 500, which tracks the broader market, popped 7 to 1323 and the blue-chip
Dow was also kicking up some dust, adding 16 to 10,811.
After erasing all of January's rally of more than 14%, the Nasdaq starting yesterday was ready to make a comeback. Investors apparently decided enough was enough, and they wanted another taste of those tantalizing technology stocks. Whispers of a bottom had been whistling through Wall Street for a couple of days, and traders took the bait. The Nasdaq, which houses the majority of the market's tech stocks, yesterday managed to slap on its largest session gain in four weeks, closing up 63.68 points, or 2.62%, to 2491.40.
But the S&P 500 ended flat yesterday. And the Dow let the key 11,000 watermark slip out of its grasp, closing down 108 points to 10,795. The blue-chip proxy is now at the middle of its trading range -- roughly defined as 10,400 to about 11,000.
Tech stocks are getting a lift from telecommunications-equipment maker Ciena
(CIEN) - Get Ciena Corporation Report
, after it beat Wall Street estimates for its fiscal first-quarter earnings and, more importantly, forecast strong growth ahead. Tech investors had been punishing Ciena -- and most of the telecommunications-equipment makers -- lately on concerns over slowing corporate investments in technology. Ciena, which makes systems that expand long-distance fiber-optic network capacity, was soaring 15%.
But there was a bit of bad news, too.
Amazon
(AMZN) - Get Amazon.com Inc. Report
was falling 3.9% this morning after Prudential downgraded the Internet bellwether to a sell. And rival online bookseller retailer
Barnes&Noble.com
undefined
yesterday won part of a patent battle with Amazon.
Lasting gains for tech stocks probably won't happen until there is a clear turnaround in the economy and earnings. That means in the coming months we may see plenty of tradable rallies and selloffs, but they're likely to go nowhere. Many companies and analysts expect business to pick up in the third quarter of this year. But with
visibility issues cropping up all across the tech universe, that forecast is losing muscle. Some are now saying real earnings growth won't begin again until the fourth quarter.
Meanwhile, some on Wall Street were attributing the size and momentum of the Nasdaq's late-day rally yesterday to short-covering. Investors
short stocks when they expect them to go down, but if stocks start moving up, these guys have to cover their shorts -- or hedge their investment by purchasing the same securities they shorted.
An upgrade on a bunch of semiconductor-equipment makers Wednesday also helped fuel investor enthusiasm for the Nasdaq.
J.P. Morgan Chase
raised its ratings to long-term buy from long-term market performer on
Applied Materials
(AMAT) - Get Applied Materials Inc. Report
,
KLA-Tencor
(KLAC) - Get KLA Corporation Report
,
Novellus
undefined
,
Varian Semiconductor
(VSEA)
and
ASM Lithography
(ASML) - Get ASML Holding N.V. Report
. And the
Philadelphia Stock Exchange Semiconductor Index
gained 7.8% yesterday. This morning, it was up another 2%.
But not all analysts jibe with J.P. Morgan Chase's view.
Robertson Stephens
analyst Eric Rothdeutsch
framed the week's chip presentations at his firm's tech conference with a grim outlook: Things aren't getting better. Rothdeutsch painted a wintery picture, saying a second wave of earnings warnings is coming, inventory is still piled up on shelves, and he expects "another leg down to go in terms of the correction." For Rothdeutsch, the big question mark still out there is how much the second quarter will suffer.
Meanwhile, earnings season may be on its last legs, but there are a few more big names left to report. PC-leaders
Dell
(DELL) - Get Dell Technologies Inc. Class C Report
and
Hewlett-Packard
undefined
issue their quarterly numbers today after the market closes. On Tuesday,
Merrill Lynch
trimmed its earnings estimate for Dell's fiscal year, which ended January 2001, to 85 cents a share, down from 90 cents a share. But it left estimates for the fourth quarter 2000 intact. According to a 21-analyst consensus, Dell is expected to post fourth-quarter earnings of 15 cents a share.
Consensus estimates for Hewlett-Packard's fiscal first quarter have been cut by a penny to 37 cents per share, according to
First Call/Thomson Financial
. The company is still considering
buying a consulting company as part of a bid to boost its long-term sales growth. The company hopes the services segment, together with its considerable portfolio of hardware products, will help it fulfill its vision of being a one-stop shop for enterprise customers.
The PC makers have pulled back only slightly the first two weeks of February after turning in their best monthly performance in years in January. As one of the tech sectors with the weakest fundamentals, some money managers worry that it is due for a pullback. The slowing economy has taken its toll on PC demand as corporations and consumers close their pocketbooks.
Meanwhile, data out this morning was mixed.
Weekly jobless claims released this morning fell to 352,000 for the week ended Feb. 10 from a revised 363,000 the previous week, lifting the four-week average to 345,000 from 333,000 in the previous week. Jobless claims help predict the monthly unemployment report, which is an important gauge of the economy. Unemployment is currently at 4%.
Import and export prices out this morning showed that the cost of buying foreign goods fell in January, while exports brought higher revenues. Import prices fell for a second straight month in January on declining petroleum and industrial supplies prices, while export prices rose. Data released this morning showed import prices fell 0.4% in January, compared with forecasts for a 0.1% rise and the previous month's 0.5% drop. Export prices rose 0.2%, just a tick above the expected 0.1% rise and well above the previous month's 0.5% decline.
Back to top
Bonds/Economy
The benchmark 10-year
Treasury note was falling this morning, down 6/32 to 98 18/32, yielding 5.184%.
Back to top
International
Europe's major market indices were mixed near midday in their sessions.
London's FTSE 100 was flat as telecoms staged a comeback and oils continued to sink. The FTSE was lately down 0.40, or 0.01%, to 6175.80. The Xetra Dax was jumping 52.62, or 0.93%, to 5695.85, and the Paris CAC-40 was climbing 64.55, or 1.00%, to 6544.42.
The euro was lately trading at $0.9070.
Back to top