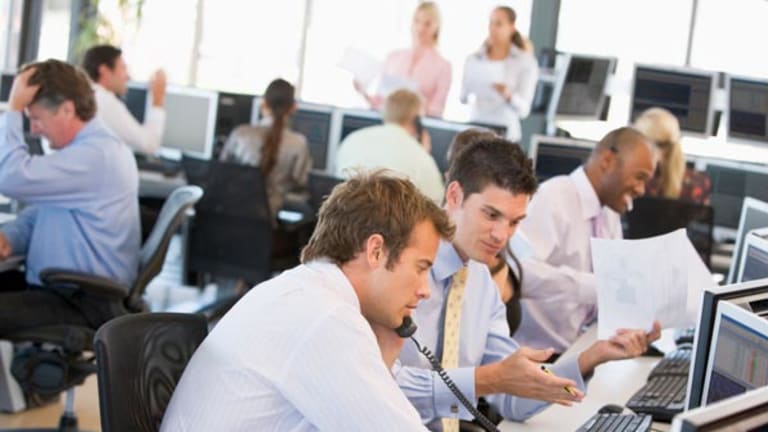 Today's Market: Stocks Riding the Crimson Tide as Big Tech Continues to Struggle
Cisco, Oracle and Dell are all ending the week on a sour note.
The familiar grimace you're seeing is that of a stock market that looks like it stepped in it and can't quite scrape it off its shoe -- for the third day in a row. With today's losses, technology shares, led by declines in big-cap tech and networking stocks, have given up nearly all of January's sharp rally.
Traders attributed the losses to various stingers hitting bellwethers like
Dell
(DELL) - Get Dell Technologies Inc. Class C Report
,
Oracle
(ORCL) - Get Oracle Corporation Report
and
Cisco
(CSCO) - Get Cisco Systems Inc. Report
, but above all else, they're blaming apathy as the culprit for the long, slow, uncomfortable torture the market's getting right now.
The
Nasdaq Composite Index was lately down 68 to 2494. Were it to close here, this would be the lowest close since the Comp closed at 2441 on Jan. 9.
Stocks on the
New York Stock Exchange aren't faring much better. The
Dow Jones Industrial Average was lately off 62 to 10,818, with the only solace coming from utilities, oil stocks, and the chip makers, bouncing back on an analyst report. The
S&P 500 lost 11 to 1322.
"There's a lot of slow sliding going on," said Doug Myers, vice president of equity trading at
IJL Wachovia
. "The trader, investor, surfer and swinger -- all these different types aren't throwing in the towel, but they're resigning themselves."
What they're resigned to is more disappointments from companies and an earnings environment that, while perhaps not as poor as had been expected, certainly hasn't turned for the better just yet.
The Wall Street Journal
reported this morning that PC-maker
Dell
(DELL) - Get Dell Technologies Inc. Class C Report
was likely to cut 10% of its workforce, although the company denied that report. Dell reports earnings next Thursday. The stock was lately down 8.9% to $23.75.
Also getting hit hard today was Oracle, which was down on a report that
Morgan Stanley
analyst Chuck Phillips altered his growth outlook on the software company after meeting with CEO Larry Ellison. In addition, Ellison has sold 27 million shares of Oracle's stock, for a value of around $850 million, between Jan. 22 and Jan. 29, according to filings with the
Securities & Exchange Commission
. The stock was taking it hard today, losing 10.8% to $24.19.
Cisco wasn't immune either. Disappointment following the company's earnings miss continued a steady decline for that stock, which broke through $29 today and was lately off 3.4% to $28.94. Analysts had cited $30 as an important technical support level for that stock, but that's been breached.
"Cisco's through 28; it's busted," said Peter Blatchford, trader at
Miller Tabak
. "Nobody wants to buy 'em."
Another day, another debacle for
Lucent Technologies
. The stock was down 11.3% to $14.98 after the
Journal
reported the company was under investigation by the SEC for accounting issues, specifically involving $679 million in revenue that Lucent already restated.
Overall, the performance of these names, as well as other technology stocks, shows the general lack of a catalyst to drive the market higher at this point. Having become accustomed to the idea that interest rates are lower, the market's now looking for another reason to rally, and they're not finding it.
So far, the only catalyst for the day is in the semiconductor names, benefiting from a report by
ABN Amro
analyst David Wu, who wrote this morning that he expects a "V" recovery, meaning a quick bounce-back in demand, due to shorter peaks and troughs in the cycle of those businesses. The
Philadelphia Stock Exchange Semiconductor Index
was up 2% today, led by the likes of
Xilinx
(XLNX) - Get Xilinx Inc. Report
, up 2.9% to $48.75.
There's isolated stocks that are performing well today.
Network Appliance
(NTAP) - Get NetApp Inc. Report
, the network storage company, was strong after yesterday's earnings release, lately gaining 10.1% to $38.75.
Lowe's
(LOW) - Get Lowe's Companies Inc. Report
, the home improvement retailer, was also up, rising 8.5% to $54.25 after saying it would meet analyst earnings estimates for 37 cents a share in the fourth quarter.
But those are few and far between on a day of lousy breadth on the NYSE and putrid-smelling breadth on the
Nasdaq Stock Market
. Volume is light on both exchanges on this Friday, as investors watch the market slide.
"It's definitely been 3rd and 14 and a lot of punting," Myers said. "There's resignation that a lot of these companies are just going to have some tough going for a while here."
Market Internals
Back to top
Most Active Stocks
Back to top
Sector Watch
Telecommunications stocks weren't having much of a day. Led by an assault on Finnish cellular company Nokia, those stocks were generally in poor shape. Nokia lost 8% after UBS pulled it from its recommended list in Europe;
Ericsson
undefined
fell 5.7% and
Motorola
(MOT)
was down 3.9%.
The
Philadelphia Stock Exchange/KBW Bank Index
was lately up 0.6% and the
American Stock Exchange Securities Broker/Dealer Index
was higher by 0.2%.
Among the other indices making a stand were tobacco and drug stocks, those defensive names that the world crowds to when the rest of the market seems like a bad, awful place. Lately the
Amex Pharmaceutical Index
gained 0.6%, while the
S&P Tobacco Index
rose 1.4%, touching its all-time high of 348.61.
Back to top
Bonds/Economy
Treasury prices are up as weakness in equities has brought investors' focus back to notes and bonds. The money market is also consolidating after absorbing $32 billion in government debt that was auctioned over the last three days. The long end of the market is showing greater strength, with the 30-year up by half a point.
A $5 billion auction of three-year notes from
Freddie Mac
undefined
should keep the trading volume up today. Next week, $21 billion worth of three- and six-month Treasury bills will be sold.
The benchmark 10-year
Treasury note lately was up 9/32 to 99 19/32, lowering its yield to 5.050%.
Analysts will once again be hoping for
Federal Reserve chairman
Alan Greenspan to hint of more rate cuts as he addresses the
Senate Banking Committee
on Tuesday. In the wake of the Fed's two January cuts, the
Bank of England
cut interest rates yesterday and the Japanese central bank followed through with a cut overnight.
Treasury Secretary
Paul O'Neill
said in his round of conversations with television networks yesterday that he agrees with Greenspan's recent view that the economy is near zero growth. O'Neill estimates the present growth rate at 0.5%-0 .6%. But he expressed confidence that technology-led productivity gains would take the nation to a "golden era of economic prosperity" as 80% of their contribution was still to be realized. His statements suggest that last quarter's higher-than-expected productivity gains amid a weakening economy were due to structural improvements in supply-chain management techniques.
There is no economic news today.
Back to top
International
European markets were weak. Paris'
CAC-40
fell 61.10 to 5712.36; Frankfurt's
Xetra Dax
dropped 120.22 to 6516.59, and London's
FTSE
was off 41.8 to 6164.3.
Japan, meanwhile, still trying to sift through the wreckage of decade-long stagnation, said today it was attempting to find ways to prop up its stock market, a day after the
Nikkei 225
hit a 28-month low. That index rose today, gaining 284.60 to 13,422.83, a 2.2% rise. Meanwhile, the
Bank of Japan
, that country's central bank, cut its key interest rate to 0.35% from 0.5%. About two years ago, Japan had a zero-interest rate policy, but began raising rates when the economy showed some signs of recovery.
In Hong Kong, the
Hang Seng
lost 36.12 to 15,873.28.
Back to top