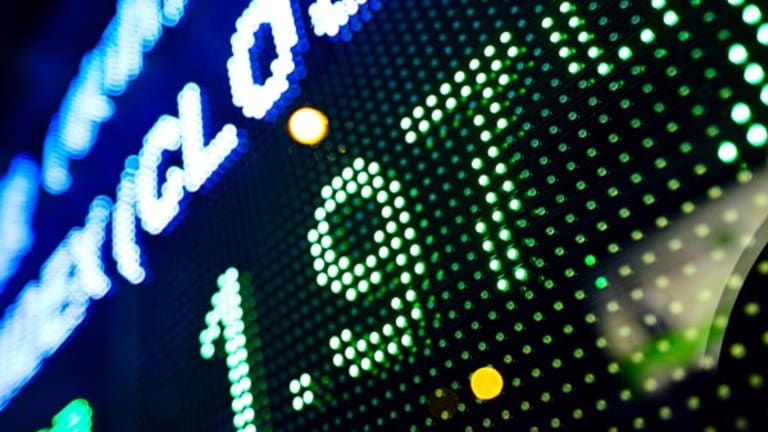 Today's Market: Stocks Punished on Intel Negativity, Strong Jobs Report
<LI>Unemployment steady at 4.2%</LI><LI>Intel hammered on warning.</LI><LI>Yahoo! continues to swoon.</LI>
<LI>Unemployment steady at 4.2%</LI><LI>Intel hammered on warning.</LI><LI>Yahoo! continues to swoon.</LI>
Updated from 9:38 a.m.
The bull retreat that began Thursday with an earnings
warning from
Yahoo!
(YHOO)
continued this morning. At the open, the Dow Jones Industrial Average and the Nasdaq Composite Index fell sharply. In the first 15 minutes of trading, the Dow was down 104 to 10,753, while the Comp was off 61 to 2108.
A stronger-than-expected February
jobs report out this morning deflated hopes the
Federal Reserve might be more aggressive about cutting interest rates, while
Intel
(INTC) - Get Report
last night echoed Yahoo!, with a
revenue confession. See Dave Gaffen's story on the
jobs report for more details.
New
nonfarm payrolls
for the month totaled 135,000, almost double the 68,000 economists were forecasting. January's surprisingly high total of 268,000 nonfarm payrolls was revised downward a bit to 224,000. Unemployment stayed put at 4.2% -- economists were expecting it to tick up to 4.3%. The biggest gains were in services sector jobs, while manufacturing jobs remained weak -- down 94,000.
But investors were already crushed by Intel's betrayal. After the close of regular trading yesterday, and for the third quarter in a row, the company told investors not to count on it meeting first-quarter revenue targets and announced plans to cut 5,000 jobs. Wall Street analysts piled on the stock this morning --
Lehman Brothers
,
Prudential Securities
and
Credit Suisse First Boston
all issued negative notes on the company, and you can expect the rest of the analyst community to do the same.
Rumors of job cuts at
Cisco
(CSCO) - Get Report
and a downgrade on mobile-phone giant
Motorola
(MOT)
from
Merrill Lynch
didn't help. Chip stocks were under attack this morning, and Intel was off 9%. Cisco was also getting smacked -- losing 3.6%. And Yahoo! wasn't getting any relief, down another 2.8%.
So much for that three-day rally the
Nasdaq enjoyed at the beginning of the week and all those calls of a bottom that surfaced. The broader market was also looking weak. Even the
Dow may give back some of Thursday's three-digit gain this morning.
Not all the chip stocks were in a hole today.
TranSwitch
(TXCC)
and
Qlogic
(QLGC)
were both on the rise.
Meanwhile, first-quarter warnings season is far from over yet and
speculation that
Microsoft
(MSFT) - Get Report
will soon mimic Intel is already dogging the software behemoth's shares. Microsoft shares were falling 2,5% in preopen trading this morning.
Back to top
Bonds/Economy
Treasury prices were rallying this morning ahead of the job's report. The benchmark 10-year
Treasury note was unchanged at 100 23/32 yielding 4.905%.
Back to top
International
Intel's warning was sending tremors through European markets this morning and battered chip stocks were dragging on the major indices. London's
FTSE
was lately down 27 to 5976. The Paris
CAC
was down 53 to 5385, while the German
DAX
lost 30 to 6238.
The euro was lately trading at $0.9352.
Intel was also the culprit for a bit of selling in Asia. It's hard to believe things could get any worse for the
Nikkei 225
, but it fell another 0.2% overnight to 12,627.9. Hong Kong's
Hang Seng
lost 0.1% to 1419.3.
The dollar was much stronger on the yen, lately trading at 119.34 yen.
For more on the world stock markets, check out
TheStreet.com's
global indices information.
Back to top