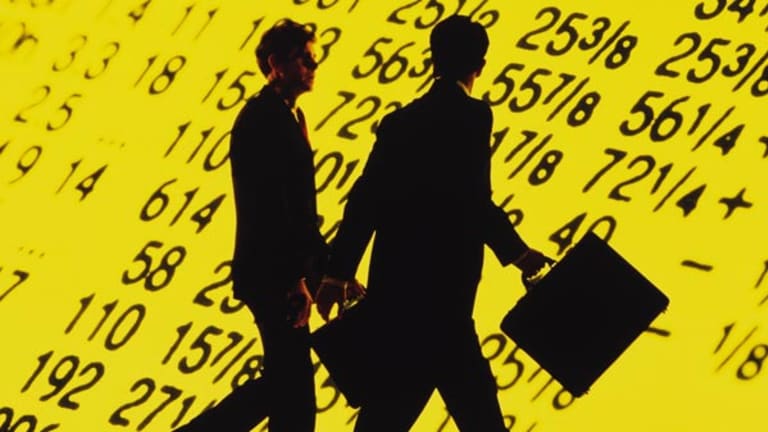 Today's Market: Stocks Pop Like Fly Balls
<LI>Xerox rises on restructuring news.</LI> <LI>Pfizer has solid earnings, but says it will have slimmer revenues.</LI> <LI>Lucent climbs after executive changes.</LI>
(Updated from 9:28 a.m.)
Like fly balls, stocks popped into the green at this morning's opening bell. But they could easily drop right back at the pitcher's plate later in the day.
It's not just that we have baseball on the brain. The fact that yesterday's market held on to gains from last week's spectacular midweek turnaround may reflect improved investor confidence. The major stock market indices have been unable to sustain any rallies since the beginning of September because of investor concerns about a slowdown in company earnings.
But most market pros are expecting and hoping for some sideways action this week and the rest of earnings season. This would help build and strengthen last week's lows as a bottom.
"We could have a strong opening, and pull back to even," said Ray Hawkins, vice president of block trading at
J.P. Morgan
. "I'd like to see the kind of work the market can do in the next couple of days. It doesn't have room to move up strongly. We need to build a base until earnings season is over."
The
Dow Jones Industrial Average was up 78 to 10,350. The
Nasdaq Composite Index was gaining 36 to 3504. And the
S&P 500 moved 13 higher to 1408.
Expect to see some weakness in the drugs today. Pharmaceutical darling
Pfizer
(PFE)
raised its
forecasts for earnings per share for this year by a penny, but lowered its revenue forecasts. Pfizer was off 6.9% in early trading.
Yesterday, the drug sector, which has been strong all year, rallied higher after
Merck
(MRK)
beat earnings estimates and was upgraded by several analysts.
"We have some disappointment in Pfizer and
Schering Plough
(SGP)
because sales were lower than expected. That should put pressure on the group," Hawkins said.
Meanwhile, tech and telecom earnings news was mixed this morning. After the close Monday,
Lucent
(LU)
reported earnings above estimates, which helped the embattled telecommunications equipment manufacturer in after-hours trading. But
National Semiconductor
(NSM)
warned of possible shortfall in the next two quarters because of "inventory corrections" by some of its customers in the mobile phone market. Lucent was up 3.4% in early trading.
Brother, heal thyself
A couple of long-suffering companies are taking measures to put the pieces back together again, and investors are cheering their efforts.
AT&T
(T)
reportedly plans to spin off its cable-television unit and wireless business into separate companies over the next one to two years.
The New York Times
reported this morning that the telecom's board has approved the plan. The shares of AT&T, the largest long-distance and cable TV company in the U. S., have been limping lower since hitting their all-time high in late March. The value of the company has now been cut almost in half.
TheStreet.com
wrote a separate story about the
spinoff plans. AT&T was up 0.9% this morning.
And beleaguered copy giant
Xerox
(XRX)
offered investors the first nugget of good news in a very long while this morning. Xerox reported an operating loss for the third quarter that was below already lowered forecasts. But the company also unveiled plans to sell assets and cut costs. TheStreet.com wrote a story about
Xerox's efforts. Xerox was gaining 2% soon after the stock started trading this morning.
Companies reporting earnings today include software maker
Computer Associates
(CA)
and computer maker
Compaq
undefined
, as well as chipmaker
LSI Logic
(LSI)
and networking company
Nortel Networks
(NT)
.
Back to top
Bonds/Economy
The benchmark 10-year
Treasury note was easing back after a few days of gains resulting from continuing unrest in the Middle East. It was lately down 9/32 to 100 28/32, pushing its yield higher to 5.633%.
Back to top
International
European markets were moving steadily higher at midsession.
The
FTSE 100
in London was up 105.10 points to 6421.00.
The
CAC 40
in Paris was up 91.38 to 6273.72, while the
Xetra Dax
in Frankfurt was 136.68 higher to 6757.55.
The
euro was lately trading down to at 0.8376.
The major
Asian equity markets closed higher Tuesday, as technology shares in South Korea and Taiwan jumped, while most Japanese investors remained on the sidelines.
In Tokyo, shares remained under pressure ahead of the release of some big-name earnings. The
Nikkei 225
closed up 50.2, or 0.3%, at 15,148.2.
In Tokyo trading, the dollar slipped 0.62 to 108.33 yen. The greenback was lately trading down to 108.26.
Hong Kong went its own way Tuesday, as the
Hang Seng
index fell 176.4, or 1.2%, to 14,925.9. Internet and telecom company
Pacific Century CyberWorks
undefined
tanked 11.5% to HK$5.75 ($0.74) and
China Mobile
(CHL)
fell HK$1.50, or 2.9%, to 50.75.
Back to top