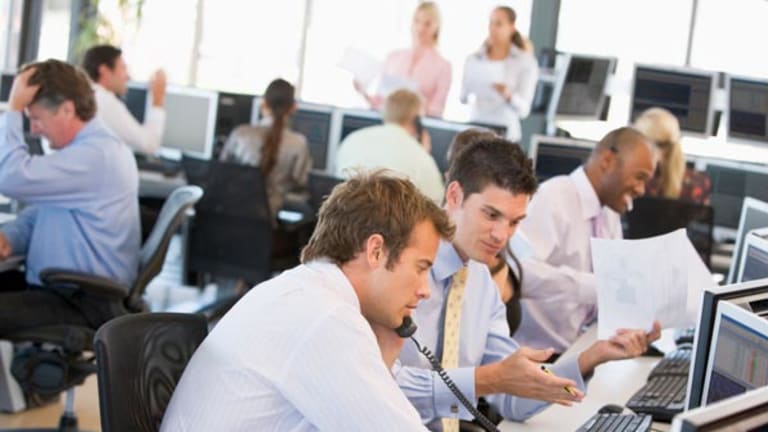 Today's Market: Stocks' Picture Blurred as Nortel's Woes Punish Optical Sector
The Dow was slightly higher, but the tech-heavy Nasdaq was near the low-water mark for the session at midday.
Not so good. Then again, it could be worse.
The market's picture was mixed at midday as huge volumes of block trades populated the market. The
Dow Jones Industrial Average rose 3 to 10,397, as blue-chips stay cleaved, with big losers fighting big winners. Meanwhile, the
Nasdaq Composite Index avoided a disaster at the open and came off session lows. It was recently off 125 to 3294.
And, to make matters even worse, there's a bunch of professionals wrestlers outside the august offices of
TheStreet.com
. What a show it's been -- complete with a "real" wrestling match and the obligatory pyro-technics. (Maybe if we shoot off the fireworks, the people won't notice we don't come within a foot of hitting each other.) Wouldn't J.P. Morgan be proud?
In the Dow,
Hewlett-Packard
undefined
,
IBM
(IBM)
and
AT&T
(T)
subtracted a combined (and weighted) 51 to the Dow's dark side, while
J.P. Morgan
(JPM)
,
Johnson & Johnson
(JNJ)
and
Boeing
(BA)
added a combined 49 to the plus side.
The Comp, which felt the wrath of a
Nortel
(NT)
scorned, opened way down. After that, the Comp rallied to within 55 of the break-even point before another spate of selling sent it lower. Lately, the Comp has returned to the toilet.
So have you heard about Nortel yet?
Okay, so here's the
Cliff's Notes
version of today's biggest news: (And remember to click on the colored words. No cheating, remember? You're
supposed
to read the entire book.)
Last night, Nortel actually beat earnings estimates, but fell short on revenue estimates, which sparked
fears that the fiber-optic industry was slowing down.
This morning, analysts lowered their revenue expectations. Then, once the markets opened, institutional traders began taking major chunks out of Nortel and other related stocks.
Nortel was recently off $17.39, or 17.4%, to $46, trading on an absolutely phenomenal 80 million shares, easily the heaviest on the
New York Stock Exchange
. Other opticals, as the fiber-optics companies are known colloquially, were getting hammered as well.
JDS Uniphase
(JDSU)
fell 21.7% to $73.88,
SDL
undefined
fell 23.5% to $242 and
Ciena
(CIEN)
fell 20.9% to $107.13.
Well that
really
sucks, huh? Especially if you're a shareholder or the Nasdaq Composite, which is fighting mightily to shake off the heavy losses. But fret not, dear market watcher, many traders weren't very concerned about the opticals, because, well, they're more interested in non-technology-related companies.
"I haven't been trading it a heck of a lot," said Sam Ginzburg,
Gruntal's
senior managing director of equity trading. "It's bad, but we've got good reports from a variety of other sectors. We're focused on the drug stocks."
And wouldn't you know it? The
American Stock Exchange Pharmaceutical Index
was last up 2.2%.
So what should be made of the action in Nortel, especially if you're an ordinary trader, one of the millions of regular folk who put billions of dollars into the market every day? Who's doing all the selling today?
It's not you -- it's the institutional traders, big companies who do things like manage your mutual funds and 401k plans.
"When you have 30 million shares traded by 10:30 in the morning, it's almost all institutional," said Eddie Laux, head trader at
ABN Amro
. "There are a lot of people bailing."
One caveat, though: even if you're not selling Nortel, you might be taking a hit, especially if your mutual fund invested heavily in the company. According to
Morningstar
, 54% of all large-cap growth funds own Nortel. In comparison, just 20% held it on Jan. 1. Eight of the ten biggest stock funds in the nation hold the stock. Clearly, the big fish have sent Nortel out to fry, the only question is how close are you to the fire?
Market Internals
Internals bled on big volume.
New York Stock Exchange: 958 advancers, 1,675 decliners, 688 million shares. 37 new 52-week highs, 71 new lows.
Nasdaq Stock Market: 1,292 advancers, 2,320 decliners, 1.109 billion shares. 35 new highs, 99 new lows.
Back to top
Most Active Stocks
NYSE Most Actives
Nasdaq Most Actives
JDS Uniphase: 65.6 million shares. Cisco (CSCO) : 40.8 million shares. Microsoft (MSFT) : 38.1 million shares.
Back to top
Sector Watch
It's clear that, as a sector, opticals have attracted the lion's share of attention today. But as noted above, there were a great many other sectors that made moves, too.
Unfortunately, most of those moves were down.
Natural gassers, forest and gold stocks were all commodity-related losers. The
American Stock Exchange Natural Gas Index
fell 4.1%, while the
Philadelphia Stock Exchange Gold & Silver Index
dropped 1.1%.
And thanks to Nortel adding napalm to the "fears of an economic slowdown" fire, technology stocks got crushed. The
Philadelphia Stock Exchange Wireless Index
, of which
Nortel
(NT)
is a member, fell 4.5%. The
Philadelphia Stock Exchange Telecommunications Index
was one of the worst, dropping 7.2%.
Dot-com names in
TheStreet.com Internet Sector
were a contrarian play, gaining 0.6%, helped most by that 17.3% gain in
Amazon.com
(AMZN)
, which had a positive earnings outlook this morning. And the
AMEX Biotechnology Index
rose 1.9%, as its components follow non-member
Affymetrix
(AFFX)
higher.
Back to top
Bonds/Economy
Bonds were mixed at midday, following a down day yesterday.
The benchmark 10-year
Treasury note was lower by 4/32 to 100 24/32, and yielding 5.646%.
The
Mortgage Applications Survey
(
definition |
chart |
source
) for the week ended October 20, rose to 587.2 from 498.6 in the previous week. Refinancings continue to rise while the purchase index slipped to 298.7 from 311.1.
Back to top
International
After rallying out of their doldrums yesterday,
European markets were in the dumps again by midday here in New York. The major indices have come off their session lows at the end of the trading day and were off, but not nearly as much as earlier.
The
FTSE 100
in London fell 70.6 to 6367.8.
The
CAC 40
in Paris was 45.8 lower to 6277.9, while the
Xetra Dax
in Frankfurt was losing 18.8 to 6784.0.
The
euro tumbled below what currency traders were calling a key support level, lately trading down to 0.8266, which is a new low.
The major
Asian equity markets closed mixed Wednesday.
Most Japanese investors remained on the sidelines ahead of earnings reports from some of the country's big technology companies and Tokyo's
Nikkei 225
closed down 307.7, or 2%, at 14,840.5.
In Tokyo trading, the dollar traded down 0.42 yen to 107.91 yen. The greenback was lately inching lower, at 107.19.
Hong Kong's
Hang Seng
index rose 135.2, or 0.9%, to 15,061.2, as heavyweight
China Mobile
(CHL)
rose HK$1.25, or 2.5%, to 52.00 ($6.67).
Back to top