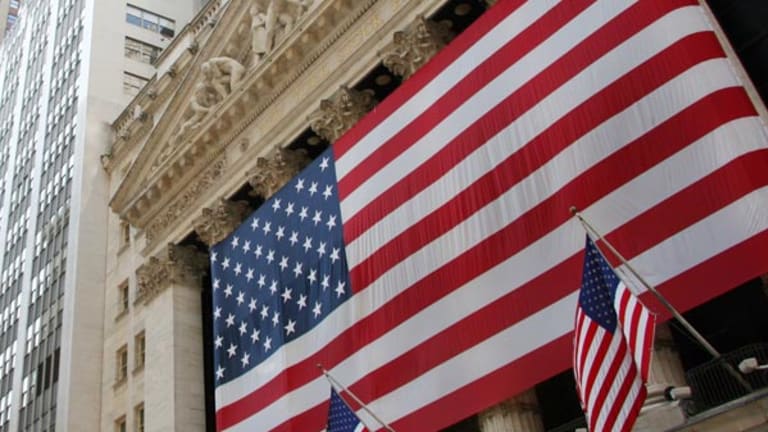 Today's Market: Stocks Open Mixed as Dow Slips, Nasdaq Moves Higher
<LI>Job growth slowing, but unemployment remains at 30-year low.</LI> <LI>Qualcomm earnings boosting tech.</LI> <LI>priceline.com could pressure other e-tailers.</LI>
(Updated from 9:28 a.m.)
Wireless communications firm
Qualcomm
(QCOM) - Get QUALCOMM Incorporated Report
was giving a little more juice to the tech bulls this morning after its earnings report last night. Though its top-line revenue growth was weaker than expected, the company reported
earnings that beat estimates by a penny and said it was comfy, thank you very much, with fourth-quarter estimates.
The
Dow Jones Industrial Average was down 23 to 10,858. The
Nasdaq Composite Index was upn 20 to 3448. And the
S&P 500 moved up 2 to 1430.
Following
Intel's
(INTC) - Get Intel Corporation Report
relatively upbeat
earnings report Wednesday, Qualcomm's report helped subdue fears that spending was slowing down in telecom and technology. These fears had been fanned earlier in the week by beleaguered telecom giant
WorldCom
(WCOM)
, which warned of slower revenues going forward and
announced plans to spin off its consumer long-distance business.
"We should have some follow-through on yesterday, with that outlook from Qualcomm," said Brian Finnerty, head of trading at
C.E. Unterberg Towbin
.
The market was relatively indifferent to the
employment report, which was released at 8:30 a.m."The market looks up. The employment report was sort of conflicting, but fairly benign. There's nothing new here, really, which is kind of good," Finnerty said.
But an up open these days doesn't mean an up close. Volatility is still the rule in this market.
"We are not past the volatility," said Finnerty.
"We have made a bottom, but we're going to go up and down big on all news that comes out. Volatility is a way of life now," he said.
One of the most important indicators of the health of the economy, the employment report showed that job growth slowed in October, but that unemployment remained at its 30-year low rate of 3.9%. Average hourly earnings rose last month. Labor markets that are too tight and wages that are too high are bad for inflation, which, of course, is considered bad for the economy and for business.
The wage inflation number is particularly important, considering signs from yesterday's
productivity report that showed the rate of worker compensation was rising faster than expected. There seems to be plenty of confusion in the market right now about where the threat of inflation stands and whether the economy is slowing too far, too fast -- or not enough.
TheStreet.com
wrote a separate
story that looked at what the jobs report says about the economy.
The good news: New nonfarm payrolls created in October totaled 137,000, well below projections of 184,000 for the month. But unemployment remained at the30-year low of 3.9% reached in September, despite expectations that it would widen to 4%. Finally, hourly earnings rose 0.4%, just above forecasts of a 0.3% rise, the average over the previous 12 months.
A bit of bad news from e-tailer
priceline.com
(PCLN)
last night may put pressure on other e-tailers today. priceline.com reported earnings in line with lowered estimates, but also announced that it's cutting the company's payroll and losing CFO Heidi Miller. Miller, a former
Citigroup
executive who put a bit of shine on the dot-com's image, had the job for less than a year.
TheStreet.com
wrote a separate story about priceline's
earnings announcement.
Its woes might not extend to the rest of the Internet sector, however. Yesterday, bad news from high-speed Internet access provider
PSINet
(PSIX)
didn't slow down Internet bulls that have recently been charging ahead. Internet stocks have rallied smartly this week.
Meanwhile, food giant
Unilever
reports earnings today, one the few stragglers left to report during this third-quarter earnings season.
TheStreet.com
wrote a separate story assessing how company's fared during the period.
Back to top
Bonds/Economy
Ahead of the jobs report, bond prices were rising moderately this morning. The benchmark 10-year
Treasury note was down 9/32 to 99 24/32, yielding 5.782%.
Back to top
International
The major European indices were moderately stronger by midsession.
European markets had plenty to think about Friday morning, with news that the U.K.'s
Abbey National
and the
Bank of Scotland
have held preliminary merger talks, and confirmation that the
European Central Bank
intervened to buy euros in the foreign exchange market. That's its second move in recent times to prop up the battered single currency of the euro zone.
TheStreet.com
wrote a
separate story on the action.
By midday, the euro was trading slightly higher around $0.87. It had hit an all-time low last month of $0.82.
The ECB said later that it had not asked any of its
Group of Seven
partners to help in the intervention.
By midday, London's
FTSE 100
was up 17.20 points to 6409.20 as the news about Abbey National and BoS prompted a flurry of activity elsewhere in the banking sector.
Over on the Continent, the
CAC-40
in Paris was up 9.28 points to 6409.59, and the
Xetra Dax
in Frankfurt was up 51.45 points to 7140.09.
Most Asian
equity markets ended the week on a positive note, as the Nasdaq's rally Thursday buoyed tech shares. Tokyo's market was closed for a holiday.
As Japanese investors enjoyed a three-day weekend, elsewhere in the region, bank and telecom issues were snapped up alongside technology stocks.
In Hong Kong, the
Hang Seng
index rose 302.6, or 2%, to 15,594.1, as
China Mobile
(CHL) - Get China Mobile Ltd. Report
rose HK$1.65, or 3.3%, to 51.25 ($6.57) and
HSBC
(HBC)
surged HK$3.50, or 3.1%, to 116.50. Internet firm
Pacific Century Cyber Works
(PCW)
rose HK$0.20, or 3.5%, to 5.95.
Back to top