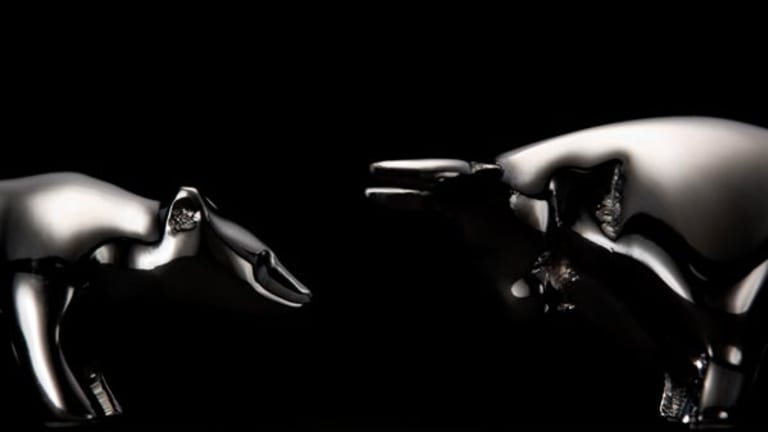 (Updated from 8:49 a.m.)
Following yesterday's bounce, and after the earnings picture brightened overnight, investors were convinced today would bring another rally. So far, they're wrong.
From a technical standpoint, it can't hurt that the tech-soaked
Nasdaq closed above 2750 yesterday, a level some market analysts called psychologically important. Preopen trading screens were aglow in green this morning and stock futures were robustly higher for both tech and the broader market. European and Asian markets were also showing solid performances.
In early action, the
Dow Jones Industrial Average
was down 76 to 10,602, the
Nasdaq Composite
was off 3 to 2765 and the
S&P 500
was down 8 to 1340.
Mind you, the earnings picture improved only a touch last night -- but upbeat words from a few bellwethers about the second half of this year may have reassured investors that the current economic slowdown is only a blip.
Microsoft
(MSFT) - Get Microsoft Corporation (MSFT) Report
met reduced fourth-quarter earnings estimates last night, but beat its revenue estimates and noted a 20% increase in unearned revenue from a year ago. That points to bigger revenue down the road.
Optical giant
Nortel
(NT)
also
met fourth-quarter earnings and revenue forecasts. The Canadian company earned 26 cents a share on revenue of $8.8 billion. But it dropped forecasts for revenue growth in 2001 to 30% from the previous 30% to 35% target, confirming investors' concerns about a slowdown in near-term growth for the networking sector. And yet Nortel predicted a rally in telecom spending in the second half of this year.
Internet auction site
eBay
beat earnings and revenue estimates. Earnings came in at 9 cents, 2 cents ahead of forecasts. The company's revenue hit $134 million, compared with estimates from analysts that it would hit $125.5 million. eBay is one of the few profitable Internet companies. On Tuesday, eBay had said it would raise the fees it charges to list items for auction in its Canadian business, encouraging a slew of analyst upgrades and giving investors further confidence in the company's business model. All three stocks were soaring in after-hours trading last night and this morning.
Sun Microsystems
(SUNW) - Get Sunworks, Inc. Report
was the only sour fruit in last night's earnings banquet. The company missed its revenue
estimates and its shares were falling in early trading.
Where Does the Rally Go From Here?
Last week, Wall Street began to think that expectations of nasty fourth-quarter earnings had already been accounted for in stock prices. The real concern, said the pros, had become company guidance for coming quarters -- how bad was it going to get?
But there is still some question about how long the so-called near-term rally will last. Questions remain about
price to earnings valuations -- even in those stocks that have been hardest hit.
So whether or not this rally will stick around will depend on whether bellwether companies continue to be upbeat about the future. After all, investors still have to get through the rest of the fourth-quarter earnings season. When earnings come down, stock prices have to come down with them, in order to adjust to those price to earnings valuations.
The other thing driving optimism in the market is, obviously, the iron man of the U.S. economy,
Fed chairman
Alan Greenspan, and his plans for interest rates. The market is now betting that the Federal Reserve's
policy making body will lower interest rates by a quarter to a half a percentage point when it meets at the end of this month. In early January, the Fed announced a surprise interest-rate cut -- its first in a year and a half -- dropping them a half point to 6%.
No matter how big it is, another rate cut will be good for the economy because it makes the cost of borrowing money less. That makes it easier for companies and consumers to pay off their loans -- and more enticing to keep spending. But a half-point cut is what market-watchers are really hoping for.
They got some more hope this morning. Richmond Fed President Al Broaddus, generally considered one of the Fed's most hawkish members (that is, favoring a more restrictive monetary policy), had some strong words that serve as added evidence the Fed is likely to cut interest rates by 50 basis points at its next meeting. Speaking in Richmond today, Broaddus said the Fed will act "decisively" to keep the economy from slowing "excessively." Words of this type out of the mouth of Broaddus, who has generally been one to favor rate hikes at times when the rest of the monetary committee has not, show the Fed is quite concerned with a slowdown that seems to have exceeded its expectations. Broaddus dissented five times from the Fed since 1993, all in favor of tighter policy.
Retail Woes and Networking Stocks
Retail stocks -- at least in the home-improvement business -- may not rally with the rest of stocks today.
Home Depot
(HD) - Get Home Depot, Inc. (HD) Report
warned it expects fiscal fourth-quarter earnings to fall short of Wall Street estimates and that it sees weakness rolling over into the first half of this year. The company -- whose fiscal quarter ends Jan. 31 -- blamed the slowing economy and falling prices for building materials. Home Depot is now estimating earnings per share for the fourth-quarter of 20 cents per share, compared with analyst estimates of 24 cents per share. In the fall, it met lowered estimates for its third quarter, but said the fourth quarter would be disappointing.
And the networkers may take a bit of a rest today after rallying solidly in the past two days.
Morgan Stanley Dean Witter
cut its ratings on
Nokia
(NOK) - Get Nokia Oyj Sponsored ADR Report
and
Ericsson
(ERICY)
to neutral from outperform early this morning on concerns about near-term growth in the networking sector. It also said it expects Ericsson to drop out of the top three mobile-phone makers in 2001 and expects Nokia to continue to grow market share.
The networkers -- which make the technology for mobile phone and Internet networks -- have been rallying furiously in the past few weeks -- and particularly in the past two days following some blowout earnings from
Juniper Networks
(JNPR) - Get Juniper Networks, Inc. (JNPR) Report
on Tuesday after the close. So far this year, the
American Stock Exchange Networking Index
has gained in nine sessions and lost in only four, including that disastrous first trading day of 2001.
Back to top
Bonds/Economy
Bond prices were eking lower this morning after a stronger close yesterday. The benchmark 10-year
Treasury note was lately flat at 104 23/32, yielding 5.117%.
Back to top
International
London's
FTSE
was up 27.80 to 6237.70. Across the channel, Paris'
CAC-40
was jumping 59.35, or 1.01%, to 5919.51. Frankfurt's
Xetra Dax
was higher by 68.57, or 1.03%, to 6704.33.
The dollar was trading at $0.9390 this morning. The euro has been slowly gaining in the past few weeks as the U.S. dollar weakens in the face of a slowing domestic economy. Fund managers are now forecasting that Europe will grow faster than the U.S. this year, according to a
Merrill Lynch
report.
Asian markets soared overnight, following on the heels of the Nasdaq's second rally day yesterday.
Tokyo's key
Nikkei 225
index rose for a sixth straight session after hitting a 27-month low last Thursday. The index closed up 115.20, or 0.83%, to 13989.12.
Hong Kong's key
Hang Seng
index closed up 404.80, or 2.61%, to 15,933.55.
The greenback was lately trading at 117.16 yen.
For more on world stock markets, check out
TheStreet.com's
global indices information.
Back to top