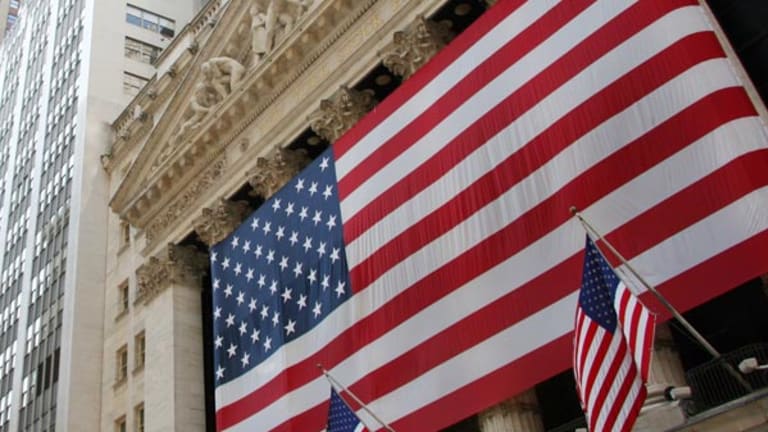 Today's Market: Stocks Moving Higher on Earnings Optimism
<LI>Cease fire reached in Middle East.</LI><LI>Chip price war bad for semis, good for PC-makers.</LI>
(Updated from 8:26 a.m.)
After the
Nasdaq Composite Index posted meager losses yesterday, stocks are precariously holding onto Friday's dazzling record gains. Any blips or bloopers on the earnings screen could easily derail a volatile market -- and today is the busiest day of earnings reports yet this season.
The
Dow Jones Industrial Average was up 33 to 10,274. The
Nasdaq Composite Index was up 58 to 3349. And the
S&P 500 moved up 6 to 1381.
Then again, perhaps Wall Street will finally get those upside earnings surprises everyone has been waiting for. It looks like investors were expecting the latter this morning, with futures hovering nicely above fair value.
"As more earnings come out, we might get a little better here," said Brian Finnerty, head of trading at
C.E. Unterberg Towbin
. "My screen is pretty green here. Most of the worst is over for the Nasdaq in terms of that 3000 low. We may have successfully retested that level," he said.
"My sense is, we'll probably have a bit more constructive day. We would have had one yesterday, except for the
Intel
(INTC) - Get Intel Corporation (INTC) Report
stuff," Finnerty said.
But the semiconductors may not have seen the end of their pain. After
Salomon Smith Barney
lowered Intel's price target and EPS estimate yesterday, the semiconductors had a nasty day. And analysts were sending out more negative vibes on the sector this morning. Several firms, including
PaineWebber
, downgraded chipmaker
Micron Technology
(MU) - Get Micron Technology, Inc. (MU) Report
, and
UBS Warburg
lowered its expectations for prices on commodity chips, or
DRAM.
Basically, Intel is making an effort to lower its chip prices, which some fear could bring about a price war with rival
Advanced Micro Devices
(AMD) - Get Advanced Micro Devices, Inc. Report
. Prices for other chips could then topple in sympathy.
Still, any drops in prices would be great for the PC-makers, which use DRAM to make their machines, Finnerty said.
The chips news is good for the box-makers, he said. "They can take those component prices in their margins or transfer them on to customers."
He did note that PC giant
Dell
(DELL) - Get Dell Technologies Inc Class C Report
wasn't getting any boost on the news yet.
In any case, this morning's news of a cease-fire agreement in the Middle East will certainly help overall sentiment.
Talks between President
Bill Clinton
, Palestinian leader
Yasser Arafat
and Israeli Prime Minister
Ehud Barak
, among others, began yesterday, and expectations for an agreement were not high. Several weeks of violence in the region have left over 100 dead.
Following news of the cease-fire agreement, oil prices took the obvious stumble. That's good for the market, but bad for energy stocks. Concern that continued violence in the region might threaten supply to the U.S., where reserves are already critically low, took already high prices even higher over the last two weeks.
This morning, oil prices were down $1.89 to $33.10.
And back to earnings -- today's schedule is packed with Dow components: semiconductor Goliath and yesterday's biggest loser, Intel; hardware and software bigwig
IBM
(IBM) - Get International Business Machines (IBM) Report
; financial top-dog
FleetBoston Financial
undefined
; pharmaceutical
Johnson & Johnson
(JNJ) - Get Johnson & Johnson (JNJ) Report
; big tobacco
Phillip Morris
(MO) - Get Altria Group Inc Report
; and
Caterpillar
(CAT) - Get Caterpillar Inc. Report
. Yesterday, the Dow struck up some modest gains (around 47 points). For a complete list of today's reporting S&P 500 companies, take a look at
TheStreet.com's
earnings table.
Citigroup
(C) - Get Citigroup Inc. Report
already
reported earnings above estimates by 2 cents this morning, sending its shares higher in Europe.
Meanwhile, September
industrial production figures came out at 9:15 a.m. EDT. But in the midst of earnings season, the numbers weren't expected to make too many waves. Industrial production was forecast to reach a 0.1% gain vs. the previous 0.3%. Capacity utilization was forecast to hit 82.2%, compared with the previous month's 82.3%.
Back to top
Bonds/Economy
The benchmark 10-year Treasury was down 3/32 at 100, yielding 5.749%.
Back to top
International
European markets were mixed at midsession, as investors waited to for earnings reports from a slew of companies today.
London's
FTSE 100
had broken away from the flatline into the green. It was lately 67.40 lower to 6218.30.
The
CAC 40
in Paris was 45.20 higher to 6133.24, while the
Xetra Dax
in Frankfurt was a little higher, up 7.10 to 6634.35.
The euro continued lower, lately trading down to 0.8492.
The major
Asian equity markets closed lower Tuesday, amid continuing concern over events in the Middle East and a renewed bout of weakness for the region's technology shares.
Tokyo's
Nikkei 225
closed down 172.1, or 1.1%, at 15,340.2.
In Tokyo trading, the dollar was trading higher at 108.15 yen from 107.85 yen Monday. It was lately trading at 107.95 yen.
Elsewhere, South Korea's stock market got hammered as
Hyundai Electronics
plummeted nearly 15%, after reporting third-quarter earnings. The
Kospi
index tanked 37.3, or 6.8%, to 512.9. In Hong Kong, the
Hang Seng
index fell 99.9, or 0.7%, to 14,873.4, as
China Mobile
(CHL) - Get China Mobile Limited Sponsored ADR Report
fell HK$0.50, or 1%, to 50.75 ($6.51).
Back to top