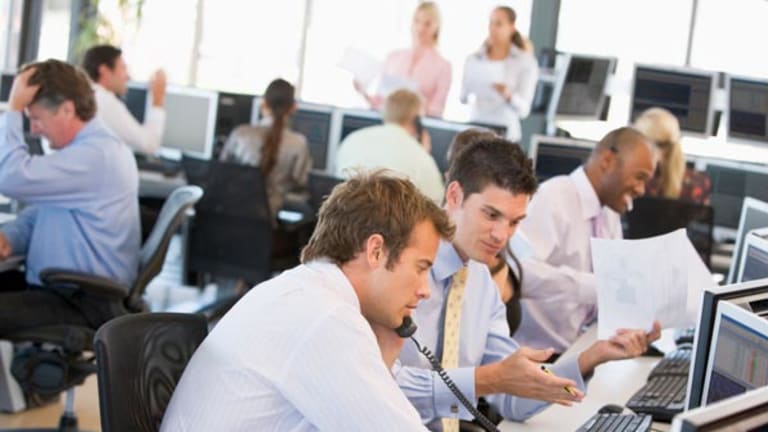 Today's Market: Stocks Moving Higher As Supreme Court Hears Election Case
Both the Dow and the Nasdaq were moving higher at midday as tech, financials show strength.
Hope that the High Court will put an end to the unrelenting presidential struggle has buoyed the major indices in midday trading.
At last look, the
Dow Jones Industrial Average had gained 25 to 10,738, lifted by technology, financial, and drug components, while the
Nasdaq Composite Index had advanced 91 to 3008, boosted by Internet and semiconductor stocks.
At 11:00 a.m. EST, oral arguments before the
U.S. Supreme Court
began on whether the ballot recounts in Florida should continue. A 5-4 vote by the Supreme Court on Saturday stayed a hand recount of the Florida ballots, which was ordered last Friday by the Florida Supreme Court. The Bush team hopes to reverse the Florida court's ruling.
Large-cap technology stocks
Intel
(INTC) - Get Free Report
and
Cisco
(CSCO) - Get Free Report
have mounted substantial gains in afternoon trading. In recent action, Intel jumped 6.4% to $36.25, while Cisco popped 5.8% to $55.50.
Just last Thursday, Intel warned that revenue for the fourth quarter would fall short of its prior expectations, primarily because of slowing PC demand. That news failed to shake the market -- let alone Intel's stock -- and signaled to many on Wall Street that a bottom is in sight. Lately, the
Philadelphia Stock Exchange Semiconductor Index
, which tracks the performance of semiconductor stocks, had posted a 6.1% gain.
Other pillars of strength on the Nasdaq this afternoon have been Internet stocks: Lately,
TheStreet.com Internet Sector
had climbed 3.6%, despite downgrades from
Robertson Stephens
and
Wit Soundview
on Internet bellwether
Yahoo!
(YHOO)
. While Yahoo! fell 4.3% to $33.50, shares of
Amazon.com
(AMZN) - Get Free Report
soared 8.3% to $25.38 and
eBay
(EBAY) - Get Free Report
surged 9.1% to $42.25.
While blue-chip advances have been less pronounced this afternoon, the Dow has gotten support from its technology components. Shares of
Microsoft
(MSFT) - Get Free Report
rose 6.8% to $58.06, while
Hewlett-Packard
undefined
edged up 1.7% to $34.
J.P. Morgan
(JPM) - Get Free Report
-- the Dow's leader in recent trading -- gained 6.1% to $156.19, contributing 54 points to the Dow's plus side, while
American Express
(AXP) - Get Free Report
gained 3.2% to $56.63. And drug giant
Merck
(MRK) - Get Free Report
advanced 0.9% to $90.38.
While this afternoon's upswing may lift investors' spirits, some market experts are cautious: "These short-term rallies are nice," said Jim Volk, co-director of institutional trading at
D.A. Davidson
, "but there is long range uncertainty out there. We may still see a lot of earnings disappointments. There is confusion about whether the economy will have a soft landing. The market could test its lows again."
Others on Wall Street are more optimistic. This morning, Ed Kerschner, chief global strategist for
UBS Warburg
issued a bullish report, calling the current market one of the five most-attractive buying opportunities of the past 20 years.
Last week,
Federal Reserve chief Alan Greenspan inspired optimism about an ease in the Central Bank's inflation bias. Certainly, an economic soft landing would be good for Wall Street, so too would be an end to the presidential stalemate. Stay tuned.
Market Internals
Breadth was positive on heavy volume.
New York Stock Exchange: 1,431 advancers, 1,315 decliners, 620 million shares. 159 new 52-week highs, 34 new lows.
Nasdaq Stock Market: 2,046 advancers, 1,689 decliners, 1.2 billion shares. 75 new highs, 106 new lows.
Back to top
Most Active Stocks
NYSE Most Actives
Nasdaq Most Actives
Sun Microsystems (SUNW) - Get Free Report: 58.2 million shares. Cisco: 40.7 million shares. Intel: 37.2 million shares.
Back to top
Sector Watch
As expectations of a Fed rate cut grow, interest-rate stocks are getting a boost. In recent action, brokerage stocks
Lehman Brothers
undefined
tacked on 8.6% to $67.13, while
Legg Mason
(LM) - Get Free Report
added 3.4% to $54.38. The
American Stock Exchange Broker/Dealer Index
increased 3.1%.
Back to top
Bonds/Economy
Treasuries are giving back the gains they made late in the day on Friday, reflecting the shift that occurred over the weekend in the presidential contest.
The benchmark 10-year
Treasury note lately was down 13/32 at 102 28/32, lifting its yield to 5.372%.
Treasuries rallied on Friday afternoon after the Florida Supreme Court ordered recounts in Florida, a development with the potential to benefit Democratic candidate
Al Gore
. The bond rally was based on the prospect of continued stock market declines while the outcome of the election remains in doubt, and on the belief that Gore would do more than Republican candidate
George W. Bush
to reduce the supply of Treasury securities by using federal government surpluses to pay down the national debt.
The Treasury market is giving back those gains after the U.S. Supreme Court Saturday ordered the recounts halted, a development that favors Bush.
A rally in the stock market is also sapping demand for bonds. No major economic news is slated before Wednesday, which brings the November
retail sales
(
definition |
chart |
source
) report.
Back to top
International
European markets were bouncing today on strength in telecom, tech and financials.
London's
FTSE
closed up 88.9 to 6780.15. Across the channel, Paris'
CAC-40
was charged ahead to end up 138.56 to 6077.88, while Germany's
Xetra Dax
-- still trading -- was gaining 88.9 to 6780.15.
The euro was slipping this morning after hitting an 11-week high last week. It was lately trading down to $0.8789. It has been gaining in the past few weeks as the U.S. dollar weakens in the face of a slowing domestic economy.
Asian markets galloped ahead overnight following the Nasdaq's rally on Friday. In Japan, the
Nikkei 225
closed up 319.19 to 15015.70.
Hong Kong's
Hang Seng
closed up 219.21 to 15,408.54.
The greenback was lower to 111.80 yen.
Back to top