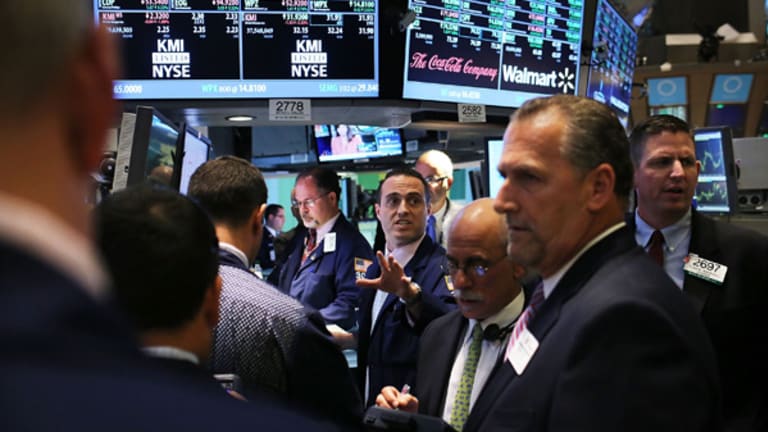 Today's Market: Stocks Move Lower in Early Action; Motorola, Sun Battered
<LI>Motorola cuts Q1 estimates -- again.</LI><LI>Sun Microsystems warns.</LI><LI>GM expects to hit targets.</LI>
Updated from 8:16 a.m. EST.
Don't look down. You could go right over that cliff.
Stocks started today's session in a familiar spot, lower. The
Dow Jones Industrial Average
was off 53 to 10,474, the
Nasdaq Composite
was off 27 to 2218 and the
S&P 500
was down 10 to 1243.
All eyes will likely remain on the Nasdaq today to see if the tech-heavy index can remain above the 2000 level.
"Psychologically, 2000 is important," said Berry Berman, head trader at
Robert W. Baird
. "But it doesn't mean anything right now. The market is trading off of news. We continue to get negative news. Companies continue to disappoint, and they're disappointing below already lowered expectations."
The market looked flattish in the wee hours of the morning. But a
warning from mobile phone maker
Motorola
(MOT)
seems to have tipped the scales south. With December-quarter earnings nearly all in the bag, first-quarter doomsayer-season seems already to have begun. And already lowered estimates continue to slip further and further down as companies realize how bad things really look. Motorola said this morning it will miss already lowered first-quarter earnings estimates and might even post a loss. Motorola was down 5% to $16.40
Early moves were also reacting to
Sun Microsystems'
(SUNW)
unsurprising revision to fiscal third-quarter earnings and revenue guidance after the close of regular trading yesterday, as well as some
downgrades on specialty chipmakers
Altera
(ALTR)
and
Xilinx
(XLNX)
. Sun was down 4.8% to $19.88
Sun
slashed fiscal third-quarter earnings and revenue guidance in its midquarter conference call with analysts Thursday, laying the blame on a slowing economy and constricting demand. Sun cut third-quarter earnings guidance to 7 cents to 9 cents a share from the expected 15 cents and said revenue would grow 10% to 13%, well short of the 30% analysts were looking for.
But Sun's news was really no shock. The company's shares have plunged over the last week as
investors worried Sun would make just such an announcement on the regularly scheduled quarterly call.
Watch Out for What You Wish For
Maybe a down opening won't be such a bad thing. With the Nasdaq back at levels it hasn't seen since Jan. 1999, the
S&P 500 very nearly in a bear market for first time in 10 years and the
Dow down 2.4% on the year, the bulls might stampede back to market and try for a rally. But that might just be wishful thinking.
A bear market for a particular major index is when that index is 20% or more off of its highs. The S&P 500 is now 18% off its highs.
"I wouldn't be surprised if we had rallies," said Berman. "But what we've seen is people selling rallies, and we aren't going to get much on the upside until the bad news stops."
The broader market should at least put on a braver face, compared with tech.
"Nontech areas are holding up better. They didn't have the higher
P/E's, the explosive growth and ramping up that tech have," said Berman. And presumably they're going to be helped by the fact that interest rates are being cut."
Not all of today's news was bad. Natural gas and petroleum company
Williams
(WMB)
signed a 10-year deal to sell 400 megawatts of electricity to the beleaguered California energy market. That could give some extra power to the energy stocks today.
Communications equipment and software giant
Lucent
(LU)
said this morning it has successfully secured $6.5 billion in new financing. Lucent, which has faced more than its share of
financial woes, said it had secured credit facilities of up to $4.5 billion from
J.P. Morgan
and
Salomon Smith Barney
. Some of this sum replaces earlier expired facilities while a portion of the debt will be assumed by spinoff
Agere Systems
following its
initial public offering. The remaining $2 billion includes an amendment to a credit line that had been due in 2003.
And automobile giant
General Motors
(GM)
said it was
confident it will hit year-end targets
Investors have begun to doubt earlier predictions that the economy and earnings are destined recover in the second half of this year. Following some major earnings warnings from telecom equipment makers
Cisco
(CSCO)
and
Nortel
(NT)
, among others, in the past few weeks, the pros are now looking farther out.
Inflation data out in the past week also has investors spooked. Yesterday's
report showed that prices consumers paid for goods and services in January rose twice as fast as economists had been expecting, reinforcing fears sparked by last Friday's
Producer Price Index report that inflation is not as controlled, as everyone had thought. Economists and the
Fed are still more worried about depressed consumer sentiment levels and a potential recession. But if higher energy prices are lasting and inflation continues to soar, that could lead to stagflation, the thinking goes, and
cripple the Fed's interest rate cutting plans, even as the economic slowdown continues to creep along.
Back to top
Bonds/Economy
Treasury prices were little changed this morning on no new data. The benchmark 10-year
Treasury note was up 4/32 to 98 29/32, yielding 5.141%.
Prices ended lower at the long end for the first time this week yesterday. The 30-year Treasury fell more than the other securities, contributing to a rise in the yield curve.
Back to top
International
European markets were trending weaker in the middle of their sessions. London's
FTSE
was lately down 84 to 5920; Paris'
CAC-40
lost 122 to 5330 and Frankfurt's
Xetra Dax
was lately down 105 to 6173.
The euro was lately trading at $0.9063.
But Asian markets were strong overnight, with Hong Kong's
Hang Seng
gaining 181.92 to 15,280.56, and Tokyo's
Nikkei 225
finishing up 172.64 to 13,246.
The dollar was trading at 116.53 yen.
Back to top