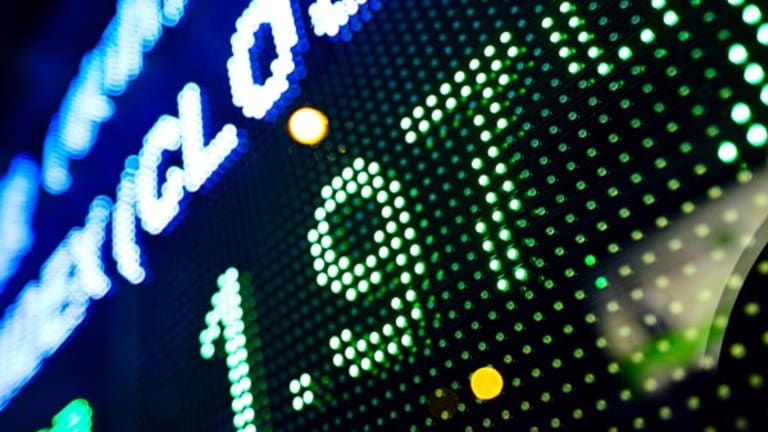 Today's Market: Stocks Mixed in Early Action, Tech Still a Laggard
<LI>Emulex lower.</LI><LI>Lehman drops contract manufacturers.</LI><LI>Celera rises on genetic advances.</LI>
(Updated from 8:20 a.m.)
That sweet Valentine's loving that was pulsing through the market early this morning faded quickly when investors caught wind of some bad news for a few tech stocks.
Lehman Brothers
downgraded the entire contract manufacturing sector -- including
Jabil
undefined
-- and extended its per share loss estimate for
Lucent
(LU)
to 67 cents from 50 cents in 2001. And another analyst lowered estimates on the optical stocks, including
Corning
(GLW)
.
Emulex
undefined
, meanwhile, was trading down over 35% after warning late Friday that it would miss fiscal third-quarter estimates.
There just weren't any catalysts to drive the market higher this morning, and sentiment was pretty scattered and vulnerable. In the past two weeks, markets have generally been plodding lower on low volume. In fact, the market is pretty down and out after erasing most of its January gains. Up near 14% at the end of January, the
Nasdaq was up just 2% as of Friday. The
Dow, meanwhile, can't seem to drag itself out of bed; after making a go at 11,000 early last week, it quickly retreated and is now flat for the year.
In early action, the
Dow Jones Industrial Average was up 17 to 10,798, the
Nasdaq Composite was down 5 to 2466 and the
S&P 500 was up 2 to 1317.
"I'm expecting more weakness today. I thought Friday's failure by the Nasdaq was a pretty bad sign," said Todd Clark, head of listed trading at
W.R. Hambrecht
.
Elsewhere in tech, U.S. computer hardware and software giant
Compaq
undefined
warned of slowing sales growth in the first half of 2001, dropping its target to a little under 5% from 10% in 2000. In an interview published today, Compaq told German magazine
Der Spiegel
that its sales would be slow to flat during the first quarter and then pick up through the rest of the year.
Of course, that's not really a big surprise. Bellwether after bellwether has warned about slowing sales in the first half of this year, while investors are hoping for some kind of turnaround in the second half of 2001.
The problem is, recent economic data and earnings reports suggest the tunnel may be longer and the light further off than Wall Street thought. Several companies have said recently that they are no longer so confident that things will pick up in the third quarter -- the most recent of those
warnings came from networking darling
Cisco
(CSCO)
last Tuesday after the market closed.
Meanwhile, investors continue to favor some of the more defensive stocks. Tobacco giant
Philip Morris
(MO)
is a perfect example. Many pros were predicting a downturn for the stock after its smoking rally last year, but the share price has continued to climb in the past six weeks to new 52-week highs.
Keep an eye on biotech stocks in particular -- especially
Celera Genomics
(CRA)
, which was rallying on
Instinet
after it issued a report that made its gene map look a bit stronger than public group
Human Genome Project's
version. The official findings won't be published until later this week, however.
Go Al, Go!
Investors are probably going to play it safe ahead of
Federal Reserve Chairman
Alan Greenspan's
Humphrey-Hawkins testimony before Congress tomorrow. That's his twice-yearly chat with elected officials about the state of the American economy, and Wall Street may be hoping for something encouraging.
But most economists don't expect anything new. Greenspan will probably reiterate that the economy is slowing and show that he's willing to do whatever it takes to keep growth around 4%.
"There's not going to be any big sea change," Clark said.
After the Fed cut interest rates twice in January -- two half-point cuts left the lending target at 5% -- investors are hoping for more aggressive action so the economy can get back on its feet. Aggressive means at least a half-point cut at the Fed's next meeting on March 20, and some even hope for an intermeeting cut before then.
Back to top
Bonds/Economy
The benchmark 10-year
Treasury note was inching higher this morning, up 3/32 to 99 27/32, yielding 5.02%.
Back to top
International
Stocks in Europe were riding higher this morning. Strength in telecom and software stocks morning were giving a lift to London's
FTSE 100
. After three days of losses, the index was lately up 35.30, or 0.57%, to 6199.60. In Paris, the
CAC-40
was up 22.32, or 0.39%, to 5734.66 and the German
DAX
was rising 32.18, or 0.50%, to 6529.25.
The euro was lately falling against the dollar, trading at $0.9294.
Tokyo markets were closed overnight for National Foundation Day, a national holiday, while Hong Kong's
Hang Seng
had a pretty rough time of it. The benchmark index fell 180.17, or 1.14%, to 15,693.11.
The dollar was trading at 117.48 yen.
Back to top