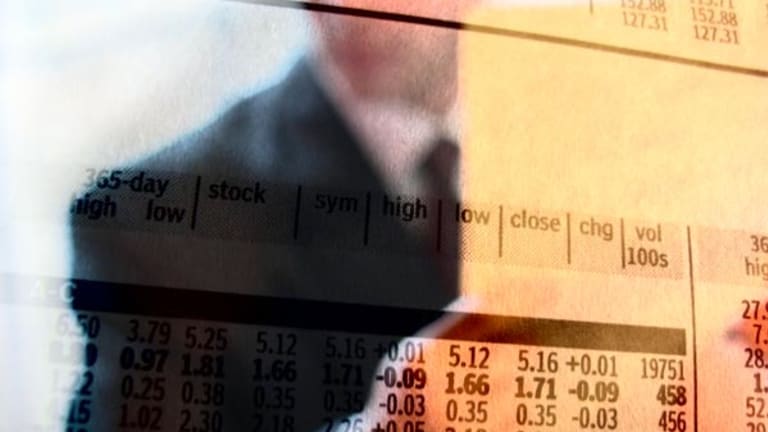 Publish date:
Today's Market: Stocks Mixed -- but Little Changed -- in Morning Action
<LI>Dell falls after Bear Stearns lowers earnings outlook.</LI> <LI>American Airlines readies to buy TWA, stake in US Air.</LI>
<LI>Dell falls after Bear Stearns lowers earnings outlook.</LI> <LI>American Airlines readies to buy TWA, stake in US Air.</LI>
(Updated from 9:26 a.m.)
After Friday's gargantuan drop in stocks, you might expect a little bit of a bounce at the open this morning. Alas, no.
The
Nasdaq was off 67 to 2340, the
S&P 500 stumbled 10 to 1288 and the
Dow dropped 22 to 10,638.
Some feel the market failed investors late last week. It failed to hold onto Wednesday's record-breaking gains -- won on the back of a surprise interest-rate cut from the
Fed.
"I think we need to do a bit more work on the downside today," said Todd Clark, head of listed trading at
W.R. Hambrecht
. "I think we have to retest the recent lows of 2100 on the Nasdaq and 1270 on the S&P future."
Clark didn't see any big market-moving news out there this morning. But
Bear Stearns
did cut its earnings estimates on beleaguered computermaker
Dell
(DELL) - Get Dell Technologies Inc Class C Report
, citing lower sales and margins. The firm trimmed Dell's 2001 EPS outlook to 87 cents from 92 cents and its 2002 EPS view to 90 cents from $1.05, according to news service
Reuters
.
Bear Stearns also expects other PC-related companies to guide down estimates during earnings season. The firm's move comes after negative comments last week from
Lehman Brothers
about Dell. The entire computermaking sector and related chip companies, which make the brains that power computers, has been hit as sales have slowed.
Online brokerage
Ameritrade
(AMTD) - Get TD Ameritrade Holding Corporation Report
this morning warned it would miss earnings estimates.
And Merrill Lynch slashed its full-year profit growth estimates for the S&P 500, which tracks the broad market, to 13.8% from 15% for 2000 and to 4.1% from 9% for 2001.
Market perception can shift on a dime these days -- and that has meant wild swings in prices on heavy volume over the past few weeks. This is an edgy market and investors react quickly to anything that provides clues to the Federal Reserve's interest-rate plans, the direction of earnings or the outlook for corporate technology spending. On Friday, it was fears that bad debt from some near-bankrupt electricity utilities in California would sink the country's biggest bank,
Bank of America
(BAC) - Get Bank of America Corp Report
. Even a denial from the bank the same day didn't help.
Many traders think the major stock market indices will be stuck in a trading range as these issues continue to unfold. On the tech-heavy Nasdaq that means a range of 2100 to 2500, essentially half of where the index stood during its peak last spring.
Starting today, earnings guidance should take center stage as the fourth-quarter reporting season kicks off. Aluminum company and Dow component
Alcoa
reports its earnings today.
Fears of a recession continue to loom large on the economic front, and slowing spending on technology among corporations could be an important contributing factor. While some see last week's cut in short-term interest rates as a first step toward economic recovery, the beneficial effects of the easing should take at least three to nine months before they trickle down. In a surprise move last Wednesday, the Fed dropped interest rates by half a percentage point to 6%. The market had expected the Fed to wait at least until last Friday, when the
December jobs report came out, before it made a final decision about whether to cut rates before the next official meeting of the Fed's
Federal Open Market Committee at the end of the month.
"There have been concerns that slowing business spending on technology will dampen our economic growth going forward. More to the point, the spending freeze may damage the productivity/price-deflating pull that technology has so successfully exerted on our economy," said a report out this morning by earnings tracker
I/B/E/S
. The firm tracks corporate warnings that earnings won't be on target and it analyzes how much corporate earnings are expected to grow.
I/B/E/S research found there is plenty of room for more declines in consensus earnings forecasts and it expects more companies to pre-announce that they will miss targets. The most recent figures for 12-month forward one-month percent changes in earnings showed the largest decline in forecasts (down 5.3%) since mid 1998 (down 6.9%) where the global economy was dealing with the Asian financial crisis.
Look for activity today among airline stocks.
American Airlines
(AMR)
is reportedly about to buy troubled rival
TWA
(TWA)
and
a stake in
US Airways
(U) - Get UNITY SOFTWARE, INC. Report
. The TWA deal would tally about $2 billion. And a 20% stake in US Airways would cost American about $1.4 billion.
TheStreet.com
wrote a
separate story about the shuffle.
American was off 2.3% and United was dipping 0.6% lower.
And expect a lot of chatter about Joseph Galli's decision to leave
VerticalNet
(VERT)
for
Newell Rubbermaid
(NWL) - Get Newell Brands Inc. (NWL) Report
after only six months in the job. The high-profile executive had left
Amazon.com
(AMZN) - Get Amazon.com, Inc. Report
after only about a year there to head business-to-business firm VerticalNet.
VerticalNet was dropping by 25.9%.
Back to top
>Bonds/Economy
Bond prices were falling again after soaring Friday. Yields, which move inversely to price, are now near their two-year lows. The benchmark 10-year
Treasury note was lately down 9/32 at 105 29/32, yielding 4.970%.
Back to top
International
European markets were mixed following the drop in markets on Friday. London was flat, Paris was barely lower and Frankfurt was tickling just lightly in the green.
London's
FTSE
was 0.20 lower to 6197.90. Across the channel, Paris'
CAC-40
was up 18.77, or 0.33%, to 5739.25. Germany's
Xetra Dax
was rising 18.94, or 0.30%, to 6401.25.
The euro was trading up to $0.9846 this morning. It has been gaining slowly in the past few weeks as the U.S. dollar weakens in the face of a slowing domestic economy.
Asian markets turned lower overnight -- also hurt by the Nasdaq's slide on Friday. Hong Kong stocks broke their 3-day winning streak, partly inspired by the Hong Kong Monetary Authority's interest rate cut on Wednesday. The Hong Kong Fed cut its base rate by 50 basis points to 7.5%.
Despite strength in retail and interest-rate sensitive stocks, Hong Kong's key
Hang Seng
index closed flat overnight, down 0.07%, or 11.08, to 15,436.53.
Japanese markets were closed Monday for Coming of Age Day, a national holiday.
The greenback was lately falling against the yen, trading at 116.23 yen.
Back to top