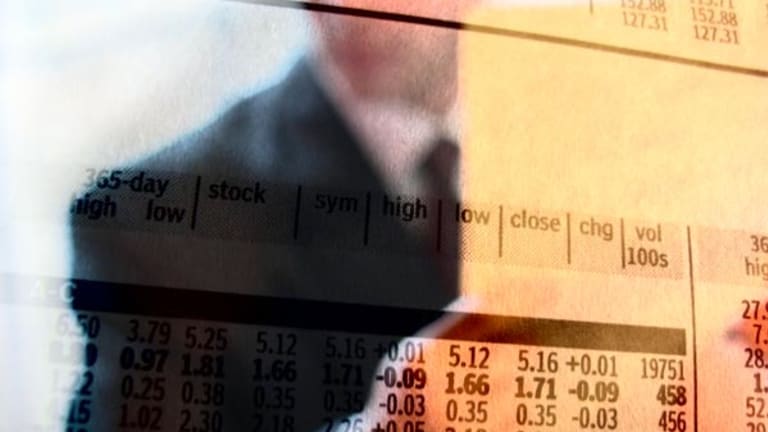 Today's Market: Stocks Lose Early Bounce and Slip Headlong Into Red
<LI>Dow, Nasdaq, S&P all down.</LI> <LI>Second-quarter GDP up 5.2%, much hotter than forecast.</LI><LI>Nortel to buy Alteon Web Systems.</LI>
(Updated from 9:28 a.m. EDT)
In early trading, the
Dow Jones Industrial Average
was up 40 to 10,628 and the
Nasdaq Composite
was up 18 to 3860.
Earlier: Futures Bounce Back Quickly From GDP-Inspired Drop
A hot second-quarter
gross domestic product number this morning initially dampened market optimism, sending futures trotting into the red. But it didn't last for long, and futures were back in the green just minutes later.
Investors may be feeling that they gave tech stocks too much grief in yesterday's sell-off, particularly following bullish comments on the cellular sector from
Goldman Sachs
and positive comments on
Microsoft
(MSFT) - Get Microsoft Corporation Report
. But the market doesn't seem to really know what it's up to anymore.
At 9:14 a.m. EDT, the
S&P 500 futures were up 1 point to 1464.7, about 4 points above
fair value, as calculated by
Prudential Securities
, and an indication of a higher open for stocks. The
Nasdaq 100
futures were up 23 points to 3730, about 16 points above fair value, as calculated by
TheStreet.com
, and indicating some buying pressure for the early going.
"I'm surprised the futures came back as easily as they did following the data," said Rob Cohen, co-head of listed trading
Credit Suisse First Boston
.
"It looks like investors are moving in to scoop up some low-lying fruit after the sell-off yesterday. We should see a decent opening," he said.
"But the psychological damage done yesterday was pretty significant. I don't think that was a one-day event. There will probably be negativity in tech sector through next week. People are not exactly changing their minds. They're just reassessing the sell-off," he added.
The second-quarter advance GDP report showed that the U.S. economy grew at a 5.2% rate, significantly faster than expected. Economists polled by
Reuters
had forecast a rate of 3.8% on average. A slowdown in the rate of consumer spending -- the largest component of GDP -- to 3% in the second quarter from 7.6% in the first was offset by continued high rate of spending by businesses and a sharp increase in the rate of inventory-building.
The GDP report's measure of inflation, the implicit price deflator, was more closely in line with expectations, rising at a 2.5% rate, vs. an average forecast of 2.4%. But the first-quarter rate was upped to 3.3% from 3%.
The Commerce Department revised first-quarter GDP to 4.8% from 5.5%, and revised earlier figures back to 1997.
But economists have underestimated the strength in GDP for the past 16 months, so maybe it was what the market was expecting.
Meanwhile,
Nokia
is turning around this morning after being a major catalyst for
yesterday's sell-off in tech. Reports of revenue weakness in coming quarters from Nokia yesterday as well as several downgrades on
Amazon.com
(AMZN) - Get Amazon.com, Inc. Report
whacked the
Nasdaq Composite Index down 145.47, or 3.7%, to close at 3842.25.
Another of yesterday's major losers,
VerticalNet
(VERT)
, was looking better this morning after several research firms reiterated buy and strong buy ratings on the company. It wasn't clear why the stock had such a bad day yesterday, since it easily beat estimates and reported "blowout" second-quarter results.
WR Hambrecht
said it "continues to see a number of near- and medium-term drivers of expansion and growth which should serve as key catalysts for VerticalNet's stock price," and raised its estimates for the company.
Meanwhile, strength in Old Economy stocks may continue in coming weeks, according to Cohen.
"Some of the strength in financials and oils stocks could continue," he said.
Push and Pull
It seems the market can't decide who it is or what it wants these days, as it casts about for some sort of leadership or direction.
It's the push and pull between bottom-fishers and rally-sellers, those who take advantage of the upside to get out quick. It's a war between the optimists -- who still think the U.S. economy will get a "soft landing," that there are no more interest-rate hikes on the
Fed's agenda, and that a summer rally might pan out yet -- and the pessimists, who see earnings warning after earnings warning and believe the golden days are over.
Lately, the pessimists have been winning, with two lower closes following every up session. In fact, most of what looked like a summer rally in the first half of July was deflated as of Thursday.
In other news this morning, financial services companies continue to slash jobs, and
Bank of America
(BAC) - Get Bank of America Corp Report
plans to let go some 7% of its work force as part of a restructuring program to be announced today, according to
The Wall Street Journal
. Insurance company
Conseco
(CNC) - Get Centene Corporation Report
is also letting go some 2,000 workers at its finance unit, or 11% of its total work force, to reduce costs. Conseco was getting a boost in off-hours trading, up 7/8 to 8 3/4.
First Data
(FDC) - Get First Data Corporation Class A Report
, meanwhile, is cutting 6.7% of its work force.
Back to top
Bonds/Economy
The bond market was tumbling on the heels of the hot GDP this morning, with the benchmark 10-year Treasury note down 11/32 at 103 7/32, and yielding 6.051%.
Back to top
International
European markets were mixed near midsession.
London stocks were rebounding from a decline Thursday on strength in oils and drugs stocks this morning, and the
FTSE 100
was lately up 19.90, or 0.31%, to 6372.00.
Across the channel, Frankfurt's
Xetra Dax
was up 24.17, or 0.34%, to 7207.61, and the Paris
CAC
was off 25.68, or 0.39%, to 6485.85.
The euro was lately trading down at $0.9258.
Asian markets tumbled overnight.
Tokyo stocks were spanked to their lowest close in 16 months overnight as bankruptcy concerns continued to stir jitters over economic recovery and the Nasdaq's weakness hit high-tech. The
Nikkei
closed down 343.44, or 2.1%, to 15,838.57.
Despite a sluggish stock market, a wave of option-related dollar-selling pulled the greenback slightly lower against the yen to around 108.83 in Tokyo trading. The dollar was recently trading at 109.13 yen.
Investors continued overnight profit-taking begun Thursday, deflating a recent rally and heady gains over the past few weeks. The key
Hang Seng
index shed 266.16, or 1.5%, to 17,183.93.
Back to top