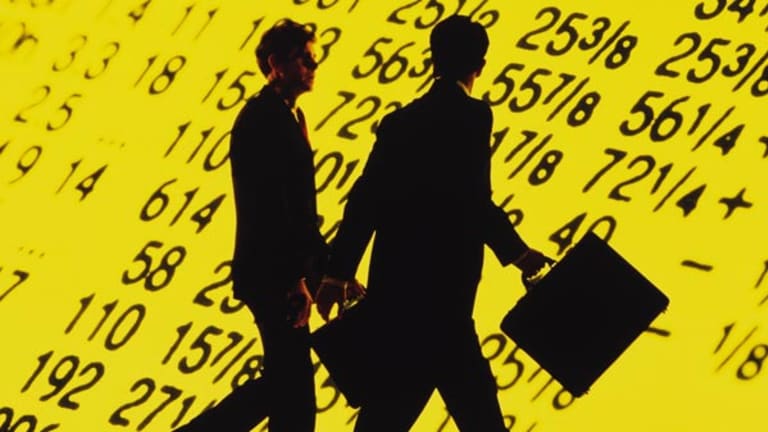 Today's Market: Stocks Little Changed Ahead of Election Hearing
Both the Dow and the Nasdaq opened cautiously, as much of today's attention is likely to be on the U.S. Supreme Court.
It's a murky morning on Wall Street as investors wait to hear oral arguments before the U.S. Supreme Court this morning in a GOP appeal of Friday's ruling in Florida.
Just when it seemed the election mess was nearing a resolution in favor of
George W. Bush
, the
Florida Supreme Court
on Friday ordered immediate hand-counts of 9,000 disputed ballots in Miami-Dade County -- a little victory for
Al Gore
. However, on Saturday, the U.S. Supreme Court subsequently issued a stay of that ruling until a Bush appeal could be heard today.
This election uncertainty has thrown a long shadow over the market in the past several weeks, and the most recent developments could put a damper on optimism generated last week about the possibility of an interest-rate cut in the near future and
Intel's
(INTC) - Get Free Report
ability to rally despite a profit warning.
In early action, the
Dow Jones Industrial Average was up 2 to 10,715, the
Nasdaq Composite was up 31 to 2946 and the
S&P 500 was up 2 to 1372.
But some analysts -- convinced that the
Fed will cut rates in the next few months -- are counseling that now is the time to buy, particularly interest-rate sensitive stocks such as financials, tech, telecom and health care stocks. In a report issued this morning,
Credit Suisse First Boston
recommended buying stocks in these groups and said that if the Fed cuts interest rates in January or February, it would be the first of several cuts.
UBS Warburg's
Ed Kerschner also issued a bullish report, calling the current market one of the five most attractive buying opportunities of the past 20 years.
Widespread optimism over an interest-rate cut was first generated last week after
Alan Greenspan said inflation was no longer his primary concern and hinted that he might act if the economy shows signs of slowing too severely.
Yahoo!
(YHOO)
wasn't one of the buying opportunities analysts were recommending, however. At least not at
Robertson Stephens
. The securities firm this morning lowered its rating on the Internet elephant to long-term attractive from buy. The firm also lowered its earnings per share estimates for this year and 2001 on the company.
Meanwhile, the list of high-profile companies announcing that they expect to miss earnings targets going forward continues to swell. The latest warning comes from home improvement retailer
Lowe's
(LOW) - Get Free Report
. Lowe's warned this morning that it expects to miss earnings per share and same-store sales estimates for the fourth quarter, due to slowing sales. The company now sees earnings of 40 cents to 42 cents per share for the fourth quarter.
The earnings warning list now includes mobile-phone firm
Motorola
(MOT)
, PC-makers
Apple
(AAPL) - Get Free Report
and
Gateway
undefined
, financial powerhouse
Bank of America
(BAC) - Get Free Report
and specialty chipmaker
Altera
(ALTR) - Get Free Report
. These warnings have all dragged the market lower.
While more warnings are expected to continue flooding the market, some pundits think the slowdown in earnings growth has already been accounted for in beaten-up stock prices.
Back to top
Bonds/Economy
Treasury prices were dropping sharply this morning on the heels of a bit of a rally in the past week. The benchmark 10-year
Treasury note was lately down 16/32 at 102 25/32, yielding 5.378%.
Back to top
International
European markets were bouncing this morning on strength in telecom, tech and financials.
London's
FTSE
was up 36.40 to 6324.70. Across the channel, Paris'
CAC-40
was charging ahead by 127.57 to 6066.89, while Germany's
Xetra Dax
was gaining 90.74 to 6781.99.
The euro was slipping this morning after hitting an 11-week high last week. It was lately trading down to $0.8789. It has been gaining in the past few weeks as the U.S. dollar weakens in the face of a slowing domestic economy.
Asian markets galloped ahead overnight following the Nasdaq's rally on Friday. In Japan, the
Nikkei 225
closed up 319.19 to 15015.70.
Hong Kong's
Hang Seng
closed up 219.21 to 15,408.54.
The greenback was lower to 111.80 yen.
Back to top