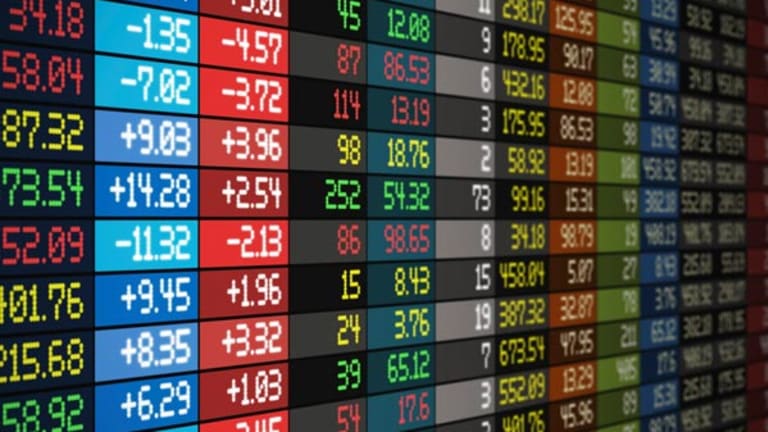 (
Updated from 1:28 p.m.
)
Christmas came early this year, or maybe two weeks too late. The Federal Reserve announced that it would cut the
federal funds rates by 50 basis points and the discount rate by 25 basis points. Now this is one of those rare intermeeting moves, which occur between Fed meetings.
The fact that this meeting occurred before the upcoming Jan. 30 and 31
Federal Open Market Committee meeting highlights the severity of the economic slowdown. The
Fed cited weak sales, production and lower consumer confidence for reasons for the cut.
Stocks jumped after the announcement. The Dow was lately up 285 to 10,930. The
Nasdaq Composite Index was up 242 to 2534.
Markets were caught by surprise when the news hit just prior to 1:30 p.m. EST and quickly rallied the Dow from 40-point losses into a mammoth triple-digit gain. The Nasdaq, which was moping around the break-even point for much of the day, also rocketed deep into the green. Both were lately at session highs.
Most market-watchers expected the Fed to cut rates at some point, with Friday being the earliest mentioned time, because that's when the latest jobs report is released.
The last cut between Fed meetings was the fall of 1998.
Despite a slew of earnings and revenue adjustments, rating reductions and stern comments from some of Wall Street's most respected brokerages, investors had earlier in the day already dipped into the battered technology sector again, before watching the rally fade, just like thoughts of that 100% return on 1999's investments. The Nasdaq, one day after opening the 2001 trading season with a more than 7% loss, was crumbling at midday before the surprise Fed announcement, coughing up earlier gains and just under the flatline.
Lehman Brothers
analyst
Dan Niles did a lot of talking this morning, changing his earnings forecast on blue-chip
Intel
(INTC) - Get Intel Corporation (INTC) Report
and PC maker
Dell
(DELL) - Get Dell Technologies Inc Class C Report
. He also slashed the earnings picture at semiconductor companies
Xilinx
(XLNX) - Get Xilinx, Inc. (XLNX) Report
and
Altera
(ALTR) - Get Altair Engineering Inc. Class A Report
.
Dell's 2001 earnings per share were clipped to $1.00 from $1.10, while Intel's price target was dropped to $40 from $55. Niles wrote: "We believe that PC demand in the last two weeks of December was terrible, leading to lowered expectations for 2001."
Simply put, he said the future isn't so bright in tech-land, making broad comments that could affect the entire industry's fortunes, not just Intel's. He said that IT spending, a key source of revenue for many tech companies, would only grow 5% to 7% in 2001, much lower than the 10% growth previously expected.
Additionally, he warned that a price war would further cut into profits, forcing companies to sell off their large inventories for less profit. Lower profit margins would drag companies with normal inventories into the fray, forcing them to lower margins to stay competitive.
Not that investors paid him all that much attention. For much of the morning, both Dell and Intel were in the green. Dell was last up 2.5% to $17.94, while Intel has slid back into the loss column. The chipmaker was last off 31 cents to $30.75.
Meanwhile, Xilinx's 2002 estimates were cut back to $1.55 a share from $1.62 a share. Altera's 2001 estimates were lowered to $1.15 a share from $1.20 a share. And, again, Niles didn't mince his words, writing, "We believe that semiconductor stocks in general will hit new lows and that even these new estimates could be too high."
Investors listened this time, dropping Xilinx 5.5% and Altera 3.9%.
Salomon Smith Barney's
John Jones cut
IBM's
fourth-quarter sales forecast by $400 million, pointing the finger at dreadful Christmas sales. And like the Intel downgrade, this one was also shaken off by investors. This morning, Big Blue was one of the Dow's biggest winners. It was lately up 2.5% and adding 14.2 points to the Dow.
Overall, the
Dow Jones Industrial Average has been shaky, trading right around yesterday's close for much of the morning. It was last down 37 to 10,610, drawing strength from IBM and other technology names and getting weakness from capital goods manufacturers.
The year 2000's biggest winners were the businesses that make stuff that other companies buy, like
Boeing
(BA) - Get Boeing Company Report
,
3M
and
Caterpillar
(CAT) - Get Caterpillar Inc. Report
. But those were all big losers today.
But
Microsoft
(MSFT) - Get Microsoft Corporation (MSFT) Report
,
Hewlett-Packard
(HWP)
, IBM and
SBC Communications
(SBC)
were all mounting comebacks, somewhat balancing the industrials.
The Nasdaq was getting sick as the day grew longer. Winners were no longer topping losers, and 135 new 52-week lows set today were a sure sign that these battered stocks have a few more rounds to go. On the bright side, many of the worst-performing sectors were bouncing off new lows. Dot-coms, which haven't been able to hold onto gains in the face of cold shoulders from once-burned investors, were up.
Networkers, which were slain yesterday, were also on the rise. The
American Stock Exchange Networking Index
rose 2.8%. Boxmakers, computer peripherals and telecommunications were also in the green.
But with every silver cloud comes a black lining. Biotechnology weighed heavily on the Comp's fortunes as investors were pulling out of the popular sector. The
American Stock Exchange Biotechnology Index
fell 6.8%, while the more Nasdaq-minded
Nasdaq Biotechnology Index
was off 5.5%.
Some of the biggest four-lettered losers could be found in the biotech field.
Protein Design Labs
(PDLI) - Get PDL BioPharma, Inc. Report
, something of a leader in the field, fell 10.6%.
Abgenix
(ABGX)
fell 16.9%. This is the third consecutive day of heavy selling for the biotechs, which were a notable overachiever in 2000, gaining 60% while the Comp slid 39.1%.
Market Internals
At one point, breadth was pretty good on both the Big Board and the Nasdaq. Not anymore. Nasdaq's losers now beat the winners, as volume picked up significantly.
New York Stock Exchange: 1,592 advancers, 1,213 decliners, 696 million shares. 189 new 52-week highs, 25 new lows.
Nasdaq Stock Market: 1,685 advancers, 1,909 decliners, 1.3 billion shares. 25 new highs, 136 new lows.
Back to top
Most Active Stocks
NYSE Most Actives
Nasdaq Most Actives
Back to top