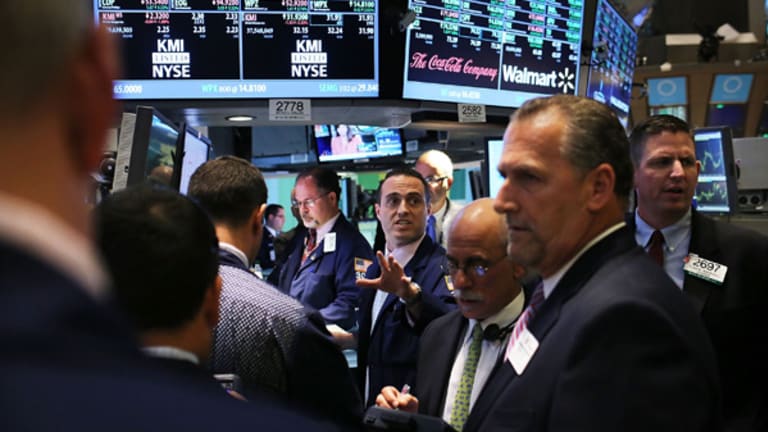 Today's Market: Stocks Ignore Intel Warning, Jobs Report Boosts Optimism
Stocks rally after latest employment report shows November nonfarm payrolls' rise was well below forecasts.
(Updated from 9:29 a.m. EST)
For the first time in a long time, the market wasn't paying any heed to high-profile earnings warnings. Last night, semiconductor titan
Intel
(INTC) - Get Free Report
said it would be missing earning targets in the fourth quarter.
And bottler
Coca-Cola Enterprises
(CCE)
said its 2001 results would be lower than expected. But stocks charged higher out of the gate this morning.
That's good news. Stocks' ability to shake off bad news is something the bulls have been searching for as a sign that the worst is behind us.
The
Dow Jones Industrial Average moved 86 higher to 10,701. The
Nasdaq Composite Index jumped 121 to 2874. And the
S&P 500 moved up 16 to 1360.
This morning's
job's report could support a stock rally; it showed nonfarm payrolls -- a measure of net new jobs created -- slowed significantly in November. While the other components were mixed, that payrolls number could give further credence to the idea that the economy is slowing enough to spur a
Fed
interest-rate cut in the near future. Lower interest rates are good for stocks because they encourage consumers and businesses to spend more, which accelerates economic growth.
The interest-rate cut theory first won major support Tuesday, when
Alan Greenspan said inflation was no longer his biggest concern and hinted that a sharp slowdown in the economy could prompt him to act. Investors saw this as a sign the Fed could cut interest rates soon.
The Labor Department said that November nonfarm payrolls came in at 94,000, well below forecasts of 140,000 and the previous month's 137,000. That's a very encouraging number.
TheStreet.com
took a
close look at the implications of the report.
But investors may have been hoping for more from the other jobs report components. Average hourly earnings didn't slow to the expected 0.3% rise. They came in at a 0.4% rise, in-line with the previous month and indicating some continued wage pressure on inflation. The unemployment rate, meanwhile, was in line with expectations at 4%. Unemployment hit a 30-year low of 3.9% in October. Investors were probably hoping for a steeper climb.
Bad News Is Good News
Intel last night announced that it expects to
miss fourth-quarter earnings due to weakness in PC-demand. Intel now expects revenue to be flat for the quarter "plus or minus a couple of percentage points." The stock has already been sorely beaten on concerns that slowing computer sales will hurt the chip company, which is heavily dependent on sales to PC-makers. Concern over slowing PC-demand is high after several PC-makers warned in the past two weeks, including
Apple
(AAPL) - Get Free Report
and
Gateway
undefined
.
Analysts flocked like lemmings to Intel's stock this morning.
Credit Suisse First Boston
,
Lehman Brothers
and
Goldman Sachs
all cut their earnings per share targets on the company, while
ABN-Amro
lowered its rating to hold from add. CIBC was the lone bull, upgrading Intel to buy from hold in the belief that all the bad news is already priced into the stock. Investors agreed with CIBC. Intel was up 6.5% this morning.
Coca-Cola Enterprises also warned last night that it expects to miss its earnings estimates for 2001 and said earnings could be hurt by continued strength in the British currency vs. the euro. Coca-Cola Enterprises now expects to earn 60 cents a share next year compared with analyst forecasts of 68 cents a share.
Until now, earnings warnings have been deadly for the market. Companies such as mobile-phone firm
Motorola
(MOT)
, Apple and Gateway, financial powerhouse
Bank of America
(BAC) - Get Free Report
and specialty chipmaker
Altera
(ALTR) - Get Free Report
all dragged the market lower after warning in recent weeks that they would miss earnings estimates. And while more warnings are expected to continue flooding the market, perhaps this slowdown in earnings has already been accounted for in beaten-up stock prices.
The fourth quarter's confession season -- that pre-reporting time when companies warn if they will miss targets -- is expected to be one of the busiest in about four years.
TheStreet.com
recently wrote about how the season has gotten off to an
early start.
Meanwhile, the elections mess just won't go away quite yet. Three potentially decisive court rulings are expected to come out today. Markets don't like uncertainty, as they say. And once the new president is decided, investors might just rally stocks higher. They could also move to re-jigger holdings they think will be helped or hurt by the newly named administration.
Back to top
Bonds/Economy
Treasury prices were dropping sharply this morning despite the soft jobs report, but on the heels of a bit of a rally in the past week. The benchmark 10-year
Treasury note was lately down 11/32 at 102 30/32, yielding 5.356%.
Back to top
International
European markets were bouncing this morning in tandem with U.S. stocks on optimism over investor reactions to Intel's news and the job's report.
London's
FTSE
was up 85.80 to 6317.20. Across the channel, Paris'
CAC-40
was 110.70 higher to 6095.39, while Germany's
Xetra Dax
was gaining 161.14 to 6727.22.
The euro was slipping this morning after hitting an 11-week high yesterday. It was lately trading down to $0.8857. It has been gaining in the past few weeks as the U.S. dollar weakens in the face of a slowing domestic economy.
Asian markets were mixed overnight. In Japan, major stock indices managed to pare back earlier losses, closing down modestly on weakness in tech shares. The
Nikkei 225
ended the day down just 23.85 to 14,696.51.
Hong Kong's
Hang Seng
closed up 177.81 to 15,189.33.
The greenback was higher to 111.40 yen.
Back to top