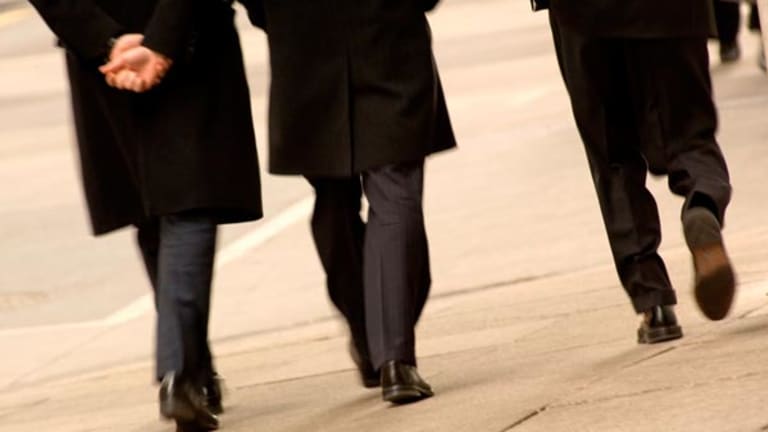 Publish date:
Today's Market: Stocks Follow a Familiar Course and End in a Familiar Place -- Lower
Internet stocks were the day's worst performers as Yahoo!, eBay and Amazon.com all ended beaten down.
Internet stocks were the day's worst performers as Yahoo!, eBay and Amazon.com all ended beaten down.
For those in the market, it was a disconcerting, but an increasingly common occurrence. The major indices got a bounce in the early part of the session, and like yesterday, failed to maintain that rally. A late surge kept the
Dow Jones Industrial Average and
Nasdaq Composite Index from ending at the day's lows, but both indices are trading around late July levels, having lost their August rallies.
For the day, the Dow dropped 2.96 to 10,628.36; the Nasdaq lost 32.80 to 2656.30, the
S&P 500 slipped 0.64 to 1426.57, and the
Russell 2000 dropped 1.71 to 508.18.
A staggering 259 stocks hit 52-week lows on the Nasdaq today, most since May 24; among those are blue chips like
Microsoft
(MSFT) - Get Report
and
Dell
(DELL) - Get Report
.
The ongoing slump confirms that investors, even after significant declines in September, still view current valuations as suspect. Expectations of a broad economic slowdown seem to be the culprit, and while third-quarter earnings are likely to be strong, this pre-announcement season has investors focused on longer-term factors, like decreased business investing and the affects of markedly higher energy prices.
"The pattern is getting quite familiar," said Ciaran O'Kelly, trader at
Salomon Smith Barney
. "There's an early morning rally, and any sort of negative news or negative rumors or negative spin on any part of tech or the telecom tape is weighing heavily" on the market.
Today's "negative news" came out of the e-commerce sector, after
priceline.com
(PCLN)
warned of a revenue shortfall due to
weakness in its core discount airline ticketing business. The stock dropped $7.89, or 42%, to $10.75 on the news.
The entire e-commerce sector felt the pain today, including
eBay
(EBAY) - Get Report
, losing $7.19 to $63.50 and
Yahoo!
(YHOO)
, which had its head handed to it, losing $12.06 to $90.38, or 11.8%.
TheStreet.com Internet Sector
index lost 6.1% today, down 45.3 to 694.5.
A Loss Is a Loss Is a Loss
priceline's woes only reinforce investor fears of an economic slowing, a fear that had previously punctured the cellular communications, hardware, software and semiconductor sectors. No longer mega-growth stories, Barry Hyman, chief investment strategist at
Weatherly Securities
, pointed out that these companies are now regarded as more typical retail or media companies simply operating in a different medium. Therefore, they're going to face the same kinds of troughs as other media or retail plays when spending and advertising decline, he said.
"Yahoo! is suffering from ad problems and potentially slower sales throughout e-commerce, and it's not surprising the stock is down here," said Hyman. "There's a legitimate reason for this group to be down."
That concern spreads to other sectors today, including the market's most speculative, grow-at-all-costs sector these days, the fiber-optics. The going assumption now is that capital spending by businesses is on a tighter leash these days, which extends to the sectors with the highest current valuations. Incredible performers in good times, they're kicked when they're down. That's stocks like
Corning
(GLW) - Get Report
, off $17.75 to $307.25 today, and
Nortel
(NT)
, which lost $6.13 to $59.25 today.
The poor showing from the best growth stocks, as well as the market's big-cap technology stocks, underscore concerns about current valuation. It's no small miracle that this year's best performing stocks are found in the
S&P MidCap 400 Index
, until this year a somewhat ignored sector. The MidCap index gained 0.4% today.
Meanwhile, along with Microsoft and Dell,
Lucent
(LU)
and
Motorola
(MOT)
all hit 52-week lows today.
Semiconductor stocks were in reasonably sound shape for part of the day, but eventually most of those stocks broke down, and the
Philadelphia Stock Exchange Semiconductor Index
lost 0.7%. Intel rose today after falling for three straight days, and it was the
Nasdaq Stock Market's
most active, gaining 56 cents to $43.88 on 78.6 million shares.
"There's a valuation concern and a distinct earnings concern hurting many big blue-chip stocks," Hyman said. "There's strength beneath the market, and it has been in the mid-cap index, which is still up more than 19%," this year.
Somehow, traders find room for optimism. Preannouncement season is a jittery time, and some are confident that when those companies that have not warned of revenue shortfalls report earnings in October, the market will find a way to rise from its current malaise.
"Everybody is going to puke out the bad earnings now and get that into the marketplace," said Tom Gallagher, head of U.S. equity sales and trading at
CIBC World Markets
. "Once that seems to be finished you might get a handful of surprises...that'll be the cause of a rally but until then, it's going to be a rough couple of weeks."
One problem centers on concerns that the weakness in the euro, which has already wreaked havoc on a number of multinational companies, will cut into earnings from companies that do business primarily in dollars. Monetary officials from the U.S., Europe and Japan intervened to support the euro last week, but the currency has since faded against the dollar.
Market Internals
Breadth was mildly positive on the NYSE on moderate volume; terrible on the Nasdaq, on strong volume.
New York Stock Exchange: 1,500 advancers, 1,332 decliners, 1.2 billion shares. 82 new 52-week highs, 104 new lows.
Nasdaq Stock Market: 1,543 advancers, 2,452 decliners, 1.9 billion shares. 74 new highs, 259 new lows.
Back to top
Most Active Stocks
NYSE Most Actives
Nortel: 35.7 million shares. Southern Energy (SOE) : 33.2 million shares. Lucent: 29.7 million shares.
Nasdaq Most Actives
Intel: 78.6 million shares. Cisco (CSCO) - Get Report: 54.9 million shares. Microsoft: 52.2 million shares.
Back to top
Sector Watch
Internet incubators had a lousy session.
CMGI
(CMGI)
and
Internet Capital Group
(ICGE)
both hit 52-week lows in trading today, as the market is frowning on companies that invest in Internet companies. CMGI fell 12.5%, while Internet Capital lost 10.8%.
Predictably, the pockets of strength were confined to the energy stocks and a couple of defensive sectors. The
American Stock Exchange Oil & Gas Index
gained 2.3% today, and the
Amex Tobacco Index
rose 1.3%. The
Dow Jones Utility Average
rose 0.7%, and drug stocks were marginally stronger.
Back to top
Bonds/Economy
Bonds are under pressure in part because a
report in today's
Washington Post
says an error in calculating the
Consumer Price Index
(
definition |
chart |
) resulted in it being understated.
The Bureau of Labor Statistics
confirmed that it will revise CPI data for January to August, and that the increase over that period will be revised to 2.7% from 2.6%. The bureau will release corrected data on Thursday at 10 a.m. EDT.
The
Washington Post
article says the correction is likely to add 0.1 to 0.3 percentage points to the overall and core inflation rates. Overall CPI inflation was running at a rate of 3.4% in August, while core CPI inflation, which excludes food and energy, was running at 2.5%, nearly a two-year high.
A higher inflation rate devalues bonds because it erodes the value of the fixed interest payments they make.
The benchmark 10-year Treasury note lately was up 1/32 at 9914/32, lifting its yield to 5.825%.
The BLS said the error was in the portion of the report that measures housing costs, and that software was responsible.
Back to top
International
Europe's major indices were in the green
today.
In London, the
FTSE 100
rose 56.1 to 6269.3, buoyed by big oils, telecoms and pharmaceuticals.
Across the channel, the
CAC 40
in Paris gained 25.73 to 6319.79, and the
Xetra Dax
in Frankfurt was up 49.02 to 6814.06.
The euro was lately trading at $0.8836.
Asian markets were mixed overnight, with Tokyo tumbling and Hong Kong pulling higher.
Worries over a slowing economic recovery set Japanese shares back once again Wednesday, with the
Nikkei 225
index setting a fresh 18 month low.
The Nikkei 225 index shed 288.67, or 1.8%, to 15,639.95
The greenback barely budged against the yen in Tokyo trading to 107.73. The dollar was lately trading at 107.33 yen.
Hong Kong's
Hang Seng
index gained 153.28, or 1.0%, to 15,444.13 after investors picked up major blue-chips as a safe haven vs. volatile technology shares. Property shares were red-hot, including
Sun Hung Kai Properties
(SUHJY)
, up HK$2.00, or 3.0%, to 69.50 ($8.91), and
Cheung Kong
, up 1.00, or 1.1%, to 92.25.
Back to top