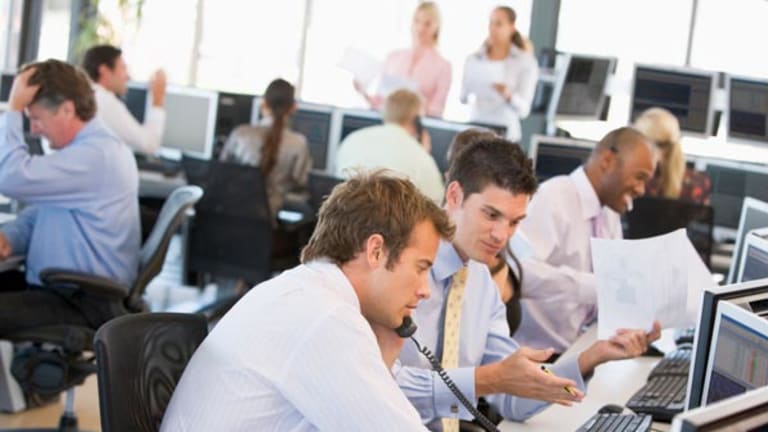 Today's Market: Stocks Finish Higher on Day of Good Earnings, Good Greenspan
<LI>Big Blue and Big G all the rage.</LI> <LI>IBM leads earnings winners.</LI> <LI>JDSU exploding on S&P add-in.</LI>
(Updated from 4:03 p.m.)
The big man in Washington and Big Blue in New York State (not the Giants) lent their broad shoulders to the market today, as all major indices rallied sharply on
Fed Chairman
Alan Greenspan's
reasonably soothing
Humphrey-Hawkins testimony and several winning earnings reports, most prominently
IBM
(IBM) - Get International Business Machines Corporation Report
.
A number of other big companies, including
JDS Uniphase
(JDSU)
, soon to be added to the
S&P 500, were also responsible for boosting the market, which weathered less-optimistic comments from names like
Lucent
(LU)
.
IBM rose 7.8%, adding 76 points of positive influence to the
Dow Jones Industrial Average, which gained 147.79, or 1.4%, to 10,843.87. The
Nasdaq rose, thanks to JDS and big-cap tech, ending up 128.93, or 3.2%, to 4184.56. The S&P finished up 13.61, or 0.92%, to 1495.57. The
Russell 2000 gained 6.89, or 1.3%, to 534.75.
"Earnings are going to win out, plain and simple," said Allan Meyers, portfolio manager at
Kent Funds
in Grand Rapids, Mich. "I like the market, and it's pretty much doing what it should be doing. When earnings come out the stocks have rallies, and those that are ahead of themselves are correcting."
It's hard to say what was chiefly responsible for today's rally -- earnings reports or Greenspan. It appears the positive earnings outlook from IBM -- which reported earnings of $1.06 a share for the second quarter, beating estimates by 6 cents -- initially was the greatest factor. But Greenspan's comments, a bit less hawkish than expected, were a welcome surprise. After the chairman detailed a number of factors pointing to nascent signs of a slowdown, equities powered higher, freed of the threat of hawkish testimony.
"The more modest pace of increase in domestic final spending in recent months suggests that aggregate demand may be moving closer into line with the rate of advance of the economy's potential," Greenspan said in his prepared remarks. But the Fed head was careful to be balanced, highlighting concerns about tight labor markets and the threat of inflation.
The
fed funds futures traders are now factoring in a 40% chance of a rate hike at the Aug. 22 Fed meeting, down from about 54% yesterday. While the Fed could have another hike in it, there's comfort that policymakers are easing off.
"What he's trying to say is, the odds of a smooth or soft landing have increased, perhaps substantially, in his eyes," said Bill Quan, economist at
Aubrey G. Lanston
. "One thing to remember, though, is that a 25-basis-point tightening is not inconsistent with what he's saying."
Move Aside, Al!
With Greenspan out of the way, investors were free to weigh the earnings winners vs. the losers today. It's been a curious earnings season -- the market's shifted back and forth based on comments from conference calls, and analysts' reactions to said calls. The market took
Microsoft's
(MSFT) - Get Microsoft Corporation Report
middling conference call hard yesterday, but the strength of IBM's forecasts outweighed the glum Lucent report.
Lucent was hit hard today, after the company cut its revenue forecasts for coming quarters, finishing down 16%. Among other big names reporting today were
Advanced Micro Devices
(AMD) - Get Advanced Micro Devices, Inc. Report
, which lost 5.4% after it posted second-quarter earnings of $1.21 a share, well above the 18-analyst estimate of $1.14. The company also set a 2-for-1 stock split.
Peter Da Puzzo, president of
Cantor Fitzgerald
, was thinking optimistically, pointing out that those companies with disappointments have been few. "Lucent said things would be soft for a quarter or two, but gave an explanation, essentially slapping themselves on the wrist," he said. "The majority of the companies in tech area have been positive."
And Kent Funds' Meyers gave participants particular credit in dissecting the individual stocks. "Lucent was a disappointment, but with IBM, the picture looks a little clearer," said Meyers. "AMD has had a heck of a run in here, and it was on target, but the stock was a little ahead of itself."
Most tech sectors ended higher, but computer makers and telecom stocks posted some of the headiest gains. The
Philadelphia Stock Exchange Computer Box Maker Index
ended up 3%. The
Nasdaq Telecommunications Index
rose 4.6%, boosted by a 7% gain in
Nextel Communications
(NXTL)
.
JDS Uniphase finished up 20% to 128 1/8, after
Standard & Poor's
said last night that the company will replace
Rite Aid
(RAD) - Get Rite Aid Corporation Report
in the
S&P 500 index next week.
SDL
(SDLI)
, which is to be purchased by JDS, was up 19% to 428 1/16.
TheStreet.com
wrote about the
reshuffling Wednesday.
Uh-Oh!
After the bell,
Hewlett-Packard
(HWP)
spinoff
Agilent
(A) - Get Agilent Technologies, Inc. Report
warned that its third-quarter earnings would come in between 18 cents to 22 cents a share, well short of the 35 cents forecast by analysts surveyed by
First Call/Thomson Financial
.
The company blamed the expected shortfall on capacity constraints and component shortages, which have been preventing the company from keeping up with orders. Demand for its test-and-measurement and semiconductor products remained strong, the company said.
"We're very frustrated because we're not fully satisfying the unprecedented demand in our communications businesses," CEO Edward W. Barnholt said in a statement.
Agilent also said that weakness iin ts medical-instrument and chemical-analysis businesses were also contributing to the third-quarter softness.
CFO Robert Walker said that the company felt comfortable it would meet its fourth-quarter earnings estimate of 39 cents.
Ventro Won't Surge
Don't look for
Ventro
(VNTR) - Get Venator Materials PLC Report
to have the same double-digit surges of its B2B brethren tomorrow after tonight's earnings report. Analysts didn't expect it to blow away estimates to the same extent that
Ariba
(ARBA)
,
Commerce One
(CMRC)
and
PurchasePro.com
(PPRO)
did.
Ventro lost 74 cents a share for the quarter, beating the
First Call/Thomson Financial
10-analyst consensus for a loss of 80 cents per share. Shares fell after 3 p.m., ending down 2.4% after trading up for most of the day.
"It's not going to be received with great enthusiasm, because clearly a high bar has been set by the companies that have already reported," says analyst Ian Toll of
Credit Suisse First Boston
who rates the stock a buy. His firm has not performed underwriting for Ventro. "If it reports in line, it will be standing alone to some extent with respect to its peers."
Internet stocks were back in favor, with
The Street.com Internet Sector
index popping 32.09, or 3.9%, to 865.15.
America Online
(AOL)
, which reported after the close, was climbing 4%.
The market's reaction to Greenspan's speech was most readily apparent in sectors that have functioned as market leaders of late, such as the financial stocks. The
American Stock Exchange Broker/Dealer Index
ended up 2.7%, as
J.P. Morgan
(JPM) - Get JPMorgan Chase & Co. Report
rose 3.4% today to 134 1/2, and
Lehman Brothers
(LEH)
ended up 5.8% to 113 3/8.
Citigroup
(C) - Get Citigroup Inc. Report
finished up 3.8% to 70 11/16, a new all-time high, boosting the
Philadelphia Stock Exchange/KBW Bank Index
to a 3.6% gain.
Drug companies
Bristol-Myers Squibb
(BMY) - Get Bristol-Myers Squibb Company Report
and drug company
Eli Lilly
(LLY) - Get Eli Lilly and Company Report
both reported this morning, and both were taken down. Despite solid results, Lilly dropped 2.3%, and Bristol-Myers lost 3.6%. The
American Stock Exchange Pharmaceutical Index
dropped 1.6%.
Back to top
Market Internals
Breadth was strong on robust volume.
New York Stock Exchange: 1,698 advancers, 1,137 decliners, 1.06 billion shares. 68 new 52-week highs, 45 new lows.
Nasdaq Stock Market: 2,214 advancers, 1,773 decliners, 1.68 billion shares. 72 new highs, 59 new lows.
Back to top
Most Active Stocks
NYSE Most Actives
Lucent: 85 million shares. IBM: 22.9 million shares. AT&T (T) - Get AT&T Inc. Report: 20.2 million shares.
Nasdaq Most Actives
Back to top
Sector Watch
After nailing a new all-time high level of 334, The
Dow Jones Utility Average
tapered off, slipping 1% to 329.07.
The
S&P Insurance Index
gained, ending up 2.2%, boosted by
Allstate
(ALL) - Get Allstate Corporation Report
, which finished up 6.4%, after reporting earnings this morning.
MBIA
was also strong, closing up 3.4%.
Retail stocks were basically unchanged, but department store stocks lost ground after
Federated Department Stores
undefined
issued an earnings warning due to credit delinquencies associated with its
Fingerhut
unit, which it first disclosed July 6. Federated finished off 12.6%;
J.C. Penney
(JCP) - Get J. C. Penney Company, Inc. Report
lost 0.4% and
Nordstrom
(JWN) - Get Nordstrom, Inc. Report
slipped 1%.
Back to top
Bonds/Economy
Treasuries were rallying on Greenspan's testimony, as the markets priced in somewhat lower odds that the
Federal Open Market Committee will raise interest rates next month.
As traders of fed funds futures downgraded the chances of a 25-basis-point rate hike on Aug. 22 to 40% from 54% yesterday, the benchmark 10-year Treasury note gained 1 4/32 to 103 17/32, dropping its yield to 6.009%.
Also benefiting the bond market, the
Philadelphia Fed Index
experienced an unexpected fall to 0.7 in July from 1.7 in June. It had been forecast to rise to 6.0 by economists polled by
Reuters
.
Back to top
International
European markets ended their trading sessions on a positive note.
London's
FTSE
was up 3.60, or 0.06%, to 6469.00.
Frankfurt's
Xetra Dax
was up 91.22, or 1.24%, to 7457.84 and the Paris
CAC
was 68.66 higher, or 1.06%, to 6563.77.
The euro was lately trading lower at $0.9326.
Most
Asian markets followed the U.S. lower overnight, though Hong Kong continued to move higher and Tokyo's market was on holiday.
Hong Kong stocks continued to ride higher on gains in tech shares, and the
Hang Seng
index closed up 48.44, or 0.27%, to 17758.51.
Elsewhere in Asia, Korea's
Kospi
index shed 18.40, or 2.31%, to 778.90, while Taiwan's
TWSE
index slipped 192.35, or 2.29%, to 8219.53.
Staff reporters Joe Bousquin and Thomas Lepri contributed to this story.